Uncategorized
Story Notes for Miracle on 34th Street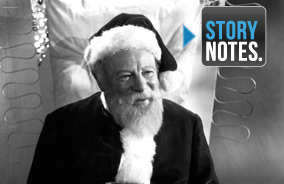 Monday through Thursday, at 8PM | 7C, AMC presents Story Notes — real-time on-air trivia about your favorite movies. Tonight's movie was Miracle on 34th Street.
Award Notes
Miracle on 34th Street was nominated for 4 Oscars, including Best Picture.
Edmund Gwenn won a Best Supporting Actor Oscar for his portrayal of Kris Kringle. When he accepted the award he said, "Now I know there is a Santa Claus!"
Biographical Notes
Maureen O'Hara started acting at 7. Her first job was at an Irish radio station.
Maureen O'Hara and John Payne were in several movies together, like Sentimental Journey (1946).
In 1947, Wood made 2 other movies: Scudda Hoo! Scudda Hay! and The Ghost and Mrs. Muir.
Natalie Wood was born Natalia Zakharenko. Her father changed the family name to Gurdin. Later, movie studio RKO changed her name to Natalie Wood as a tribute to director Sam Wood.
Edmund Gwenn (Kringle) served in the British Army during World War I. He was a captain.
Maureen O'Hara had just returned home to Ireland when the studio ordered her to New York for Miracle. She was furious… until she read the script.
This isn't the only holiday classic for Gene Lockhart (Judge Harper). He played Bob Cratchit in the 1938 version of A Christmas Carol.
Natalie Wood would become a major star in movies like Rebel Without a Cause and West Side Story. She would be nominated for 3 Oscars before the age of 25.
Blooper Notes
John Quincy Adams' V. P. was actually John Calhoun. Daniel Tompkins served under James Monroe.
The U.S. Post Office was actually founded on July 26, 1775.
Casting Notes
British actor Edmund Gwenn was known at the time for Pride and Prejudice and Lassie Come Home. And that's his real beard.
Maureen O'Hara starred in over 60 movies during Hollywood's "Golden Age." She was born in Ireland and became a U.S. citizen just one year before making this movie.
The drunk Santa Claus is played by character actor Percy Helton (20,000 Leagues Under the Sea). Helton was in another holiday classic, White Christmas, where he played the train conductor.
Philip Tonge plays Mr. Shellhammer. He started his career as a child actor on Broadway.
Though often uncredited, Theresa Harris (Cleo) was in over 60 movies in the '30s and '40s.
Natalie Wood was just 8 when she made Miracle on 34th Street. It was her third movie.
John Payne plays Fred Gailey. He was a singer/actor known at the time for movie musicals.
This was Thelma Ritter's first movie. After Miracle, Ritter's career took off. She was nominated for 6 Oscars between 1950 and 1962.
R.H. Macy is played by Harry Antrim, who got his start in vaudeville.
Porter Hall (Sawyer) was also in Mr. Smith Goes to Washington (1939) and Going My Way (1944).
James Seay (Dr. Pierce) was in the classic sci-fi movie The Day the Earth Stood Still (1951).
Lela Bliss (Mrs. Shellhammer) is the co-founder of the Bliss-Hayden Theater and School of Acting.
Herbert Heyes plays Mr. Gimbel. From 1915 to 1956, Heyes was in nearly 100 movies.
This was Greenman's first movie. He said Gwenn (Kringle) always took time to mentor him.
Edmund Gwenn was offered the role of Kringle after his cousin, actor Cecil Kellaway, turned it down.
Judge Harper is played by Gene Lockhart. He was an Oscar nominee and acting teacher at Juilliard.
Jerome Cowan of The Maltese Falcon plays the district attorney.
William Frawley is better known as TV's Fred Mertz (I Love Lucy), but he's also been in over 100 movies.
Robert Hyatt plays Tommy. Hyatt was in a movie with Cary Grant when he was just 6 months old.
The mail sorter is Jack Albertson, best known as Grandpa Joe in Willy Wonka & the Chocolate Factory.
Fashion Notes
Edmund Gwenn's original Santa suit sold at auction in June 2011 for $22,500.
Historical Notes
Santa Claus is a merging of Dutch holiday figure Sinterklaas and the British Father Christmas.
The image of Santa Claus as a bearded, jolly fat man was invented by cartoonist Thomas Nast. Claus had many forms until Nast's illustrations in the Dec. 19, 1866 issue of Harper's Weekly.
The name "Kris Kringle" comes from "Christkindl," the Christmas gift-giver in Eastern Europe. Martin Luther introduced Christkindl in the 1500's to replace St. Nick with the "Christ Child."
Psychiatric evaluations in the workplace only became common after World War I.
The Mayor of New York in 1947 would have been William O'Dwyer.
Kringle referred to Clarence Darrow, the defense lawyer in the famous Scopes Monkey Trial in 1925.
Location Notes
Miracle was shot on location in New York City, which was new for the studio, 20th Century Fox. This was only their second movie shot there. The first was 1945's The House on 92nd St.
Most of the movie was actually shot at the Macy's flagship store on 34th Street in New York City.
The scenes in Macy's were shot at night to avoid the crowds of shoppers during the day.
Music Notes
"Sinterklaas Kapoentje" is a traditional Dutch Christmas song.
Pop Culture Notes
Miracle on 34th Street (1947) is number 9 on AFI's list of most inspiring American movies.
In 1947, Bugs Bunny was one of the biggest "stars" in the world.
In 1910, Gimbels opened a branch near Macy's in NYC, which started a rivalry between the stores. The feud ran until 1987, when Gimbels went out of business, 100 years after its founding.
Department stores Hearns, Stern's, Gimbels and McCreery's are all now out of business.
Every year, courts around the U.S. reenact the trial of Kris Kringle for children.
Thomas Mara was based on Thomas E. Dewey, a famous Manhattan district attorney.
In 2005, Miracle on 34th Street was selected for preservation by the Library of Congress.
Press Notes
Critics loved Miracle for being both entertaining and a smart satire of modern America.
Quotation Notes
Wood: "I was so young… going to the studio every morning at dawn was magic."
Director George Seaton described Natalie Wood as having "an instinctive sense of timing and emotion."
Maureen O'Hara: "[Michael Romanoff, owner of Romanoff's] ran the most magnificent restaurant in Beverly Hills and had the best food."
Maureen O'Hara on Gwenn (Kringle): "I've never seen an actor more naturally suited for a role."
O'Hara: "Payne was a wonderful person to work with and… became one of my dearest friends."
Natalie Wood said that when making this movie, she "still vaguely believed in Santa." "I really did think Edmund Gwenn was Santa."
O'Hara says that "its message of hope and love… steals hearts all over the world every year."
Random Notes
It's a myth that drinking coffee will sober you up. Studies show it won't.
As a geriatrics specialist in 1947, Pierce would treat dementia, arthritis, and cataracts.
In 1947, Dr. Pierce's X-Ray machine would have set Kringle back around $2500.
Script Notes
Writer Valentine Davies came up with the idea for Miracle while Christmas shopping in 1944. Disgusted by the commercialism, Davies wondered what Santa would think if he saw it.
Set Notes
This entire parade sequence was shot at the actual 1946 Macy's Thanksgiving Day Parade. Because they only had one chance to get it right, they set up 14 cameras along the parade route.
Natalie Wood had a photographic memory and always knew her lines. Because she always got scenes right the first time, she got the nickname "One Take Natalie."
Edmund Gwenn improvised his reaction to the beard-pull so Natalie Wood would be surprised.
Edmund Gwenn grew his iconic white beard and gained 30 lbs. just for this role.
Macy's and Gimbels wouldn't allow their names to be used until after they saw the movie. If either hadn't approved, the studio would have had to re-cut and re-shoot the entire thing.
Hyatt came up with his "because my daddy told me so" line. That wasn't in the original script.
At one point it was so cold filming one of the outdoor scenes that the cameras froze. Some neighbors lit their own fireplace and took the cameras into their house to warm them back up.
Source Notes
For date of birth, Kringle puts "I'm as old as my tongue and a little older than my teeth." That's an old English saying often attributed to satirist Jonathan Swift (1667 – 1745).
Technical Notes
In 1985, Miracle became one of the first black and white movies to be computer-colorized. Using technology developed by NASA, it was colorized in an attempt to boost TV viewership.
Trivia Notes
There have been four remakes of Miracle and even a Broadway musical. This is the original.
Edmund Gwenn was Santa for the whole parade. No one realized he was being filmed for a movie.
The first Macy's Thanksgiving Day Parade was held in 1924. Back then, it was called the Macy's Christmas Parade.
About 300,000 people visit Santa at Macy's each year.
Dutch Santa looks a lot like the American Santa, dressed in red and white with a full white beard. He even carries a big book that tells if you've been bad or good.
In 2010, the Macy's in San Francisco fired their Santa of 31 years for telling a naughty joke.
Pulling at one's eyebrows is called Trichotillomania.
Bellevue, founded in 1736, is the oldest U.S. public hospital and well-known for its psych ward.
The name Shellhammer is originally German. It means someone who is loud or noisy ("schel").
Miracle went through many names, including It's Only Human, Mr. Kringle, and The Big Heart.
There are currently 1.6 million people living in Manhattan. It's the most crowded city in the U.S.
Alvin Greenman (Alfred) is the only cast member who was also in the 1994 remake of Miracle. He played a doorman also named Alfred.
In New York, two physician's certificates are required to commit someone against their will.
In a recent poll, 86% of Americans said they believed in Santa at one point, as Gailey does here.
A real "Santa Claus" was born in Texas the same year this movie came out. His sister named him.
In 2010, the Utah Supreme Court denied a man's request to legally change his name to Santa Claus.
John Payne (Gailey) loved Miracle so much he wrote a sequel. It was never produced.
Miracle was originally released in the summer and posters didn't even mention Santa Claus.
There are 21 bags of mail carried into the courtroom.
The town of North Pole, Alaska typically gets around 120,000 Santa letters each year.
After being released in June, Miracle stayed in theaters all the way through Christmas.
Read More