Uncategorized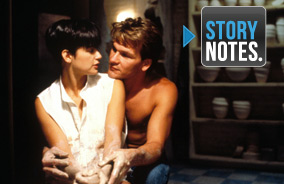 Monday through Thursday, at 8PM | 7C, AMC presents Story Notes — real-time on-air trivia about your favorite movies. Tonight's movie was Ghost.
Award Notes
Patrick Swayze was nominated for the Golden Globe for Best Actor in 1991 for his role as Sam.
Composer Maurice Jarre was nominated for the Best Original Score Oscar for Ghost.
Demi Moore was nominated for a Golden Globe for Best Actress for her role as Molly.
Whoopi Goldberg won the Best Supporting Actress Oscar in 1991 for her role as Oda Mae.
Biographical Notes
Swayze went to college on a gymnastics scholarship before dropping out to pursue acting.
Swayze never had a suit-and-tie job. Before becoming a star, he supported himself as a carpenter in L.A.
Swayze was a ballet dancer in New York City during the seventies.
Goldberg was raised in the Chelsea neighborhood of Manhattan.
John Willis's Screen World listed Tony Goldwyn as one of the 12 Most Promising Actors in 1990.
Goldberg's real name is Caryn Johnson. She changed her last name to Goldberg because her mother thought it sounded more like an actress.
In real life, Goldberg was given an Angel Award in 2001 for her charity work.
Oda Mae's sisters had worked together before in a 1980 production of Ain't Misbehavin'.
Moore would show her toughness again in G.I. Jane and Charlie's Angels: Full Throttle.
Casting Notes
In 1990, Moore was mostly known for Brat Pack movies St. Elmo's Fire and About Last Night.
Swayze was a huge star and leading man thanks to Dirty Dancing.
This was Goldwyn's first big role in a movie. He's the son and grandson of famous producers Samuel Goldwyn Jr. and Samuel Goldwyn.
Character actor Phil Leeds is known from Ally McBeal, Murphy Brown, and Roseanne. Leeds said, "I am the guy who people say, 'Here comes what's-his-face.'"
The filmmakers say that Moore was their first choice for the part of Molly.
Rick Aviles was a stand-up comedian before being cast in Ghost.
Goldberg was nominated for the Best Actress Oscar for her role in The Color Purple. It was only her second movie.
Both Oprah Winfrey and Tina Turner were up for the part of Oda Mae before Goldberg got the job.
The filmmakers spent a long time casting Carl because they wanted a big-name actor. But they kept returning to the unknown Goldwyn's audition tape and finally cast him.
Stephen Root is known for Office Space and NewsRadio.
Vanity Fair called Vincent Schiavelli one of the best American character actors.
Jerry Zucker's mother, Charlotte, plays the bank officer.
Tom Finnegan worked with Swayze a year earlier, on Road House.
Screenwriter Bruce Joel Rubin's mother, Sondra, plays the shorter nun.
Finance Notes
$4 million may seem like a lot of money to Oda Mae. But by 1993, Goldberg was earning $7 million for making Sister Act 2.
Ghost also helped Moore become one of the highest-paid actresses of the nineties. She went from making $350,000 for Ghost to making $11 million for G.I. Jane in 1997.
Health Note
Sunlight could be good for Molly. It helps the brain make a mood-lifting chemical.
History Note
The turnstile was introduced to the New York subway in 1920. The fare was a nickel.
Location Notes
Molly and Sam's loft is located at 102 Prince Street, in the heart of NYC's Soho art district.
Willie's apartment on 303 Prospect Place would be located in Prospect Heights, Brooklyn.
Love Note
Studies show that in a relationship men are actually more likely to say "I love you" before women.
Music Notes
"Unchained Melody," by the Righteous Brothers, 1965. AFI ranks this as one of the best movie songs of all time.
"No Hiding Place," by Dorothy Love Coates and the Original Gospel Harmonette?s, 1954.
"I'm Henery the Eighth, I Am," written by Fred Murray and R. P. Weston, 1910. In 1965, Herman's Hermits' version became the fastest-selling single up to that date.
Two versions of "Unchained Melody" were on the Billboard Hot 100 in 1990 because of Ghost. There was the original single, from 1965, and a new version recorded for the soundtrack album.
Pop-Culture Notes
Ghost was the surprise hit of 1990 and was the top-grossing movie of the year. It beat out movies like Pretty Woman, Die Hard 2, and Dances With Wolves.
Zucker came up with the iconic pottery scene while working on The Naked Gun. A year later, his brother David Zucker parodied it in The Naked Gun 2 1/2.
People has named Moore one of the 50 Most Beautiful People three times.
Ghost has become a romantic classic. AFI ranks it as one of the most romantic movies of all time.
Quotation Notes
Zucker set out to make a movie that "made you laugh, cry, [and] get scared. The movie is a roller-coaster ride."
Swayze said, "I needed to do [Ghost] for my soul. I'd just come off Road House and Next of Kin, and I [didn't] want to be considered just an action actor."
Goldberg says, "I do think [Oda Mae] was tailor-made for me. If anyone can be a scam artist, it's me. Who's got a career because they're a scam artist? Me!"
Goldberg says, "Not looking at Patrick was very hard and sort of crazy-making."
Swayze said, "People considered Whoopi a comedian at that time. I saw a truly brilliant actress."
Zucker says they needed a scene to make the audience really hate Carl. "I guess seducing someone's girl, even when they're dead, is worse than killing them in the first place."
Zucker says he's never seen "anyone own a part as well as Vincent."
Zucker says that Goldberg would joke around with the crew all the time. "She kind of put me to shame because I was supposed to be funny."
Goldberg says, "I believe that when people die, the spirit flies from them and fragments. [It] goes into people who are just coming into being. I believe I got hit with a lot of fragments."
Goldberg says, "If you get a little gassy, you've got to let it go. So people used to say to me, 'You're like a whoopee cushion.' And that's where the name came from."
Rubin says, "Oda Mae was the most fun character I have ever written. She just revealed herself. She was situationally funny."
The screenwriter says, "The two things that date this movie may be the computer monitors and Arsenio."
Zucker says, "I always liked that we got to kill the villains twice."
Goldberg: "You get those movies if you're lucky that are just fun, and it was fun to go to work. Not all movies are like that, but this one was."
Swayze once said, "I am convinced that people can come back and visit loved ones. Death is a beginning, not an ending."
Goldwyn says, "Every time I play a villain, I try and find the humanity in that person. That's always the challenge."
Swayze said that during his audition, "I realized that this could be one of those roles of a lifetime."
Script Notes
Rubin had to fight to get Ghost made. He started pitching it to studios in 1984.
Rubin used to say "Ditto" to his high-school girlfriend instead of "I love you."
Rubin says New York City is almost like another character in Ghost.
The screenwriter originally pitched Oda Mae as a real psychic. But producers thought it would be funnier if she were a charlatan who starts hearing Sam.
Bruner was named after a grade-school teacher Rubin didn't like.
Rubin says he got the idea for Ghost while watching a production of Hamlet. When Hamlet's dead father tells him to avenge his death, Rubin thought that would make a great movie.
Rubin says he started crying when he wrote Molly's "Ditto." He won the Oscar for Best Original Screenplay for Ghost.
Set Notes
This was the first movie Zucker directed alone. Before this, he was a part of the directing team ZAZ. He directed Airplane! and Top Secret! with his brother David and Jim Abrahams.
When Moore was cast, she had long hair and didn't tell the director she was going to cut it. The director was shocked and at first didn't like it, but he now thinks it was perfect for her character.
Moore wanted this to look authentic, so she and Zucker took pottery lessons.
The pot wasn't supposed to fall apart. But Swayze and Moore just kept going.
Moore was nervous about taking this role because Molly is mourning so soon into the movie. But she made sure to play Molly as a strong character.
Tom Cruise, Kevin Kline, and Harrison Ford all passed on the role of Sam because they didn't want to play a ghost.
The filmmakers originally thought Goldberg was too well known for this role. But Swayze said he wouldn't do Ghost unless Goldberg at least got to audition with him.
The director says that, ironically, Goldwyn and Aviles were the nicest guys working on Ghost.
After seeing Road House, Zucker wasn't sure Swayze was right for this role. But Swayze had Zucker in tears by the end of his audition.
Moore can make herself cry easily. She would just signal the director when she was ready to roll.
The filmmakers mapped out the rules of the afterlife to make sure the movie stayed consistent.
The director and screenwriter thought Goldwyn was too nice to play the villain. Goldwyn had to convince them that Carl needed to be both nice and evil to be believable.
Zucker didn't want to focus on Carl with his shirt off, so he filmed a lot of close-ups.
Goldwyn's wife, Jane Musky, was the set designer for Ghost.
Swayze chewed on ice to make sure you couldn't see his breath. Ghosts, of course, don't breathe.
Symbolism Notes
"Charmed life" is a line from Shakespeare's Macbeth, who says it right before he dies.
Sam's last name is Wheat, which is the symbol of Osiris, the Egyptian god of the afterlife.
Technology Notes
The special effects in Ghost were done on film since computer graphics were still limited in 1990.
For most of the movie, Swayze acted in the same room as his co-stars. But whenever Sam passes through walls or people, he was filmed solo and superimposed in the edit.
Actors were filmed roller-skating around Carl and then animated to look like demons.
Trivia Notes
MAC stands for "message authentication code," which is a security code for electronic fund transfers.
In the theater world, saying "Macbeth" out loud is supposed to bring bad luck, even death.
Fortune-telling has been illegal in N.Y. since 1967. It can get you 90 days in jail or a $500 fine. But there's a loophole. It's okay if it's just for entertainment.
Many paranormal experts think ghosts need an energy source to move things. Others say they're using telepathy or psi powers.
There's been a ban on smoking in NYC subway stations since 1909.
The real Gibraltar Securities was a company that mostly sold tax-exempt municipal bonds.
Almost half of Americans believe in ghosts.
Read More