Seeing "The Adventures of Tintin"? Here's What You Need to Know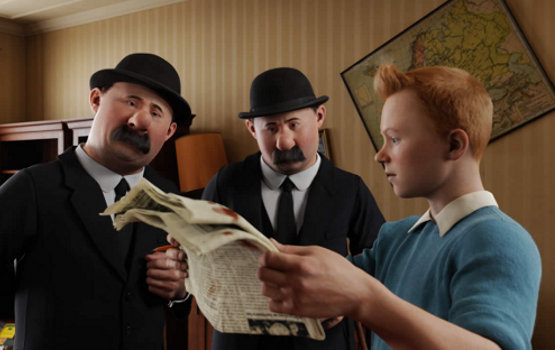 Like many this holiday moviegoing season, you're probably curious about Steven Spielberg's new film
The Adventures of Tintin
. Perhaps you're intrigued by the visually unique motion-capture animation, which blends live-action and cutting-edge special effects. Or maybe you think it looks like a rollicking, old-fashioned adventure film like
Raiders of the Lost Ark
. But did you know that it's actually based on one of the most popular comic books in the world?
Before you head out to the theater, take a look at our cheat sheet for newbie Tintin fans. The movie is just your first step into one of the richest four-color worlds in modern literature.
Tintin Is Massively Popular Around the World
While
something of a cult figure in the U.S., Tintin is one of the most
popular European comic strip characters of all time. The creation of
Belgian artist Hergé, the adventures of intrepid boy reporter Tintin and
his trusty dog Snowy have been translated into more than 50
languages. Children in Belgium and various parts of Europe grow up with
Tintin as we do Mickey Mouse or Spider-Man. There are 24 volumes,
including the final unfinished work
Tintin and the Alph-Art
, published between 1929 and 1986. There is even an entire
museum
devoted to Hergé and Tintin in Belgium. In America, Hergé's work is
highly regarded by comic book fans and scholars. Besides inspiring
George Lucas and Spielberg to create the Indiana Jones series, Tintin
had a profound effect on everyone from comic book greats Carl Barks and
Alex Toth to pop artists like Andy Warhol and Roy Lichtenstein. With his
crisp, clean line work and fast-paced stories, Hergé also influenced
Japanese animation and the work of Pixar (
The Incredibles
director Brad Bird has cited Hergé as an inspiration).
It's Based on Three Tintin Books
For the brave reporter's film debut, Spielberg and his collaborators chose to combine three Tintin books — The Crab with the Golden Claws, Red Rackham's Treasure, and The Secret Unicorn. While certain characters and plot points are carried over, all of the Tintin books feature self-contained stories. And though action-packed and brimming with memorable characters and plots, the Tintin
books are not without controversy. Hergé was often accused of trading
in cultural stereotypes, particularly in his portrayal of Africans with Tintin in the Congo. But starting with The Blue Lotus,
Hergé made an effort to do extensive research on the lands he was
depicting for Tintin's adventures, leading to comics which serve as a
historical blueprint for much of the twentieth century. There's a reason
why Tintin books are used in schools.
Spielberg Has Been Trying to Make Tintin Since the '80s
It shouldn't come as a surprise that the director behind Raiders of the Lost Ark
has had an interest in bringing Tintin to the big screen for several
decades. A longtime fan of the comic, Spielberg was able to score the
big-screen rights and Hergé's blessing following the success of Raiders. Following Hergé's death in 1983, Spielberg commissioned E.T.
scribe Melissa Mathison to develop a film which saw Tintin facing off
against African ivory hunters. (Reports say that Spielberg wanted Jack
Nicholson to play Capt. Haddock at one point.) Nothing came of the film,
and various other creative teams flirted with the material. (Roman
Polanski was even attached at one point.) Eventually Spielberg returned
to Tintin and decided that computer-generated animation was the best
vehicle with which to tell the story. It took the better part of a
decade, but eventually Spielberg got his Tintin film (with a little help
from Peter Jackson and the folks at Weta Digital, of course).
Tintin Has Already Starred in Multiple Cartoons and Films
Like
Spielberg, many filmmakers and animators have brought Hergé's vision to
the big and small screen. A series of live-action and animated films
(including a stop-motion animated version of
The Crab with the Golden Claws
) were produced in France and Belgium, many based on original
material. An animated TV series was produced in Belgium in the early
'60s, though it was met with criticism. Perhaps the best-known
adaptation of Tintin in America prior to the Spielberg film is the
1991-1992 animated series
The Adventures of Tintin
, which aired in
the U.S. on HBO and Nickelodeon. Sharply animated and featuring stories
and artwork lifted directly from Hergé's pages, the series was recently
released on DVD
and continues to have a cult following today.
A Sequel Has Already Been Greenlit
While it hasn't hit theaters here yet,
The Adventures of Tintin
is already a worldwide hit. So it isn't surprising that Spielberg revealed at a recent press conference that a
sequel is already in the works
. Spielberg confirmed that Peter Jackson will direct the next outing, which will be based on another
Tintin
book. (At one point, Spielberg and Jackson were discussing adapting the Tintin books
The Crystal Balls
and
Prisoners of the Sun
.) Spielberg
also revealed that the bumbling detectives the Thompson Twins will play
a larger part in the sequel. (Fun fact: The '80s band of the same name
took their moniker from Hergé's amusing creations.) With his worldwide
popularity, it's safe to say we'll be seeing more of Tintin on the big
screen in the future.
Read More