Science Fiction Films of 2011: The Year in Review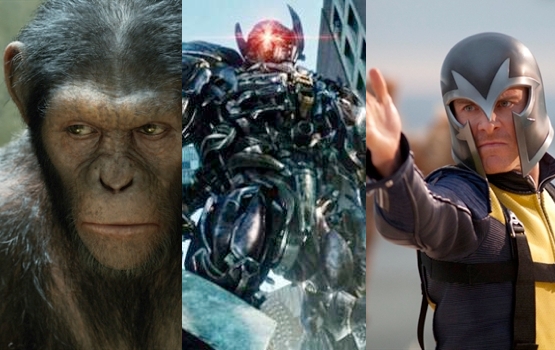 With the exception of The Darkest Hour, which opens on Friday (and which, I suspect, is going to get buried by The Adventures of Tintin and The Girl with the Dragon Tattoo, not to mention the expansion of Mission: Impossible — Ghost Protocol), Hollywood has shown us all the science fiction it's going to show us this year. And with that, I now present some of my thoughts on the Class of 2011. Presented to you in order of domestic gross:

Transformers: Dark of the Moon ($352 million)
The good news: This third Transformers
film was not as stupid as the second, which, intelligence-wise, was a
low watermark even for a Michael Bay film. The bad news: It was still
aggressively stupid, the sort of stupid that has its own gravity well,
which tumbles your own intelligence into it as you watch, leaving you
barely able to remember how to use your blinkers when you exit the
theater parking lot after it's done.
But, look, people: At this point, complaining about the blatant,
abject stupidity of the Transformers films is a lost cause. Yes,
they're aggressively stupid. This one also made more than a billion dollars
worldwide. Let's just admit we humans like stupid; we especially
like the sort of loud, explody stupid that features a nebbishy lead, a
Victoria's Secret model and a passel of actual actors, some with Oscars,
who understand that being in this film is this generation's equivalent
of being in The Towering Inferno or whatever other aggressively
stupid Irwin Allen film was in the theaters in the '70s, and those never
hurt anyone's career, so why not take the paycheck. Twenty years from
now, when the Transformers moment has passed, we'll also like whatever
aggressively stupid thing has taken its place.
Here's the thing: Like the Transformers. I want you to have it. Enjoy it. But try to like other things too, OK? Things that aren't aggressively stupid. Things that don't make you a hazard on the road.
Rise of the Planet of the Apes ($176 million)
I'm
not going to lie to you: I thought this was going to be aggressively
stupid too, partly because it was a horrible business idea. No one was
asking for what looked like a sequel to a decade-old bad remake of Planet of the Apes,
especially one that looked like a remake of one of the lesser sequels
of the original film. Also: James Franco, whom I just don't get. But then
it turned out to be pretty good — and in this year of largely sub-par
science fiction, "pretty good" looks like "close to a classic."
Rise isn't a classic, I assure you. But it is
good, and in particular Andy Serkis's performance as the ape Caesar is
great, enough so that there is some serious discussion of whether he
should be considered for a supporting actor Oscar (short answer: Yes he
should, or at least have some other official recognition). Rise is the best major studio science fiction film of 2011.
Captain America: The First Avenger; X-Men: First Class; and Green Lantern
($176 million, $146 million, and $116 million, respectively)
Perfectly
cromulent comic book films doing perfectly cromulent business. In what
is probably entirely a coincidence, these three films' box
offices mirror their overall entertainment quality, in that Captain America was the best of the trio while Green Lantern dipped into silly land a little too much (saving people by making a magical Hot Wheels track? Booo).
Green Lantern's relative
underperformance (it cost $200 million to make) made some film and
comic book geeks wonder why DC comics-derived movies don't do as well
in general as Marvel comics-derived movies, but I think that's
overthinking. It's not about DC or Marvel; it's about actually making a
halfway entertaining film.
Super 8 ($127 million)
J.J. Abrams's mash note to
Steven Spielberg (who executive produced) is in fact the sort of science
fiction film I wish movie studios would make more of: not too
expensive, not stupid, good acting, good story, cool alien and hits all
the notes it's supposed to (except the ending, which relied too much on
the patented Spielberg Moment of Wonder, but oh well). It's not great
filmmaking but it's really competent filmmaking and storytelling, and
that works for me most days. I'd trade in one Transformers flick for
four or five Super 8s any day of the week, but then I suppose that's why I'm not a studio executive.
Cowboys & Aliens ($100 million)
This year's
example of the Goldman Rule that in Hollywood, nobody knows anything. A
film based on a comic book, directed by the guy who did the Iron Man
flicks, starring Harrison Ford and Daniel Craig? How could it not work?
And yet it didn't. Worldwide it made $174 million, which is about $10
million more than its production costs, which means that with home video
and cable and TV rights eventually it's likely to stagger over the
break-even point. But it's not a film anyone involved is going to rush
to remind people of.
Real Steel and Battle: Los Angeles ($83
million each)
Two films which remind us that the US is not the be all and end all of the film industry, since both did OK here in the U.S. but
rather better overseas: The global take of Steel was $276 million, while Battle
pulled in $211 million. Not Transformers money, but you know what? It's
still pretty good. If we see sequels, it will be thanks to the rest of
the world, not us.
Limitless; The Adjustment Bureau; and Source Code ($79 million, $62 million, and $54 million, respectively)
OK, remember at the top how I said it's OK to like Transformers,
but like other, not-stupid things, too? These three films are examples
of what I'm talking about. Each had modest success in its way (Limitless proved Bradley Cooper could open a film without Zach Galifianakis, Source Code showed that director Duncan Jones's Moon wasn't a fluke, Adjustment
reminded Hollywood that science fiction could be subtle and still
work), but it would have been nice if their successes had been a little
less modest. Keep stuff like this in mind for 2012, OK? I thank you in
advance.
Read More