Uncategorized
Think Your Relatives Are Crazy? Imagine Holidays With the Corleones or the Addams Family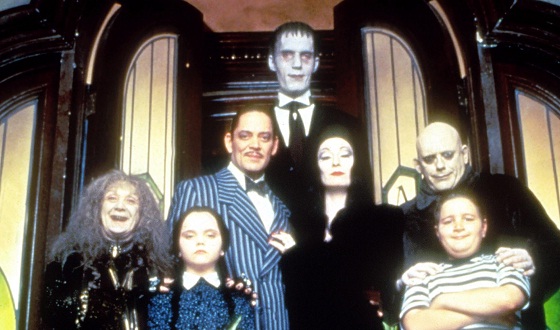 What would the holidays be without family? For some people, a heck of a lot more enjoyable! Hollywood has made its fair share of flicks about spending Christmas with crazy relatives (Four Christmases) and about introductions to insane in-laws (Meet the Parents), but those clans pale in comparison to some other nutty broods. So before you start dreading holiday dinners, take comfort in the fact that you're not related to some of these dysfunctional movie dynasties. Here we rank the top five in ascending — or, rather, descending — order of their insanity.
5. The Tenenbaums, The Royal Tenenbaums
Granted, the Tenenbaums may be more quirky than certifiable — but they're still a mess. Your brother (Luke Wilson) is in love your sister (Gwyneth Paltrow). Your less-than-supportive father (Gene Hackman) is feigning a terminal illness to get a free ride. Not to mention that your other brother (Ben Stiller) wears a red tracksuit reminiscent of a low-budget hip-hop Santa Claus. A holiday visit may not seem harmful at first, but you're guaranteed to be spending time on your therapist's couch in the New Year.
4. The Addamses, The Addams Family Series
Unless you're the type who gets a kick out of having knives thrown at you like Uncle Fester (Christopher Lloyd), you may want to make other plans for holiday cheer. The Addamses do have an amazing knack for making merriment out of the macabre, but a visit to this kooky house is not for the faint of heart. Two pieces of advice, should you decide to stop by: no singing Christmas carols (trust us on this) and don't bother bringing flowers. Morticia (Anjelica Huston) isn't really a fan.
3. The Brewsters, Arsenic and Old Lace
Poor Cray Grant. He's just gotten married and discovered that his aunts are poisoning the local widowers and his brother is a cold-blooded killer. How can you bring your newly betrothed home to that? It does make for one of the best movie farces ever! (Yes, we mean that exclamation point.) The Brewsters' antics prove that blood may be thicker than water, but bloody murder is just bad for family gatherings.
2. The Corleones, The Godfather Series
A holiday dinner at this Italian family compound would be a veritable feast. But at what cost? Take daughter Connie Corleone's experience: at a party, her brother Sonny (James Caan) introduces her to future husband Carlo (Gianni Russo) — who beats her incessantly. Ultimately, her youngest brother, Michael (Al Pacino), has Carlo murdered and whacks their other brother Fredo (John Cazale) for a separate offense. (Makes spending Christmas alone with a Cup-a-Soup sound pretty appetizing in comparison.)
1. Jupiter and the Clan, The Hills Have Eyes
Hands down this cannibalistic family should be disowned. No joke. Change your name. Move many time zones away. Never look back! And don't feel guilty for severing ties — a Christmas card each year will do just fine. But should you think about giving in to big Mama's pressure to come visit, just remember her dinner plans may include having you as their holiday buffet.
Spend the evening with the Addamses (if you dare) when AMC celebrates the twentieth anniversary of The Addams Family starting tonight, at 8PM I 7C.
Read More