Uncategorized
Another Ten Reasons Why We Can't Get Enough White Christmas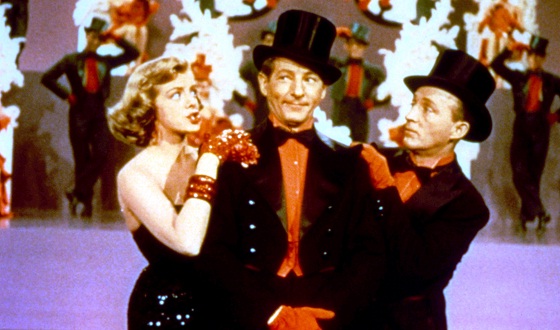 Since White Christmas hit the screen, in 1954, the musical has continued to melt frostbitten hearts every year thereafter. We've sung the praises of this wintry classic before,but here are ten more reasons why we can't get enough White Christmas.
10. Irving Berlin Knows How to Recycle
Overachievers can take comfort in the fact that even the great ones rest on their laurels sometimes. Composer Irving Berlin took one of his previous songs, "Free" (written for the musical Call Me Madam), and changed some of the lyrics to become the tune "Snow." Slick move, Mr. Berlin.
9. The Original Bromance
Forget Paul Rudd and Jason Segel. Forget Sherlock Holmes and Dr. Watson. Bing Crosby and Danny Kaye have the ultimate bromance. Sure, Clooney and Vera-Ellen add some romantic sparkle, but the chemistry between these two war buddies is the star attraction. From the battlefield to Broadway, the friendship between this pair clearly endures.
8. Wartime Remembrance
Sometimes it's easy to forget that we still have troops in Afghanistan. The movie opens with Crosby's stirring rendition of "White Christmas" while munitions thunder in the distance and homesick WWII soldiers watch in spellbound silence. Watching it now also serves as a poignant reminder that another holiday season is here and our boys are still there.
7. The Best-Selling Single of All Time
Bing Crosby originally recorded "White Christmas" back in 1941 for "Kraft Music Hall," but the recording never survived. The following year, Crosby performed it as a duet in the movie Holiday Inn and the song became a hit — in part, because of its resonance with soldiers and their families during WWII. Without the success of the single "White Christmas," there may never have been a movie White Christmas twelve years later.
6. Mary Wickes
Audiences today may recognize this veteran actress as the cranky old nun in Sister Act, but Mary Wickes has been stealing scenes with her wisecracks for decades. And White Christmas is a prime example of what makes her great. Her reply to General Waverly when he says he got along fine without her in the Army is, "Yeah. It only took 15,000 men to take my place." Nicely said.
5. It's a Christmas Movie Without All the Sap
Not to get all Scrooge-y, but sometimes the overload of sappy Hollywood tales about the Christmas spirit can, well, kill the spirit. White Christmas delivers the message via Bob and Phil's unwavering adherence to altruism amid an eye-popping pile of perfectly wrapped presents: costumes, dancing, music, jokes.
4. Rosemary Clooney
Clooney goes above and beyond as the headstrong sister who's scared of falling in love. Her performance is heartfelt, her crystalline voice is perfection, and not only does she do her own singing (unlike Vera-Ellen, who was dubbed) but Clooney also sings both her part and Vera-Ellen's on the showstopping "Sisters."
3. Bing Crosby and Danny Kaye's Banter
As dazzling and dexterous as any of the musical numbers is the rapid-fire back-and-forth between Crosby and Kaye. Phil: "How can a guy that ugly have the nerve to have sisters?" Bob: "Very brave parents." Bob: "Gals like that are a dime a dozen." Phil: "Don't quote the price if I don't have the time." And so on.
2. Michael Curtiz
"Who the heck is Michael Curtiz?" you ask. Um, the director. And not only is he the director of this classic, but he's also the Oscar winner behind Casablanca, Mildred Pierce, and Yankee Doodle Dandy (to name just a few). That's quite a legacy — and more than deserving of a No. 2 spot. So who could possibly top Curtiz?
1. The Uncredited Choreographer
Bob Fosse! Yep, that's right. The man who choreographed sizzlers like Cabaret and All That Jazz is the same man behind the moves in this wholesome tale. (Maybe that's why he goes uncredited.) So take a closer look at the sway of Vera-Ellen's hips and the inviting extension of her limbs: they've got Fosse written all over them.
Click here for a full schedule of White Christmas on AMC.
Read More