Uncategorized
Top Ten Reasons We Can't Get Enough Sylvester Stallone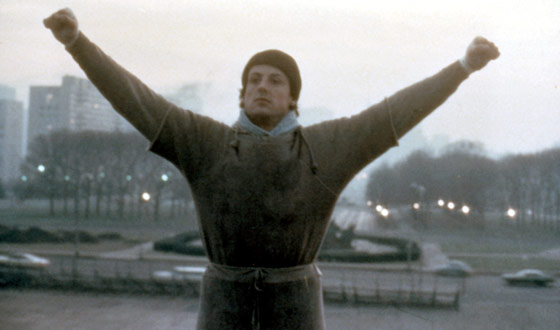 After giving the top ten reasons we can't get enough Rocky followed by ten more reasons we can't get enough Rocky, this post should in no way imply that AMCtv.com has exhausted all the reasons we can't get enough Rocky. Never! But it's time to pay tribute to the man behind the Italian Stallion: Sylvester Stallone. He may not be as versatile as Robert De Niro or Johnny Depp, but what he does — infuse macho men with humanizing soul — he does supremely well. Few can match Sly when it comes to Everyman-hero appeal, and here are ten reasons why.
10. He Directs Well
Stallone brought a smoothly professional hand to four Rocky movies (including the surprisingly character-driven Rocky Balboa), the last Rambo movie, and The Expendables. And with only two duds (Paradise Alley and Staying Alive) out of eight features, his track record is the envy of most Hollywood directors.
9. He Lets Others Have the Last Laugh
Unlike onetime rival Arnold "Hasta la Vista" Schwarzenegger, Stallone doesn't have to steal the show. His lets his co-stars have the memorable lines. For example, who can forget Burgess Meredith in Rocky: "You're gonna eat lightning, and you're gonna crap thunder"? Or Teasle's advice to Rambo: "Get a haircut and take a bath. You wouldn't get hassled so much"?
8. He's Not Afraid to Take a Punch
True action stars get knocked around a little. But no one would have thought less of 63-year-old Stallone if he'd deferred to a stunt double for The Expendables' knock-down, drag-out fight with former wrestler Steve Austin (nearly 20 years his junior). But Stallone didn't and ended up with a fractured neck. That's what you call walking the walk.
7. He's Willing to Look His Age
Stallone doesn't pretend he's ageless. In Rocky Balboa and Rambo, his signature characters are old guys — old guys in great shape, granted — but they still have no business getting back into the ring or rescuing missionaries from Burmese warlords. They do it anyway, but Stallone makes sure you know they're going to ache for a long, long time.
6. He Went From Bad Guy to Good Guy
Before Stallone was a hero, he was a hood. As egotistical auto racer "Machine Gun" Joe Viterbo in Death Race 2000, Stallone tommy-guns spectators who don't show enough love. In The Lord's of Flatbush, Sly plays a self-centered gang member who knocks up his girlfriend. Now he tends to be the hero, but back in the day he didn't.
5. He's Not Perfect
That's quite a body — no two ways about it. But Stallone's asymmetrical face and much-imitated speech impediment make him seem approachable, even vulnerable. That's part of the reason that seeing Rocky beat the bejesus out of flawless Soviet superman Drago (Dolph Lundgren) in Rocky IV is so satisfying.
4. He Has Depth
Having said he regrets not doing more independent pics, Stallone took time out between Daylight and Driven ($17.5 and $20 million, respectively) to play a fat, lonely hearing-impaired policeman in the low-budget Cop Land. It paid off with the best reviews of his career. Beneath that swagger lies an actor who can hold his own against Robert De Niro and Harvey Keitel.
3. He Knows His Limitations
Stallone isn't a monosyllabic mountain of muscle — he just plays one on the screen. He may like comedies, but after disasters like Oscar, Rhinestone, and Stop! Or My Mom Will Shoot he opted to face facts and play to his strengths: great abs, buns of steel, and those wounded-puppy eyes that make women melt.
2. He's a Fighter in Real Life
At 25, Stallone reached the point where most aspiring actors bail: broke with little work to show — a soft-core porn, a couple of exploitation movies, some uncredited bits — and a pregnant wife paying the bills. But he wrote a screenplay that made an old story — hard-luck guy, shy girl longing for love — new again. A year later, Rocky had ten Oscar nominations, and Stallone was a star.
1. He's Rocky. And Rambo
Two iconic movie characters who can still pack theaters — and Stallone embodies them both.
See Stallone in the role that made him a star during AMC's Can't Get Enough Rocky, starting on Mon., Oct. 7, at 8PM I 7C.
Read More