Uncategorized
Story Notes for There Will Be Blood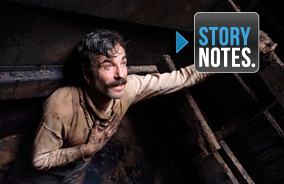 Monday through Thursday, at 8PM | 7C, AMC presents Story Notes — real-time on-air trivia about your favorite movies. Tonight's movie was There Will Be Blood.
Award Notes
There Will Be Blood, one of the most celebrated movies of 2007, was nominated for eight Oscars.
Dillon Freasier was nominated for a Young Artist Award in 2007 for his role as HW.
Daniel Day-Lewis won his second Oscar for his role as Daniel Plainview. On stage he said: "I wish my son and partner HW were up here, the mighty Dillon Freasier." Freasier, who had decided to skip the Oscars, was asleep at the time.
Biographical Notes
Daniel Day-Lewis (Daniel Plainview) is known for completely immersing himself in his roles. For There Will Be Blood, he spent two years poring over research and learning the tools of the era.
There Will Be Blood director Paul Thomas Anderson also made Magnolia and Boogie Nights. He's part of a generation of self-taught filmmakers that includes Spike Jonze and David O. Russell.
Daniel Day-Lewis' father was the Poet Laureate of England from 1968-1972. When Day-Lewis was born, his father announced it by publishing a poem called "The Newborn."
There Will Be Blood was a complete departure for director P. T. Anderson. Not only was it his first adaptation; the movie was also his first period piece.
This was the first movie P. T. Anderson made after becoming a father himself. He and partner Maya Rudolph have three children together.
Daniel Day-Lewis says he longed to be an American actor after he saw Taxi Driver (1976). Robert DeNiro's character in that movie also saw the worst in people.
Daniel Day-Lewis says it often takes him months to shake a character after a movie wraps. That's part of the reason he only takes on one role every few years.
Casting Notes
Texan Randall Carver played John Burns in the first season of "Taxi" (1978).
The silent man is Ciarán Hinds, who played Caesar in "Rome."
Actor Paul Dano is best known for his award-winning performance in Little Miss Sunshine.
Location Notes
Most of the silver mining was shot at the Presidio mine in the ghost town of Shafter, TX. Shafter was a booming mining town in the early 1900s but now has a population of 11.
In reality, there is no Little Boston in California.
Most of There Will Be Blood was shot on a 500 acre ranch south of Marfa in west Texas. The classic James Dean movie, Giant (1956), was also shot in the area.
P. T. Anderson says burning the derrick was "one of the benefits of shooting in west Texas…They're a lot looser out there. I don't think we could have done that in California."
King City is in Monterey County, CA. John Steinbeck set his novel, East of Eden, there.
The mansion was originally built by Edward Doheny, the oil tycoon Plainview is based on.
History Notes
Early oil men didn't know what they were doing. They often started by using silver mining techniques and got lucky.
Workers really would just dump oil into big holes until it could be transported.
America was quickly transitioning from rural life to industrialization during the early 1900s.
Accidents happened all the time, partially because there wasn't an established way to drill.
Silver City got its name from the silver ore found there in 1870, but by 1911 it was a copper town.
Chain gangs were common in the U.S. from the 1800's until they were abolished in 1955.
Standard Oil was founded by John D. Rockefeller in 1870 and entered California in 1900. Seven other companies were already flourishing in California at the time, including Union Oil.
Standard Oil's biggest competitor in California at the turn of the 20th century was Union Oil. In 1909, Union Oil joined with a group of small oil producers to build a pipeline to the coast.
American Sign Language began in 1817 by mixing French Sign Language with regional signs.
During the 1920s, Mexico was 2nd only to the U.S. in petroleum output and led the world in oil exports.
There was a mild recession in 1927, due to Henry Ford shutting down his factories for 6 months.
The milkshake line was actually said by Edward Doheny in a 1924 court hearing.
Quotation Notes
Quentin Tarantino says it's "one of the best in the last decade."
Daniel Day-Lewis says oil men lucky enough to make money turned "from savages into showmen."
Director P. T. Anderson: "Working with [Upton Sinclair's] book was like having a great collaborator…It was liberating."
Director P. T. Anderson: "We were in love with our [oil] derrick. We were so proud of it."
Oil expert Jim Farmer: "Whatever gets it out of the ground. There's no manual for this kind of work."
Dano: "You question whether my character's charisma is from God or something less innocent."
Paul Dano admired Daniel Day-Lewis, especially his ability to commit to Plainview. Dano: "It's a testament to his willpower and his perseverance to be able to do that."
Kevin J. O'Connor: "I sort of see Henry as the weaker, milder version of Daniel's character."
Daniel Day-Lewis: "Thousands of men like Plainview had a fever that took them to the oil fields… Initially a man of honor, Plainview becomes a man obsessed by power."
Anderson considers cinematographer Robert Elswit to be his "closest collaborator." Elswit (Michael Clayton, The Town) has shot every single one of Anderson's movies.
Quentin Tarantino says, "There are facts: water is wet, the sun is hot…and Daniel Day Lewis in this film is great."
Script Notes
There is no talking in the first 14 and 1/2 minutes of the movie. Director P. T. Anderson said "It was great to do things without dialogue."
Source Notes
There Will Be Blood was loosely based on the novel Oil! (1927) by Upton Sinclair. Sinclair is best known for his muckraking book, The Jungle, about Chicago's meat industry.
Plainview is based on the real-life oil tycoon Edward Doheny. Doheny set off the oil boom in southern California in 1892.
Trivia Notes
Babies are sometimes fed small amounts of whiskey while they're teething.
Most oil in California was extracted from the Monterey Formation, a region that's rich in sulphur.
Today, goat's milk makes up around 2% of the world's milk supply.
Crude oil can range in color from yellow or red to dark brown and black.
Only 1/3 of children went to elementary school in the early 1900s. Less than 10% finished high school.
There Will Be Blood was part of a resurgence of modern Westerns in Hollywood in 2007. Others included 3:10 To Yuma and No Country For Old Men.
Plainview's dialogue has a cadence and a theatrical quality rooted in the 19th century. Many cite director and actor John Huston (Chinatown) as the inspiration for his voice.
An oil well gushes when its drill punctures an underground pocket of natural gas.
Dynamite can be used to suck all the oxygen out of an area to stop fires.
There Will Be Blood is a carbon neutral movie. For every dollar they spent on energy, they invested another dollar in sustainable energy projects.
Vodka and milk is called a "Milky Pete," a "Vodka & Primer," or a "Vodka Nightmare."
Psychologists say children sometimes start fires to communicate distress.
Director P. T. Anderson dedicated There Will Be Blood to one of his mentors, director Robert Altman. Anderson acted as a stand-in director on Altman's final movie, A Prairie Home Companion (2006).
Daniel Day-Lewis had 2 years to prepare for his role. Paul Dano had 3 days.
The "friendship pipeline" in eastern Europe is the longest in the world at 3,310 miles.
There Will Be Blood is often compared to Orson Welles' Citizen Kane. They are both also based on real life millionaires and ruthless leaders of industry.
In Christian theology, the third revelation is when Christ returns to the Earth. By claiming he is the third revelation, Plainview is saying that he is a god.
Director P.T. Anderson says his biggest challenge was "getting the ending just right."
Read More