Uncategorized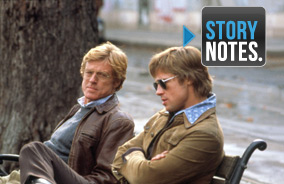 Monday through Thursday, at 8PM | 7C, AMC presents Story Notes — real-time on-air trivia about your favorite movies. Tonight's movie was Spy Game.
Biographical Notes
Pitt is no stranger to jailbreaks. His character broke out of prison in Seven Years in Tibet. In Inglourious Basterds (2009) his character led another jailbreak.
The filmmakers call Spy Game a companion piece to Redford's CIA classic, Three Days of the Condor.
Redford went to the University of Colorado to play baseball before giving up sports to act.
Stephen Dillane (Harker) was nominated for an Emmy for his role as Thomas Jefferson in "John Adams."
Redford is known for talking politics. In 2001, Rolling Stone named him their "hot dissident."
Brad Pitt's real name is William Bradley Pitt.
Both Scott brothers are big fans of David Hemmings. Ridley Scott cast him in Gladiator (2000).
Casting Notes
Brad Pitt and director Tony Scott worked together once before Spy Game on True Romance (1993).
Ken Leung played Miles Straume on "Lost."
After taking a 3-year break from acting, Robert Redford returned to the screen twice in 2001. The Last Castle was released only a month before Spy Game.
Stephen Dillane wowed critics and fans in Welcome to Sarajevo (1997).
Marianne Jean-Baptiste (Gladys) starred in the TV show, "Without a
Trace." She was also nominated for the Best Supporting Actress Oscar for
her role in Secrets & Lies (1996).
Larry Bryggman won an Emmy for his 30-year-long recurring role on "As the World Turns."
Muir's wife is played by Kimberly Paige, who was the wife of the U.S. Ambassador to Hungary.
Charlotte Rampling made a name for herself in The Verdict (1982).
Catherine McCormack got her break playing Mel Gibson's wife in Braveheart.
Omid Djalili is best known as The Warden in The Mummy (1999).
James Aubrey was in director Tony Scott's first movie, The Hunger (1983).
David Hemmings starred in Michelangelo Antonioni's Blow-Up (1966).
Finance Note
Pitt made $17.5 million for his role, $8 million more than what he made on his previous movie, The Mexican.
Health Notes
Cholera is an infection of the small intestine. People get it when they eat or drink contaminated food.
A shot of adrenaline can sometimes restart someone's heart.
History Notes
Coincidentally, the CIA was accused of bugging the Chinese president's
airplane in 2001. Chinese officials found close to 30 surveillance bugs
on the plane.
In 1985, Beirut was in the midst the Lebanese Civil War, which
lasted from 1975 to 1991. 150,000 lives were lost during the war.
In 2007, it was rumored that Mossad agents assassinated an Iranian scientist by asphyxiation.
During the Lebanese Civil War, there were over 40 different armies fighting.
A similar suicide bombing to the one in the movie occurred in Beirut
in 1985, where a sheik was the apparent target. Some press reports
claimed the CIA was behind the attack that killed 45 people.
Location Notes
The filmmakers shot the interiors of the "Chinese" jail in an old Victorian prison in Oxford, England.
The exterior shots of the CIA were actually shot at a British drug company's headquarters.
After visiting CIA headquarters three times, director Tony Scott
re-created it at his studio in England. Scott and his brother Ridley own
and operate Shepperton Studios.
The filmmakers re-created Vietnam in the one lush area they could find in the Moroccan mountains.
The filmmakers re-created 1970's Berlin in Budapest, Hungary.
The filmmakers shot at an actual refugee camp in Casablanca, Morocco.
Most of the flashbacks were going to be shot in Israel, but a war
broke out right before filming began. At the last minute, they moved to
Morocco and had to scout new locations and recast.
The exterior of the prison was shot at an old Russian air base in Budapest.
Music Note
Harry Gregson-Williams composed the score. Director Tony Scott works with him on most of his movies.
Pop-Culture Note
Right before shooting in 2000, Pitt was named People's "Sexiest Man Alive" for the second time.
Press Notes
Variety says Spy Game is "a blend of showy action, political intrigue, and ticking-clock suspense."
Some critics hailed Spy Game as one of the best CIA spy movies of all time.
Quotation Notes
Director Tony Scott says Spy Game is "like a Bond movie."
Director Tony Scott says the scenes in the conference room were the
"most challenging part of the movie." He says he had to rely on
camerawork and great actors to bring this room to life.
A producer told Tony Scott to make the CIA guys look like they're
from "a car convention in Texas." Scott says he was happy because
"that's how it looks in the CIA."
Robert Redford says it was helpful that he and Pitt already knew each other.
Director Tony Scott says Redford "knows where his character is at any millisecond in the movie."
Director Tony Scott says Charlotte Rampling was his "childhood fantasy."
Director Tony Scott says, "For me, it's a relationship movie. It's this father-son relationship."
Director Scott says, "Robert Redford was Brad Pitt when he was
younger…and Brad's going to be Bob when he gets older, in terms of how
they look."
Tony Scott says that the scenes in the conference room were like a
"poker game." "Every time we came back, we saw a different hand being
played."
Brad Pitt says Redford is "so charismatic" that you have a hard time resisting him.
Brad Pitt joked that his hair in the flashbacks looks like a "Don Johnson mullet" from the '80s.
Dir. Tony Scott says, "I thought [Catherine McCormack] was a perfect balance with Bob [Redford]."
Director Scott says, "Catherine [McCormack] has got these edges. She's got this toughness."
Scott says, "It's about heart versus policy. [Muir] being policy and
[Bishop] being heart." "And [Bishop] could never come to terms with
sacrificing that little man for the bigger picture."
Brad Pitt says, "Redford is in this film as strong and eloquent as only he can be…Spy Game is the classic Redford."
Redford says, "It's a thinking man's action film. That was the basic draw to the project."
Director Tony Scott says he tried to shift the power balance in the
conference room each time. "I had to come back with a different point of
view about who was going to win the next round."
Robert Redford says, "You can set off a million firecrackers, but if
you don't have a story to tell… you have nothing but smoke."
Random Note
Spies often manipulate the media. It's one of the tools of espionage.
Set Notes
Director Tony Scott gave each flashback a distinct look to remind the
viewer of that time in history. For Vietnam, he desaturated the colors
to give it this "strange sepia green."
Director Scott inserted the flask sequence to give the audience an emotional reminder of Bishop.
Robert Redford was baffled by Scott's use of helicopters to shoot
the intimate conversation on the roof. But when he saw it, he was
impressed by how dynamic it made the scene.
The director was worried that viewers would lose sight of Bishop's
plight if they didn't see him. So he used the same torture footage three
times to keep Brad Pitt's face in the movie.
Director Tony Scott was nervous to work with Redford since he is
also a director he really admires. Scott says that Redford's Quiz Show
is one of his favorite movies.
In real life, Brad Pitt is an avid photographer and always has a camera with him on set.
After seeing the photos Pitt took on set, director Tony Scott said he has a future as a director.
Director Tony Scott wanted to add more of a love story between
Bishop and Elizabeth. But he lost to the producers, who wanted the
relationship to develop more off-screen.
To prepare for her role, Catherine McCormack met with an aid worker who fell in love with a CIA agent.
Amidou, the actor who plays the doctor, is Moroccan and had to learn his lines phonetically.
Director Tony Scott heightened the colors in the Beirut segment to mimic news clips from 1985.
There was always an element of real danger around the shoot in
Casablanca. The filmmakers say everyday they'd hear about a violent
crime happening near their shoot.
Spy Game was released just over a month after 9/11.
Director Tony Scott had trouble getting permission to use a building
for an explosion. But at the last minute, he was able to pull some
strings with Moroccan royalty and buy the building.
The director gave Stephen Dillane (Harker) tapes of the journalist
David Frost to prepare. Frost is famous for interviewing President Nixon
after he stepped down.
The filmmakers say Spy Game reminded them of movies like The Parallax View (1974). It was tougher and filled with anti-heroes, like their favorite movies from the '70s.
Trivia Notes
As little as 42 volts of electricity can kill a human being.
"Burn bag" refers to a container for classified documents that will literally be destroyed by burning.
The CIA deals with "blowback," which is the unforeseen repercussions of an agent's actions.
The National Security Council advises the President on national security and foreign policy.
Director Tony Scott is known for quick cutting. The average shot length in this movie is 2.6 seconds.
It wasn't rare for people to defect to East Germany if they were suspected of spying.
In real life, two CIA agents were jailed in China from 1952 to 1973, when the U.S. admitted they were spies.
At the end of their career, CIA agents go through a retirement training, which can take a few months.
The Penghu Islands are a cluster of about 90 islands off the coast of mainland China.
Along with "Langley," the CIA is also known as the Company, the Agency, and the Pickle Factory.
Hezbollah is a political and military party based in Lebanon made up mainly of Shia Muslims.
Semtex is an odorless, plastic explosive. Just three pounds can flatten a two-story building.
Karachi is Pakistan's largest city and its financial center.
The CIA was accused of forging documents that strengthened the case for war with Iraq in 2003.
Offshore banking is attractive to foreign investors because the institutions tend to be tax shelters.
MI6 is the nickname for Britain's Secret Intelligence Services — their CIA equivalent.
"Dear John" letters date back to WWII, when women broke up with soldiers fighting overseas.
Read More