Uncategorized
Story Notes for Mission: Impossible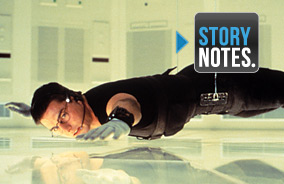 Monday through Thursday, at 8PM | 7C, AMC presents Story Notes — real-time on-air trivia about your favorite movies. Tonight's movie was Mission: Impossible.
Anthology Notes
The TV show used tapes to introduce missions, but they were on a reel-to-reel machine.
Jim Phelps is the only character to appear in both the TV series and the movie. In the TV series, he was played by Peter Graves.
Automotive Note
A TGV (train à grande vitesse) is a French high-speed train that can reach 200 miles per hour.
Biographical Notes
Emilio Estevez had worked with Tom Cruise before, in The Outsiders.
Director Brian De Palma is known for thrillers like Carrie, Scarface, and The Untouchables.
Cruise often plays characters who defy orders from their superiors, like Maverick in Top Gun.
Emmanuelle Béart is best known for the French film Manon of the Spring. That performance won her a César, the French equivalent of an Academy Award.
De Palma is known for combining sex with violence in movies like Dressed to Kill.
Jean Reno turned down the role of Agent Smith in The Matrix.
Jon Voight won a Best Actor Oscar in 1978 for Coming Home.
De Palma is known for homages to Alfred Hitchcock in his movies. Hitchcock often staged elaborate sequences on trains (The 39 Steps and Strangers on a Train).
Casting Notes
Voight first became a star in movies like Midnight Cowboy and Deliverance.
When this came out, Kristin Scott Thomas was best known for Four Weddings and a Funeral.
Ingeborga Dapkunaite was in the Oscar-winning Russian movie Burnt by the Sun.
Estevez, part of the Brat Pack in the eighties, starred in The Breakfast Club and St. Elmo's Fire.
This is French actress Béart's second movie in English.
Actor Ricco Ross also played a marine in Aliens.
Henry Czerny may be familiar from Clear and Present Danger or The A-Team.
Actress Vanessa Redgrave has won an Oscar, Emmy, Tony, Golden Globe, and SAG award. Tennessee Williams once said she's the "greatest living actress of our times."
If actor Andreas Wisniewski looks like a Die Hard villain, that's because he was one.
Barnes is played by Dale Dye, a Vietnam War hero who's consulted on movies like Saving Private Ryan.
French action star Reno was coming off the international smash Leon: The Professional.
Juilliard-trained actor Ving Rhames is best known for playing Marsellus Wallace in Pulp Fiction. Actor Stanley Tucci gave him the nickname Ving, which is short for Irving.
Actor Rolf Saxon is the narrator of the Teletubbies.
Producers cast Rhames as Luther because he's the opposite of what a hacker normally looks like.
Producers cast Voight because they thought audiences would never suspect him.
Finance Notes
In 1996, Cruise became the first actor to gross over $100 million in five consecutive movies.
Cruise made around $20 million for his role in Mission: Impossible.
Location Notes
The embassy is actually the Natural History Museum in Prague. It also doubles as the lobby of the Venetian hotel in another spy movie, Casino Royale.
Mission: Impossible was one of the first big movies to film in Prague after its freedom from communism, in 1989.
Cruise liked Prague because he could wander through the streets without being mobbed by fans.
Besides Prague, Mission: Impossible was filmed almost exclusively in London. Cruise loved the city so much while filming that he even considered moving there.
Most of this was filmed at London's Pinewood Studios, home to most James Bond movies.
Music Notes
Mission: Impossible's score was composed by Danny Elfman, known for his work with Tim Burton. He also fronted eighties new-wave band Oingo Boingo.
The original theme song, by Lalo Schifrin, often ranks among the top five TV themes of all time.
Pop-Culture Notes
Mission: Impossible was part of a trend of conspiracy movies in the nineties that included Eraser, Chain Reaction, and Absolute Power.
The CIA tried to kill Fidel Castro in 1963 with a poisoned ballpoint pen.
The bone-white look of the vault was influenced by Stanley Kubrick's 2001: A Space Odyssey.
Dressing up like a fireman is a surefire way to break into or out of a building. It's also worked in movies like Conspiracy Theory, Trespass, and Red.
Press Note
The Washington Post calls Mission: Impossible an "exhilarating tribute to the computer. Laptops, not Uzis, are the weapons of choice."
Prop Note
Technically, two unstable substances that explode on contact couldn't be on the same gum stick. But production decided it looked a lot cooler onscreen as one piece.
Quotation Notes
One reason Cruise and producer Paula Wagner wanted to make Mission: Impossible was the gadgets. Cruise: "I felt like I was 10 years old again. I thought, What would be the coolest thing to see?"
Thomas: "I die on page 25. But I die in the arms of Tom Cruise, so it's worth it."
De Palma: "We're creating 20,000 things for him to overcome. And then everything goes wrong."
De Palma: "When I put something on the screen, I want it to wake you up. I want it to be something you haven't seen before."
Entertainment writer Marc Bernardin: "If acting falls through, Cruise could join Cirque du Soleil."
Wagner: "Tom's one of the most agile and coordinated people I've ever seen."
Voight says Mission: Impossible "contains an edge of authenticity" the Bond films don't have.
De Palma: "The idea that film is truth 24 times a second is, of course, nonsense."
Wagner on Mission: Impossible: "A team of intelligent people come together and use their wits and skills to take on the impossible. That appeals to some fantasy in us all."
De Palma: "We're making Mission: Impossible here; we better have some wham-bang ending."
Random Note
For a place as sterile and secure as the vault, it's surprising a rat can roam around.
Script Notes
Three major Hollywood screenwriters worked on the Mission: Impossible script: Robert Towne (Chinatown), David Koepp (Jurassic Park), and Steven Zaillian (Schindler's List).
Kittridge is the voice from the recording that said, "Your mission, should you choose to accept it…"
There was originally a love scene between Claire and Hunt, but it was cut from the movie.
Set Notes
That's really Cruise bursting through glass. De Palma says that was enough water to "literally wash you into next week."
Towne rewrote scenes literally between takes during filming.
Cruise really hung upside down for take after take. The producers say it was the "hardest part of the hardest scene."
Sources say Cruise kept hitting his head on the ground in the vault sequence. He had to put coins in the bottom of his shoes to balance out.
Wind machines blew gusts of up to 140 miles per hour into Cruise's and Voight's faces on top of the train.
Cruise wanted to end the movie on the train. De Palma wanted it on the helicopter.
Source Notes
Cruise was a huge fan, as a kid, of the Mission: Impossible TV series. It was his idea to adapt the show into a movie franchise for Paramount.
The credits begin with a burning match. That's also how the series began.
Symbolism Notes
The restaurant's aquariums are a metaphor for the piranha-infested world Ethan swims in.
Bloody hands symbolize guilt. By washing his hands, Hunt rids himself of blame.
A lady in red often symbolizes a trap or represents a temptation.
Technology Notes
In 1996, only 0.9 percent of the world's population used the Internet. Today it's around 30.2 percent.
Today almost everyone can be tracked through a phone's GPS.
Floppy discs died out at the end of the nineties.
Trivia Notes
Mission: Impossible set a record in 1996 for opening in more theaters than any movie before it.
It's rare that a major star like Estevez is killed in the beginning of a movie.
The first known car bombing happened in 1905 in Istanbul.
IMF stands for Impossible Missions Force. The fictional organization does work the CIA can't do. In the real world, the IMF is the International Monetary Fund, an organization of 187 countries.
According to his file, Hunt speaks at least fifteen languages.
A company man is someone whose allegiance is strictly to his employer. It can also refer to a CIA agent, as the agency is sometimes called the Company.
CIA agents are called "Virginia farm boys" because their training camp in Virginia is known as the Farm.
Mission: Impossible is one of the first movies that included an interactive Web site to promote it. The studio produced a complex Mission: Impossible Web adventure game.
NetRanger is actually a nineties software security program.
A retinal scan is so accurate that the error rate is only one in a million.
NOC stands for "nonofficial cover," meaning that an agent isn't recognized by his or her government. Valerie Plame was an NOC CIA agent when her identity was leaked by the Washington Post, in 2003.
De Palma often uses flashbacks to describe events that aren't necessarily true.
Only 16 percent of the U.S. population had cell phones in 1996. Today it's around 96 percent.
"Good morning, Mr. Phelps" is how all of the mission tapes began on the TV show.
Inspired by Mission: Impossible, a helicopter successfully flew through a tunnel in Brazil in 2006.
Mission: Impossible grossed over $450 million and broke box-office records on its opening day. It spawned three sequels, becoming one of the most successful spy franchises in movie history.
Read More