Naked Girls!: Carey Mulligan in "Shame," Kirsten Dunst in "Melancholia," and Kristen Stewart in "Twilight"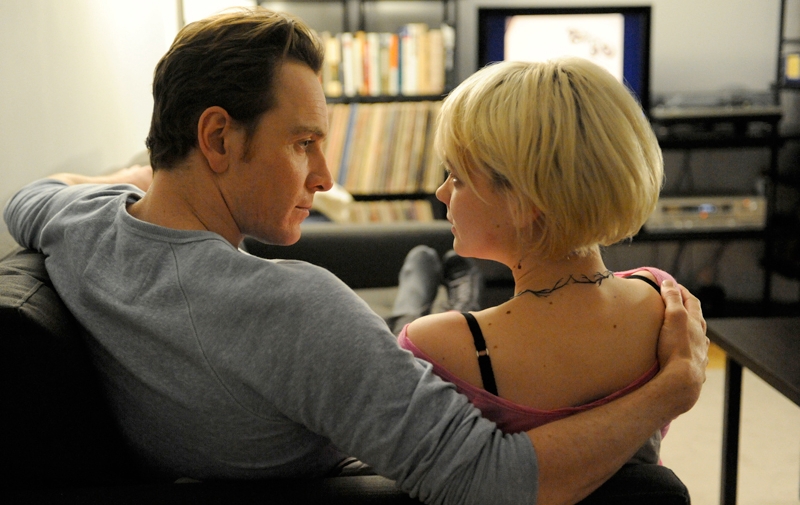 Write a post about actress Carey Mulligan stripping naked in Shame and suddenly you're in search-engine heaven: Carey Mulligan naked, Carey Mulligan nude, Carey Mulligan nudity Shame. It's the gift that keeps on giving. Pretty, naked girls stop traffic on the street, and drive traffic on the web, and to the movie theater.

Why does Mulligan, an Oscar nominee for An Education,
feel compelled to take it off, all off? Partially, it would seem, to
shed that chilly BBC debutante image: Look, it's a Bennet sister out of
Jane Austen's Pride and Prejudice without the empire-waist period gown to hide behind!
But
nudity is only brave, really brave, in context. There has to be a
characterization that stands or falls, has a reason for being, outside
of the nudity. Michelle Williams in Blue Valentine? Yes. Why? Because the emotional intimacy she expresses is every bit as naked as the physical surface.
Mulligan took one contemporary route to shift her image: She stripped. But how brave is Mulligan's performance in Shame
— does her character make any more sense literally stripped bare? And I
ask that knowing that I'd wear a wetsuit in a communal hot tub.
I brought up the issue with some friends, all women who, like me, write about movies, including Susan Wloszczyna of USA Today. "What flashed in my mind was Julianne Moore standing there pantsless for several minutes in Short Cuts,"
said Wloszczyna. "It was very specific nudity that got people talking.
And it was not so much a turn-on as a statement that maybe got her taken
more seriously because it somehow seemed brave."
"I think it comes down to the part," concluded Awards Daily's Sasha Stone, "and the confidence of the actress." Female filmmaker Jordan Bayne (The Sea Is All I Know) agreed, and took it one step further: "Does it serve the story, or is it gratuitous?"
In Shame,
Mulligan's bruised survivor, Sissy, doesn't so much make an entrance as
get surprised in the shower, breasts bare, blond hair soaked to reveal
dark roots and, down below, darkish pubic hair. It's quite a reveal,
even if it is anticlimactic after all the preceding full-frontal shots
of Michael Fassbender as Sissy's sexaholic brother.
"Poor Carey standing in the shower like a bottle-blond rat," said Wloszczyna. "She just seemed miscast in an impossible role."

Recently, in Melancholia,
Kirsten Dunst strips as Justine — but she's at her very sexiest,
dressed in a voluminous, strapless gown in the extended wedding that
dominates the movie's first half. Later, when she undresses, it's
actually less sexy. After the wedding, Justine's depressed to the point
of inertia and her sister (Charlotte Gainsbourg) tries to help her into a
bathtub. Justine literally lacks the will to raise her leg and climb
in. Here, her nakedness reveals her vulnerability: Her mind and body
have split.
Is Dunst's body hot? Yes. But Justine is so dissociative, she's no longer desirable.
In the swoony The Twilight Saga: Breaking Dawn – Part 1,
Kristen Stewart dons a sexy body-hugging wedding dress. And, true to
the PG-13 rating, even a romantic skinny-dipping scene between Bella and
her groom, Edward (Robert Pattinson), has her wearing a towel to the
water's edge, then revealing an expanse of back and a slice of side
boob. The film's honeymoon modesty becomes a tease that recalls Peter
Sellers' Inspector Clouseau visiting a nudist colony in A Shot in the Dark.
A full breast or a nipple is never visible, and yet the audience gets
the idea and can make the leap themselves, thankyouverymuch.

Revealing nudity, or concealing it, works best if it's integral to the story. Nothing seems faker than a moment of soft-lit Playboy
nudity in an otherwise gritty, realistic movie. Nakedness should peel
back pretense, not encourage it. And it shouldn't throw the audience,
gaping, out of the narrative. That's the case for both Dunst and Stewart
in their respective films, but not for Mulligan. In Shame, the
nudity seems to muddy her reputation — we don't see her as a better
actress, but we do see a lot more of her than we've seen before. In the
past, what I've appreciated about her performances is her intelligence;
she's a thinking woman's Oxbridge blonde. So she hasn't built on her
brand for Shame.

Brave? Not so much. Does Mulligan nude stop virtual traffic? Yes!
Read More