Uncategorized
Another Ten Reasons We Can't Get Enough Scrooged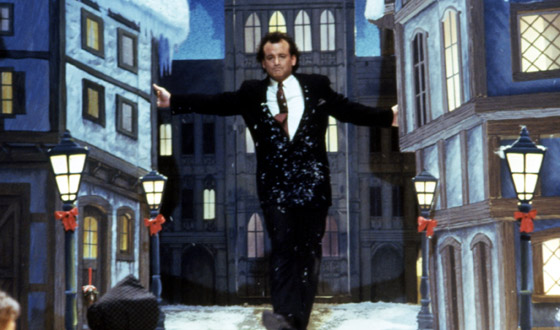 Old Ebenezer has nothing on ruthless TV exec Frank Cross (Billy Murray) in Scrooged, a mordantly modern update of A Christmas Carol. While most Christmas movies aim to warm the spirit, Scrooged puts the x in Xmas. Would Charles Dickens be turning over in his grave? Only if he's rolling with laughter. We've professed our love of Scrooged before, but it's not hard to find ten more reasons why we can't get enough of this movie.
10. The Scroogettes
What was Dickens's immortal classic always missing? Scantily clad backup dancers. Although the network censor cries foul at Cross's sexed-up addition to A Christmas Carol ("You can see her nipples!"), we all know that nothing says Christmas like bikini bottoms, fishnet stockings, and wardrobe malfunctions.
9. Two Scrooges for the Price of One
Part of the lunacy of Scrooged is its movie-within-a-movie premise: Cross is staging his own nontraditional version of A Christmas Carol for live network broadcast. This yields plenty of playful self-referencing and behind-the-scenes humor — in particular, Cross encouraging a stagehand to staple antlers to a movie mouse. Priceless.
8. Corporate Mayhem
If you thought Rupert Murdoch was bad, you haven't seen Murray's unscrupulous media hound Frank Cross. When the holidays roll around, his motto seems to be, "It's better to receive than to give, but taking is better than both." He's the anti-thesis of the Christmas spirit, but he's still fun to watch.
7. David Johansen As the Ghost of Christmas Past
Johansen is better known as the lead singer of the New York Dolls and for singing "Hot Hot Hot" as alter ego Buster Poindexter. But he's great as a greasy cabbie — one who also moonlights as the Ghost of Christmas Past. The uncouth ghost takes Murray on a journey through his life's not-so-greatest hits while supplying the appropriately sarcastic commentary.
6. Bobcat Goldthwait
Zed from Police Academy has grown up, gotten a corporate job, and bought a bow tie. Not to worry: the old gravelly voiced Bobcat comes out when he's fired on Christmas Eve, gets drunk, and goes after his boss Elmer Fudd-style. The pair makes up when Cross sees the error of his ways and makes the usual holiday offering — not a fruitcake but a raspberry to his subordinate's belly.
5. Cameos Galore
Seeing Scrooged once isn't enough to pick up on all the cameos and guest appearances. A partial list includes gold-medal-winning gymnast Mary Lou Retton playing herself and jazz legend Miles Davis and the Late Show's Paul Shaffer as street performers. Not to mention Buddy Hackett as Cross's Scrooge and Robert Goulet singing Cajun Christmas songs.
4. Zombies!
Come on: how many Christmas movies have zombies? Any that do will face some tough competition from the desiccated corpse of Cross's old boss, Lew Hayward. He rises from the grave to suggest a change in his protégé's lifestyle — by showing him in gruesomely visual fashion where he's headed. Whiskey spouts out of his perforated chest, and a mouse crawls out of his skull with a golf ball.
3. Evil Advertising
The heart-stopping ad campaign for Cross's Christmas Carol uses an unusual tactic to get its audience to tune in: fear! This hilariously sinister promo starts up with a montage of mayhem and murder and a voice-over with a tone more menacing than merry: "Now more than ever it is important to know the true meaning of Christmas. Your life…just might…depend on it."
2. Karen Allen Rocks
She brightened up the screen as Indy's love interest in Raiders of the Lost Ark, and she does the same here. As Cross's old flame, Claire, she supplies a needed antidote to Murray's venom. She's a caregiver for the homeless and the polar opposite of her icy ex — adding the dose of sweetness that this dark comedy needs.
1. Five Pounds of Veal
Cross visits his 4-year-old self and receives what every little boy dreams of getting for Christmas: five pounds of veal. Of course, Cross protests, but his father (played by Murray's brother Brian) responds by telling the prepubescent to get a job. Cross later covers up his tears by explaining, "A 4-year-old kid receives what, in today's marketplace, is a 40- or 50-dollar piece of milk-fed veal." Some kids would prefer coal.
Don't miss AMC's Can't Get Enough Scrooged tonight through Wed., Nov. 30, at 8PM I 7C and 10PM I 9C.
Read More