Uncategorized
Movie History – Are Gone With the Wind's Rhett and Scarlett Hollywood's Greatest Characters?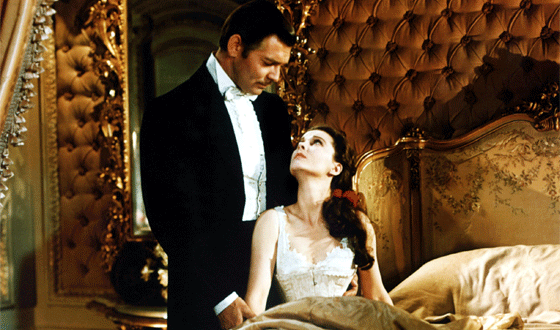 When it was published, in 1936, Margaret Mitchell's Gone With the Wind became a sensation — prompting David O. Selznick to pay $50,000 for the film rights (an astounding sum in those days for an unknown author's first book). Many thought the producer was insane — the movie earned the nickname Selznick's Folly — but the naysayers, of course, were proved wrong. By the time of the film's release, the novel had sold over 1.5 million copies, and MGM had created one of the greatest epics of all time. Since then, the film version of Gone With the Wind has grossed almost $200 million ($1.5 billion when adjusted for inflation). It has also given us two of the most iconic characters in movie history: Scarlett (Vivien Leigh) and Rhett Butler (Clark Gable).
What makes these two characters so memorable? In some ways, Scarlett's indomitable spirit has proved an inspiration for generations of women: she's a survivor who overcomes obstacles with a winning combination of forcefulness and femininity. Sure, the same can be said for characters like Sally Bowles in Cabaret, Holly Golightly in Breakfast at Tiffany's, and the titular Carmen Jones, but who's to say how they would have fared if confronted with Union soldiers, carpetbaggers, and starvation? And could any of them have been able to go toe-to-toe with the equally unforgettable Rhett Butler?
Speaking of which: Rhett may be an opportunistic cad, but Clark Gable infuses him with such amiability that he ends up more a precursor to characters like Han Solo of Star Wars and Vito Corleone of The Godfather — anti-heroes whom you can't help but love in spite of their shortcomings. It's no wonder that Rhett and Scarlett came out on top. But how would they fare if pitted against the greatest movie characters of all time? AMC invites you to share your support for these two indomitable characters in our polls devoted to the greatest movie characters of all time.
Vote for Scarlett as the greatest female movie character of all time.
Vote for Rhett Butler as the greatest male movie character of all time.
In honor of the book's 75th anniversary, AMC will air Gone With the Wind all day on Wed., Nov. 23.
Read More