Uncategorized
Flashback Five – Your Favorite War Movies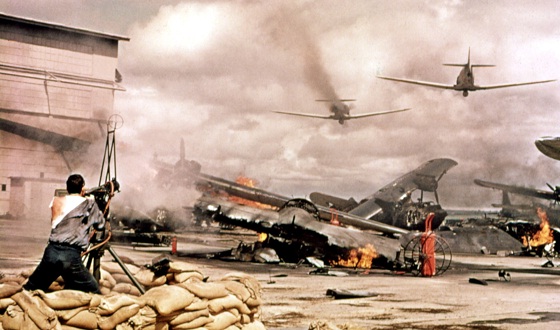 In honor of Veterans Day, AMCtv.com presents your choices for the best war movie ever made (as determined by AMC's War Movies You'll Never Forget online poll). And while the action-driven Tora! Tora! Tora! may seem worlds — as well as years — apart from the character-based Saving Private Ryan, every film that made this list reflects the drama of human beings pushed to the limit.
1. Saving Private Ryan (1998)
The carnage of war is brought home with grisly realism in the opening scene of this WWII drama. As the machine guns are ratcheted up and the bodies start dropping, the sacrifice of a generation of veterans becomes palpable. Throw in a stellar cast led by Tom Hanks on a seemingly impossible mission and Spielberg's visceral depiction of heroism against all odds, and you've got a war flick that's tough to beat.
2. Patton (1970)
George C. Scott delivers an unforgettable performance as one of America's greatest and most complex personalities. General Patton's opening monologue, set before the Stars and Stripes, is a cinematic classic — addressing soldiers with blunt precision about what to expect in battle. The movie remains a fascinating study of a man driven by war, and, at No. 2, it stands above the rank and file.
3. Tora! Tora! Tora! (1970)
Told from both the American and Japanese perspectives, this factual take on the day of infamy is epic. Tora! Tora! Tora! has a dense cast and retells the story leading up to one of American history's most momentous days. While the film's multifaceted storytelling is masterful, it's the bravura restaging of the bombing of Pearl Harbor that will stick with you long after the credits roll — and clinch third place.
4. The Bridge on the River Kwai (1957)
The tense relationship between an English POW and his Japanese jailer is the centerpiece of this provocative classic. In war movies, personalities can get lost in the storm of gunfire, but the characters here are engrossing — and bend the audience's sympathies. This complex take on military duty makes other battle movies seem like recruiting advertisements and commands respect at fourth place.
5. The Dirty Dozen (1967)
This flick about a ragtag squad of military prisoners put on a suicide mission during WWII proves that a great war movie doesn't have to be lofty. Stuff gets blown up, Nazis get riddled with bullets, and psychotic soldiers (including Donald Sutherland, Charles Bronson, and John Cassavetes) learn to work together for the good of the country. The Dirty Dozen is exhilarating entertainment that cleans up with a top-five ranking.
Honorable Mentions
6. Sergeant York (1941): Gary Cooper was reluctant to play Alvin C. York, a pacifist reluctant to fight in WWI. Both men had changes of heart, resulting in an Oscar for Copper and a Medal of Honor for York.
7. Stalag 17 (1953): Comedy comes in the most perilous of situations, and this POW escape yarn is by turns thrilling and hilarious. Keep an eye out for Otto Preminger as the ultimate evil Nazi.
8. Full Metal Jacket (1987): Stanley Kubrick's war pic has a basic-training section that's become a paragon of the genre — full of creative cursing, menacing stares, and dehumanization.
9. Platoon (1986): This was one of the first movies to show the tense psychology of guerrilla warfare, where there are no clear battle lines and no clear enemy.
10. Black Hawk Down (2001): This Delta Force tale doesn't have Chuck Norris, but it does have a real-life rescue mission that (very un-Norris-like) goes terribly wrong.

Catch one of the greatest war films of all time, Tora! Tora! Tora!, during AMC's Best Vets Marathon, on Fri., Nov. 11, at 11:15AM I 10:15C.
Read More