Uncategorized
Flashback Five – Your Favorite Morgan Freeman Movies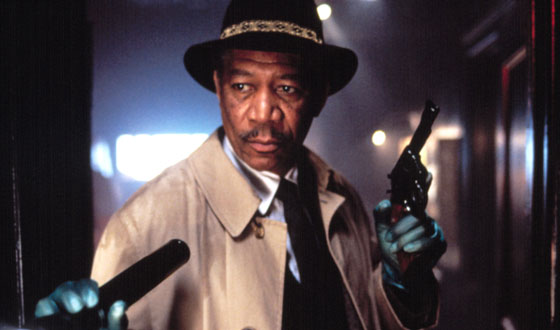 He's played every conceivable role, from a pimp (Street Smart) to the president (Deep Impact) to a cop (Se7en) to God (Bruce Almighty). He's worked with everyone, and, according to PBS, he has a hidden passion for theoretical physics and he's even set to get a Lifetime Achievement Award at the 2012 Golden Globes. It's clear that Morgan Freeman is — dare we say it? — a Renaissance man. But where is Freeman at his best onscreen? We asked you, and you answered. Here are your favorite Morgan Freeman movies.
1. The Shawshank Redemption (1994)
How could cold-blooded murder and brutality lead to one of the most inspiring movies ever? Easy: Morgan Freeman. His comforting baritone is slathered over this prison drama like warm butter over mess-hall rations. As Red, a behind-the-bars concierge for black-market practices, his sympathetic voice is the equivalent of a toasty fire.
2. Se7en (1995)
Freeman's role as on-the-verge-of-retiring Detective Somerset might seem like a page ripped out of the buddy-cop manual. But don't expect any Lethal Weapon-style one-liners from this actor. Unlike Danny Glover, Freeman is never "too old for this shit." Freeman plays a cop who's looked into the dark side of human nature, and you can read it in every line of his face.
3. Unforgiven (1992)
Yes, he can even do Westerns. But Freeman is hardly Pancho to Eastwood's Lone Ranger. He's the conscience of the story. Freeman plays Ned, who saddles up with his outlaw friend Will Munny (Clint Eastwood) for the fabled one last job. Unfortunately, this proves true for his character. Rather than ride into the sunset, they plunge into an abyss of frontier violence.
4. Glory (1989)
World-wise Rawlins (Freeman) is one of the soldiers in the first Black Civil War regiment, and he's not going to give up this opportunity to show his devotion to his country. His impassioned monologues render even motormouth — and camera hog — Denzel Washington speechless. And Denzel learns the hard way not to call his elder "nothin' but the white man's dog."
5. Driving Miss Daisy (1989)
Shawshank fans, it all starts here. A long, simmering relationship between two people in close quarters? A fierce battle of wills that ultimately ends in triumph? She might not seem that bad, but Jessica Tandy's ultimate backseat driver, Daisy Werthan, rivals the cruelest of wardens. As her put-upon chauffeur, Freeman lends plenty of sardonic charm to his role to win her over — and eventually become her friend.
Honorable Mentions
6. Million Dollar Baby (2004): Freeman won his first Oscar as Eddie Scrap-Iron Dupris, a kindhearted ex-boxer who, as usual, provides narration duties.
7. Lean on Me (1989): Principal Joe Clark (Freeman) is public education's answer to Wyatt Earp. He locks out troublemakers, disarms drug dealers, and fights the school board.
8. Invictus (2009): Of course, Freeman is a perfect fit for portraying one of the most inspiring men in the world, Nelson Mandela.
9. The Power of One (1992): Freeman teaches a young man who looks nothing like Hilary Swank how to box and endure adversity.
10. Street Smart (1987): Hard to believe, but Freeman had his breakthrough as a malevolent pimp. It earned him an Oscar nod and his ticket to Hollywood.

See Morgan Freeman in one of his best roles, in Se7en, on Fri., Nov. 25, at 4PM I 3C.
Read More