Uncategorized
Q&A – Dominique McElligott (Lily Bell)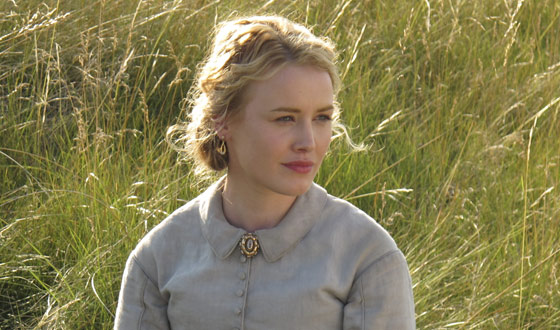 In this exclusive interview, Dominique McElligott, who plays Lily Bell on AMC's Hell on Wheels, talks about the challenges of period costume and the major difference between Irish and American TV.
Q: Tell me a little bit about Lily's dress. Are you a fan of 19th century frontier style?

A: It definitely was a challenge to be restricted in that way by the costume, but it definitely helped me get into character. They were heavy fit costumes — you know thick wool and everything — so when the sun starts to shine it was a bit uncomfortable but you know they're beautiful for the time period.
Q: How was the part initially described? What drew you to this character?
A: I was intrigued with her initial storyline, and then reading the script for the pilot I thought it was just really well-written. There was a diverse range of characters and that's really what drew me in. Lily is someone I responded to very strongly when I read the pilot, and you know the contrast of the English woman from the upper-class coming over to America to be with her husband — and him dying — it's quite a challenge, for any actress, so I was just kind of thrilled to be given the opportunity.
Q: You've done a lot of work for Irish television. What's the number one difference between being on Irish and American TV?

A: I'd say in Ireland, you're stepping foot into a pond and this is more of an ocean in terms of the amount of people that go into the production and the audience as well that you're catering to.
Q: Lily bolts off on a horse in Episode 3, "A New Birth of Freedom." Is that you or a stunt rider?

A: Any time you see me on the horse, that's me, but there is one shot in the evening time where you see Lily galloping off, where that's [a stunt double].
Q: Do you have experience riding?

A: Well I was shooting a Western right before this in Bolivia where I had to learn how to ride a horse. And as I kid I kind of had some horse-riding lessons myself, so I wasn't new to horseback riding, by any means.
Q: Your character spends almost two episodes all bloodied and bruised. How long did you have to stay 'bloody' on set?

A: I think it was pretty much the first three episodes, I was pretty much covered in blood and wounds and stuff.
Q: When Cullen finds Lily in the woods, she's passed out in the rain…

A: Yeah there were floods in Calgary and the rain did not stop all day long! There was a lot of rain that day.
Q: Lily tells Cullen, "You don't know who I am or what I'm capable of." How might that apply to you?
A: I don't think anybody knows anybody else when they first meet them. They say a large perception of a person's character is under the helm of first impressions. But I don't think that constitutes a person knowing someone else, and perception is not the truth… Never judge a book by its cover: I think that's true about everybody, which is what fascinates me about people and it's the reason I'm an actor.
Click here to read an interview with Anson Mount, who plays Cullen Bohannon on Hell on Wheels.
Read More