Christian Bale's Batman Departure and Other "The Dark Knight Rises" Rumors Addressed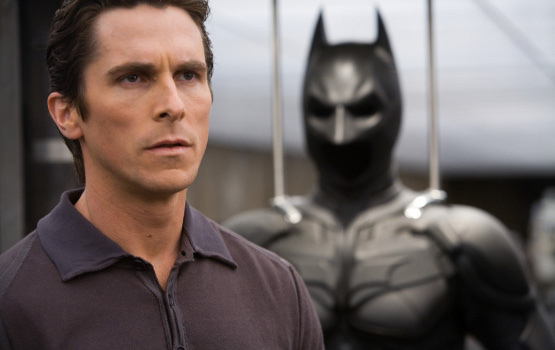 It's official: Filming on The Dark Knight Rises has wrapped. While we won't see the final installment of Christopher Nolan's Batman trilogy until next summer, rumors and plot details have been circulating faster than the Batmobile peeling down a Gotham back alley. So let's separate the fact from the fiction in the Dark Knight Rises rumor mill.
How Much Time Has Passed Since The Dark Knight?
Answer: 8 years. As I speculated when the
first teaser trailer
for
The Dark Knight Rises
hit, much time has passed since Commissioner Gordon and his annoying son watched Batman run off to become the "hero that Gotham needs." In the brief clip of an injured Gordon talking to Batman (or is it Bruce Wayne?), we learn that the Caped Crusader has been "away" for some time. Now we know that Batman has been absent from Gotham for nearly a decade. Nolan revealed to
Empire,
"Our story picks up quite a bit later, eight years after
The Dark Knight
. So he's an older Bruce Wayne; he's not in a great state." And, from the looks of the early photos of Bane in action, neither is Gotham.
Will Bane "Break" Batman?
Answer: Yes, metaphorically at least. Since Bane was announced as the "big bad" in
The Dark Knight Rises
,
fans have been wondering whether Nolan and company would bring the
infamous moment from the "Knightfall" storyline where Bane broke
Batman's back to the big screen. Indeed, Tom Hardy, who plays Bane, has
revealed
that the villain's fighting style is "brutal" and that he does
everything from "crushing skulls" to "ripping out spinal columns." While
there's no indication so far that Bane will literally "break" Batman,
Christian Bale's recent comments about Batman's emotional state in
The Dark Knight Rises
hints that perhaps Bane's destruction of Gotham will push the Caped Crusader to his breaking point. As Bale told
Ace Showbiz
,
"It's time for Bruce Wayne to face the pain that has always stirred his
life." Bale confirms that Bruce will finally start to deal with the
death of his parents. Between his emotional pain and the physical
beatings that Bane will no doubt hand out, Bruce Wayne will be lucky to
come out of
The Dark Knight Rises
in one piece.
Will Christian Bale's Hang Up the Batsuit After The Dark Knight Rises?
Answer: Yes. Bale recently
told the press
,
"I wrapped a few days ago, so that will be the last time I'm taking
that cowl off … It's all done. Everything's finished. It's me and
Chris — that will be the end of that Batman era." We all suspected that
The Dark Knight Rises
would be Bale and Nolan's swan song,
although many fans wondered whether Bale would sign on for a fourth film
without his director. Now we know that Bale is officially saying
goodbye to the franchise. Let the casting rumors for "Batman 4" begin!
Will Ellen Page Play Batgirl?
Answer:
No. Rumors have circulated for a while that Ellen Page would cameo as
Barbara Gordon, the daughter of Commissioner Gordon who eventually
becomes Batgirl. Recently,
Dark Knight Rises Rumors
claimed to have spotted a sign on
The Dark Knight Rises
set that read "E. Page 'B. Gordon.' " However, sources close to the production have now confirmed that
the sign is a fake
. Looks like we'll have to wait until the inevitable Batman reboot to see a new Batgirl on the big screen. Maybe
Batman & Robin
's Alicia Silverstone can play the new Batgirl's mom! Let's start that rumor now …
Why Does Bane Wear a Mask?
Answer: For this one, we go to costume designer Lindy Hemming, who told
Empire
,
"[Bane] was injured early in his story. He's suffering from pain and
needs gas to survive. He can't survive the pain without the mask. The
pipes from the mask go back along his jawline and feed into the thing at
his back, where there are two canisters." So the question is, will the
gas be the "Venom" drug that Bane draws his strength from in the comics?
Also, will his gas tie into Scarecrow's fear toxin? You know Scarecrow
has to pop up somewhere in
The Dark Knight Rises
.
Will the First Scene of The Dark Knight Rises be shown before Mission: Impossible — Ghost Protocol?
Answer: Yes.
Nolan confirmed
that, much like
The Dark Knigh
t prologue that played before
I Am Legend
way back in 2007, the first six or seven minutes of
The Dark Knight Rises
will be shown before IMAX screenings of Tom Cruise's latest spy opus.
(In case you skip that flick, a new trailer will be shown before
Sherlock Holmes: A Game of Shadows
.)
Nolan also revealed that the prologue would introduce Bane to audiences
and be "a taste of the rest of the film." Clearly Batman will once
again be the talk of the holiday movie season.
Read More