Uncategorized
Top Ten Reasons We Can't Get Enough Steven Spielberg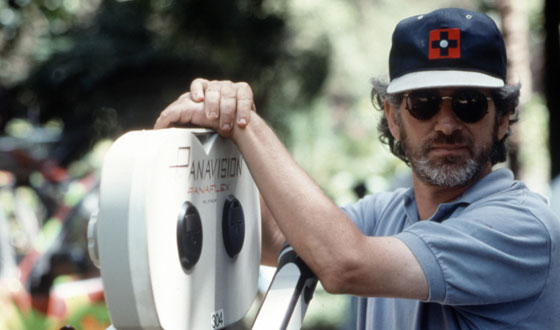 When it comes to creating movies, is there anything that Steven Spielberg can't do? He's made 8 of the top 100 blockbusters of all time, co-founded the successful studio DreamWorks, helped create iconic characters like swashbuckling Indiana Jones and lonely little alien E.T., and produced movies ranging from action-adventures (The Goonies and Men in Black) to dramas (Letters From Iwo Jima and Hereafter). He's even had some clunkers. (*batteries not included, anyone?) But when it comes to making movie magic, it seems that Spielberg can do it all, making us laugh, cry, gasp, and even stop and think a little. As a result, we just can't get enough of him. Here are ten ways he accomplished that.
10. He Terrified Us With Poltergeist
It's the best Spielberg movie Spielberg didn't direct, a mystical but truly scary story about an ordinary family terrorized by spirits. Even if Spielberg didn't take over from credited director Tobe Hooper (but rumors persist), he co-wrote and produced. And Poltergeist has his hallmarks all over it. Who could ever forget little Carol Anne with her hand on the static-filled TV screen? "They're heeeeeeere."
9. He Challenged Ideologies in Munich
Based on a covert Mossad operation to kill individuals linked to the massacre of Israeli athletes during the 1972 summer Olympics, Munich poses hard questions about the morality of vengeance, the limits of ideology, and the damage done by violence not just to its victims but also its perpetrators. The fact that it outraged viewers on both sides of the Israel-Palestine issue suggests that it hit a whole lot of raw nerves.
8. He Showed WWII From a Child's Perspective in Empire of the Sun
Spielberg's adaptation of J. G. Ballard's memoir of his adolescence in a Japanese internment camp during WWII wasn't a hit, but it may be his best exploration of both the remarkable resilience of children and the toll surviving the unimaginable takes. Christian Bale (yes, the future Batman) was a remarkable child actor, and his utterly natural-seeming performance is a tribute to the director's ability to get the best out of kids.
7. He Made Us Root for the Bad Guys With The Sugarland Express
Spielberg's first theatrical feature is a tight character-driven story about the consequences of doing bad things for good reasons. Married petty crooks kidnap a state trooper and undertake a wild ride across Texas in the hopes of rescuing their baby from permanent foster care. It's a story about little people getting themselves into big trouble and a Spielberg movie even die-hard fans aren't likely to have seen. And that's too bad.
6. He Showed Us the Horror of WWII With Schindler's List and Saving Private Ryan
If Empire of the Sun gave notice that the filmmaker was also capable of exploring disturbing material, his next WWII pictures closed the deal. Schindler's List is a deeply affecting examination of moral choices made amid brutality and chaos. Saving Private Ryan is also about decency that transcends base cruelty. By the end of both movies, you've been put through an emotional wringer, with the casualties of war feeling closer to home.
5. He Revealed the Devil's Face – the Grille of a Peterbilt Tanker – in Duel
Spielberg can direct pure gut-twisting suspense, and his feature debut is exhibit A. It's every motorist's nightmare times ten: a regular guy driving through the California desert gets on the wrong side of a monster tanker truck — and we do mean the truck itself because we never see the driver. It's so good that, after being made for and shown on TV, Duel was given a theatrical release.
4. He Resurrected Dinosaurs in Jurassic Park
Spielberg brought dinosaurs back from the dead. How awesome is that? Yes, novelist Michael Crichton figured out the just-plausible-enough science, and a small army of special-effects artists did the gruntwork. But Spielberg brought the magic: only a filmmaker so completely in touch with his inner child could have made a dinosaur movie that gave cynical adults jolts of naïve adrenaline and turned kids into dino junkies.
3. He Made Space Invaders Adorable in E.T.: The Extra-Terrestrial
Did you tear up when the sweet, ugly little alien croaked, "E.T., phone home"? Join the club. In one child-friendly stroke, Spielberg wiped away decades of "Take me to your leader" clichés and recast the thing from outer space as a lonely, stranded brother from another planet. What child couldn't identify with E.T.'s innocent confusion, and what adult didn't want to scoop that poor wrinkly thing up and reunite it with its parents?
2. He Thrilled Us With Raiders of the Lost Ark
Raiders was Spielberg and George Lucas's bid to reinvent old stories of adventure, damsels in distress, and "How's he going to get out of that?" peril for a new generation of moviegoers. It succeeded beyond their wildest dreams. Indy was an old-fashioned hero for modern authority haters and a prototype for Spielberg's cynical do-gooders. The fact that snakes make him tremble like a little girl doesn't undermine his manliness.
1. He Made Us Think Twice About Going to the Beach With Jaws
The shark is clunky and the plot is pure B-movie, but Spielberg made America afraid of the water by finding the sweet spot where Peter Benchley's fish story, John Willliams's "Duh-dum, duh-dum" theme, and a handful of special effects converged. This is quintessential Spielberg: evil lurking where you least expect it, making heroes out of ordinary men, and some truly unforgettable moments. ("You're gonna need a bigger boat.")
Which movie do you think is Steven Spielberg's best? Vote now!
See one of the reasons we can't get enough Spielberg during AMC's Can't Get Enough Jurassic Park, now through Wed., Nov. 16.
Read More