Bradley Cooper as "The Crow," Joss Whedon's "Wonder Woman" and Other Comic Book Movies That Never Were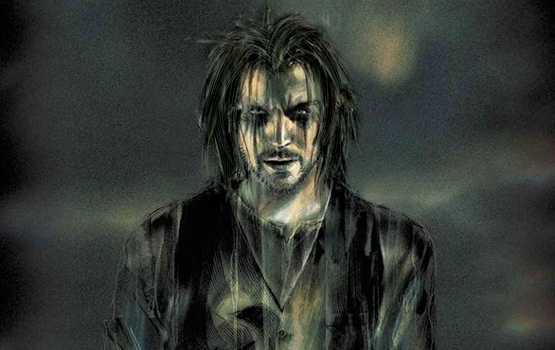 We're in a golden age of comic book movies right now, where even the most obscure comics (ahem,
Cowboys & Aliens
) can become blockbusters. But while fans have gotten movie versions of everything from
Ghost Rider
to
Kick-Ass
, there are still plenty of comic book movie properties that fall through the cracks.
Recently, filmmakers like Joss Whedon and George Miller have spoken up about their failed would-be comic book franchises. Let's take a look at Whedon's Wonder Woman, Bradley Cooper's near performance as The Crow and other comic book movie "might-have-beens."
Joss Whedon's Wonder Woman
Fans
of DC's Amazonian warrior princess had their hopes dashed when Joss
Whedon's proposed Wonder Woman flick fell apart several years back.
Recently, Whedon
revealed some details
about his take on the iconic hero. "[Wonder Woman] was a little bit
like Angelina Jolie … she sort of traveled the world," Whedon said.
"She was very powerful and very naive about people, and the fact that
she was a goddess was how I eventually found my 'in' to her humanity and
vulnerability. … She would look at us and the way we kill each other
and the way we let people starve and the way the world is run and she'd
just be like,
None of this makes sense to me
." Whedon added that
in his original screenplay, Wonder Woman's romance with Steve Trevor
would also help to humanize her. An interesting take on a character that
DC has so far failed to get a handle on for the big screen. Of course,
Wonder Woman fans' loss is
Avengers
fans' gain.
The Crow Reboot
Recently, concept
artwork was released from director Juan Carlos Fresnadillo's failed
reboot of James O'Barr's enduring goth icon. The planned update was to
have starred
The Hangover
's
Bradley Cooper in the role made famous by the late Brandon Lee way back
in 1994. But, as with many projects related to the seemingly cursed
Crow
franchise,
Fresnadillo's reboot fell apart once Cooper dropped out due to
scheduling conflicts. As evidenced by the concept art, the new Crow
would've had something of a Western punk rocker thing going. Diego
Latorre's grim drawings (which originally appeared on
Shock Till You Drop
)
are also proof that the jovial Cooper was completely wrong for the Eric
Draven role. With The Crow, casting is everything. (Didn't the
producers learn anything from Edward Furlong's over-the-top performance
in the dreadful fourth film
The Crow: Wicked Prayer
?)
Justice League
Remember when Warner Bros. was working on a Justice League movie? Well, director George Miller (
Happy Feet
) talked to
Superhero Hype
recently about what happened to Warner/DC's answer to
The Avengers
.
Turns out the 2007 Writer's Guild strike was only part of the problem.
"There [were] a whole bunch of complex events," Miller said. "It was the
middle of a writers' strike. There was Australian rebate legislation
that was required to get the film going. … It was no one particular's
fault that it didn't happen." At one point, the film was ready to go
with Adam Brody as the Flash, DJ Cotrona as Superman, Megan Gale as
Wonder Woman, Common as Green Lantern, and the then-unknown costar of
The Social Network
Armie Hammer as Batman. After the project fell apart, Miller went on to work with Common in the upcoming
Happy Feet 2
. As for
Justice League
, it's sadly still languishing in development hell while
Avengers
rockets toward the big screen.
James Cameron's Spider-Man
Throughout the '90s,
Avatar
guru Cameron tried for years to get a Spider-Man film off the ground,
only to face a protracted legal battle between defunct studio Carolco
and various other parties that was more epic than a Green Goblin-Peter
Parker face-off. Last year, Cameron's
illustrated script treatment
surfaced, providing a peek at what might have been. Featuring Electro
and Sandman as the primary villains, copious profanity, and a racy
Peter-Mary Jane sex scene, Cameron's take on Marvel's wacky wallcrawler
was far more mature than
Sam Raimi's 2002 film
.
One element that remained from Cameron's treatment? Those divisive
organic webshooters. So feel free to blame James Cameron for that one.
Batman Vs. Superman
Before bouncing back with
Superman Returns
and
Batman Begins
,
DC's top superheroes floundered throughout the late '90s and early
'00s. Everything from a third Joel Schumacher film (tentatively titled
Batman Triumphant
) featuring Scarecrow and Harley Quinn to an adaptation of the
Batman Year One
comic helmed by Darren Aronofsky was considered for the Caped Crusader,
while Superman projects were tackled by the likes of Tim Burton and
McG. (Who could forget Nic Cage's
bizarre Superman costume
that leaked a while back?) At some point, Warner Bros. just gave up and
decided to combine the two franchises for the ultimate superhero
smackdown. Director Wolfgang Petersen was attached to the project but
eventually left to make
Troy
.
The story found Superman battling a Batman who was driven to the edge
by the deaths of Robin, Alfred, and Commissioner Gordon. (Of course,
they eventually team up to take down Lex Luthor and Joker.) The strange
project, which also involved Joker killing Batman's fiancée and Clark
Kent dating Lana Lang, ended up being referenced in the least likely
place — as a
fake movie poster
in
I Am Legend'
s post-apocalyptic Times Square. (
Legend
screenwriter Akiva Goldsman also worked on
Batman Vs. Superman
.)
Read More