Show the World You're an AMC Fan and "Like" AMC's Facebook Page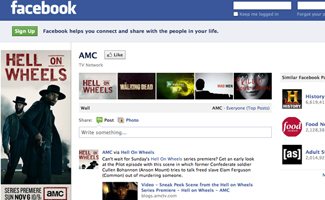 Are you dying to see more zombies in The Walking Dead and staying up late after each show to watch Talking Dead, too? Do you consider yourself already hooked on Hell on Wheels? Does the finale of Breaking Bad still have you talking? Are you eagerly awaiting the return of both Mad Men and The Killing in 2012?
Perhaps you're also tuning into the nightly airings of Story Notes, or the marathon viewings of Can't Get Enough Rocky or Crazy About Stephen King. Then consider yourself an AMC fan. Now, show the world how you feel by clicking "Like" on AMC's Facebook page.
Read More