Why Do We Need More Women Directors?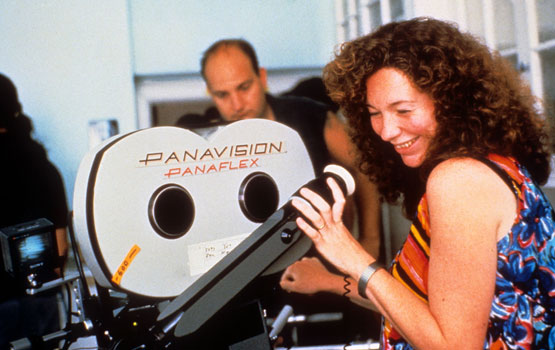 Following a summer where Bridesmaids and The Help book-ended the mainstream box office, Hollywood execs and mainstream critics have to wake up and smell the nonfat latte: Women's movies are here to stay.
One would think those awful-yet-profitable Sex and the City movies should have already made this point, not to mention the movies of Sandra Bullock, Angelina Jolie and Emma Watson, to name a few. Still, with Bridesmaids having made $268 million worldwide without bankable stars, what's the takeaway?
1. Women are an underserved market.
Isn't cash still king–or
queen–in Hollywood? What we need is one of those cartoon characters with money signs bulging in their eye sockets to illustrate this obvious "aha" moment. While men may still out-earn women, women control the household budgets — and ticket purchases.

2. There's no reason not to have more women in charge, only excuses.
"Women aren't team players." "They're not bossy enough, thick-skinned enough, or camera-savvy enough." "Some even have families and give birth to children!" The biggest reason for women directors' failure to thrive in the mainstream industry may be that in the past 25 years, women haven't been part of the club, and the female executives who've risen tend to be those who play best with the boys.
3. The women directors who have beaten the odds are making great movies. Let's treat ourselves to more of them.
Isn't that why we all go to the movies, men and women alike, to see great movies? We don't always want to be lulled into a stupor by Transformers 7.
We do want our ticket dollars to buy wonderment and transport us beyond
the world of bills, laundry lists, and economic meltdown.
Last week, I moderated a panel at the Woodstock Film Festival with three
women directors: Susan Seidelman (Desperately Seeking Susan), Nancy Savoca (Household
Saints), and new girl on the block Debra Granik of the
Oscar-nominated Winter's Bone. For those following women directors, this assembly was a brain trust.
Seidelman gave a scrappy Madonna her first major role in 1985 and inspired a generation of women, including Savoca. Seidelman even invested money in Savoca's 1989 debut, True Love. Granik confided that she had grown up scrap-booking bits from Seidelman's career.
What do these women have in common besides anatomy? They are all creative, persevering, and savvy. And completely capable of herding the small nation that is a film set.
As is evident in Savoca's little low-budget gem Union Square. Currently on the festival circuit, it stars Mira Sorvino as a Bronx bombshell on the verge of a nervous breakdown. As Lucy, Sorvino owns her own story arc, radiating a potent perfume of adorableness and desperation, seduction and anger.
We know this woman; we've seen her on the street, arguing on her cell phone, spilling her personal life on the sidewalk. She's both a real woman and a reel woman onscreen. The proof of the power of women filmmakers is in the work: These movies are important not only to the culture, but to our sanity and identity as women.
Why do we need more women directors? Because there's an untapped potential for terrific stories, and a talent pool bubbling with creative energy, that could very well boost the quality of the movies we see. And, if, along the way, we help along the careers of directors like Savoca, Seidelman, and Granik by making it easier for them to reach a receptive audience, wouldn't that be grand?
Read More