Uncategorized
Top Ten Reasons We Can't Get Enough Stephen King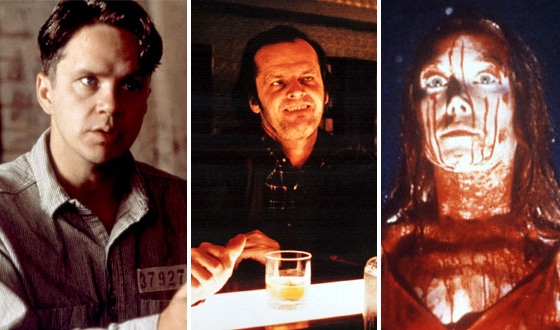 Stephen King has been called the master of the macabre, the Charles Dickens of our age. His self-assessment is a bit more self-deprecating. (He calls himself the "Big Mac and fries of the literary world.") With over 50 movies based on his prodigious literary output, King is one of the most prolific entertainers in history. For decades, he's scared and inspired. But how does he do it, exactly? And why is it often so good? Let us count the ways.
10. He Gets to the Heart of Fear
King can grab your heart, dig his claws in, and squeeze. In Pet Sematary, a beautiful day for a family moving into a country house turns nightmarish as their toddler wanders in front of a semitruck. King takes an everyday fear that every parent has of losing a child and turns it into something that isn't just startling. It's haunting.
9. He Draws Vivid Characters, Big and Small
King's characters are the cornerstones of his stories. The reason they're so compelling? They're familiar. Whether it's in a bully (Buddy Repperton in Christine) or an Everyman (Andy Dufresne in The Shawshank Redemption), you'll see parts of yourself or someone you've known.
8. He's a Character Himself
King is a character who's just as well known as any of his fictional creations, so it's always fun to see him do a cameo in one of his movies (Creepshow, Thinner, Sleepwalkers). Like one of his malevolent antagonists, you never know when or where he's going to appear, which makes for even more King suspense.
7. He's On Even When He's Off
Okay, we can all admit that sometimes something might get a bit, er, lost in the page-to-screen translation. Even the King box-office duds have a campy charm about them: who can deny the goofy appeal of the goblin-faced truck in Maximum Overdrive or flying meatball aliens in The Langoliers?
6. He Has a Wicked Imagination
A shark-toothed Ronald McDonald look-alike lurking in the sewers. A fidgety man trapped on a toilet seat in a bloody bathroom. A woman and her son stuck in a car because of a giant rabid canine. Mutated rats the size of dogs. King's movies are filled with terrifying iconic images that linger in your mind long after the credits roll.
5. He Advocates for the Little Guy
King's heroes aren't specially trained muscle-bound superagents. They're regular people who have to overcome their fears to survive. Usually, they're up against big odds — demons, aliens, the government — but nine times out of ten they triumph. And who doesn't love rooting for the underdog?
4. He Is, After All, the Master of Horror
Alfred Hitchcock may be the master of suspense, but King is the man who makes you sleep with the lights on. Many of his movies are hailed as some of the scariest in horror history (The Shining, It, Children of the Corn). You gotta admit: there's a thrill that arises from jumping out of your seat — and few can elicit that kind of visceral reaction like King.
3. He Knows Everyone Has 'Issues'
King is a champion of the freaks and geeks. He reminds us that we all can be a little weird sometimes. Okay, maybe you didn't finish your prom covered in pig's blood like Carrie, telekinetically tossing your classmates around the gym. But, still, everyone's felt like a misfit at one time or another.
2. He Sees the Teachable Moment
Think you'd be happier if you could just have that one thing you've always dreamed of? Think again. In Thinner, a Gypsy curse upon an obese man proves you can be too thin. Seeing a dead loved one again is more murderous than sweet in Pet Sematary. Be careful what you wish for. King just might grant it!
1. He Makes the Ordinary Terrifying
Dogs (Cujo), cars (Christine), soda machines (Maximum Overdrive), cell phones (The Cell): in King's world, anything and everything innocent and familiar can suddenly turn homicidal and wreak havoc. The computer you're on right now? Don't turn your back on it for long.
Get your King fix during AMC's Can't Get Enough Stephen King, starting with Carrie on Thu., Oct. 13, at 10PM | 9C.
Read More