"The Avengers" Preview at New York Comic Con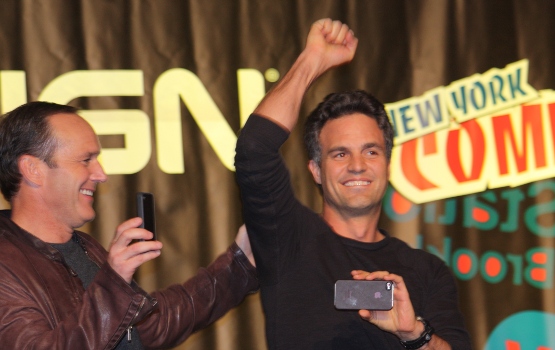 Cast members from next summer's superhero blockbuster The Avengers swooped into New York Comic Con on Saturday for a panel featuring new footage and a lively Q&A session. Chris Evans (Captain America), Mark Ruffalo (The Hulk), Cobie Smulders (Maria Hill), Clark Gregg (Agent Coulson), Tom Hiddleston (Loki), and Marvel Studios head Kevin Feige were all in attendance, shedding light on what's in store for fan-favorite characters. As if that wasn't enough, we were also treated to an exclusive scene and clip reel hot off of director Joss Whedon's edit bay.
Here's what the panelists had to say about their characters, the process of working on an ensemble superhero film, and Marvel's future big-screen plans — along with our exclusive photos from the Avengers panel.
Mark Ruffalo (Bruce Banner/The Hulk)
After making his debut in
the new trailer
,
buzz has been building for the return of everybody's favorite rampaging
green monster. Fans were treated to a brand new scene where Scarlett
Johansson's Black Widow tracks down Banner (who has been hiding out for
two years in India) and tells him that Nick Fury needs his help to stop
the Tesseract, the all-powerful device last seen in
Thor
and
Captain America
.
(While Johansson was a bit stiff in the clip, Ruffalo wowed the crowd
with an intense outburst that hinted to the raging monster beneath.)
Ruffalo revealed that, thanks to advanced motion-capture technology, he
is the first actor to play both Bruce Banner
and
The Hulk. Giving
a nod to past Banners, Ruffalo mentioned joking with pal Edward Norton
that The Hulk is their generation's Hamlet, given the number of
actors who have taken on the role.
Tom Hiddleston (Loki)
Hiddleston was excited about being bumped up from Thor's
devious brother to the villain who brings the Avengers together. (He
also hinted at a fight with The Hulk, saying that Loki gets
"Ruffalo-ized.") Hiddleston is a fan of both the classic Stan Lee-Jack
Kirby depiction of Loki and his recent appearances in Thor
comics by J. Michael Straczynski. But it is Hiddleston himself
who is really beloved, if fan reaction is any indication. (Pretty much
every question from the audience began with "will you" and ended with
"marry me.") Evans was virtually ignored during the Q&A, as female
fans used their time at the mic to make googly eyes at the dreamy Brit.
(At one point Evans even admitted to being "lost in Tom's glow.")
Hiddleston also showcased his singing pipes, breaking into a spot-on
rendition of the Willy Wonka classic "Pure Imagination." Are you paying attention, Kevin Feige? Perhaps it's time to greenlight that Loki solo movie.
Cobie Smulders (Maria Hill)
Smulders's performance as sexy, tough-as-nails S.H.I.E.L.D. agent Maria Hill has earned the
How I Met Your Mother
star some fans on the
Avengers
set. When asked to choose his favorite superhero, Gregg said it was a
"toss-up between Agent Hill and Natasha Romanoff (Scarlett Johansson) in
a dead heat … a happy, happy heat." Ruffalo was also taken with
Smulders's character, even accidentally referring to her as
"Anita Hill"
at one point. (That's a different government employee entirely.)
Considering how popular the fetching Smulders was with fans, it's a good
bet that her character could be used in a similar capacity to Agent
Coulson. Now when are we going to see the S.H.I.E.L.D. heli-carrier in
action?
Chris Evans (Captain America)
Evans
faced the toughest question on the panel: Which role did he prefer,
Human Torch or Captain America? Naturally, Evans went for Cap. A fan
asked if Evans would ever team up with Hugh Jackman for a Captain
America-Wolverine movie set during World War II. While intrigued by the
idea, Feige noted that the Star-Spangled Avenger won't be meeting
Wolverine in the Captain America sequel. But he wouldn't rule out
the possibility of a crossover down the line. As for
onset camaraderie, Hiddleston recalled Evans asking Chris Hemsworth for
bodybuilding advice during a cast night out on the town.
Clark Gregg (Agent Coulson)
Recently,
I applauded beleaguered S.H.I.E.L.D.
agent Phil Coulson
for being the glue that holds the Marvel movie
universe together. And it seems that fans agree, considering their
reaction to the affable Gregg. The actor shared his surprise when a
supporting role in
Iron Man
turned to a larger role in
Thor
and an eventual recruitment by Joss Whedon for
Avengers
.
Gregg hopes to make more Coulson short films, and entertained the
audience with his tales of the cast's on-and-off-set bonding. (Coulson
recalls receiving a text from Evans that said "Assemble" before a group
outing to a local nightspot.)
Robert Downey Jr. (Iron Man)
While Downey Jr. wasn't in attendance, Feige confirmed that
Iron Man 3
is currently in pre-production under the helm of director Shane Black (
Kiss Kiss Bang Bang
). Feige said that
Iron Man 3 will launch the next phase
in the Avengers initiative, setting off another series of comic book flicks that will eventually lead into
Avengers 2
.
When asked about rumored films for Marvel's cosmic characters Guardians
of the Galaxy, Feige said that the studio would use the Iron Man
formula of establishing characters in the first movie and then possibly
branching out into spinoffs in the future. It seems Rocket Raccoon fans
are going to have to wait a while for the space mammal's solo flick.
Read More