Uncategorized
Story Notes for The Others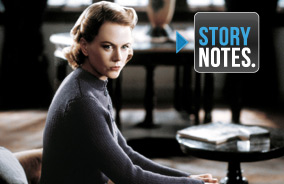 Monday through Thursday, at 8PM | 7C, AMC presents Story Notes — real-time on-air trivia about your favorite movies. Tonight's movie was The Others
Award Notes
This performance was an awards magnet for Kidman. She won a Saturn Award and was nominated for a dozen more, including a Golden Globe, a BAFTA Award and a Goya.
In 2002, Nicole Kidman received Golden Globe nominations for two different movies: Moulin Rouge! and The Others. She won Best Actress for Moulin Rouge!
The movie swept the 2002 Goyas (the Spanish Oscars), including Best Sound, Best Director for Amenábar, and Best Picture.
Altogether, The Others was nominated for 36 different awards and won 22.
Biographical Notes
The Others is the
first English-language movie from Spanish director Alejandro Amenábar.
He was only 28 when he directed this, and he was already well-known in
his home country.
Writer/director Alejandro Amenábar was mute himself as a child. His
family fled Chile, moving to Spain when he was one, and he just stopped
talking.
Nicole Kidman has four children: Isabella, Conor, Sunday Rose, and Faith.
Christopher Eccleston (the Dad) went on to play another mysterious
traveling man — he was the 9th Doctor on BBC's "Doctor Who" in 2005.
Alakina Mann (Anne) went on to play Charlotte Vermeer in Girl With a Pearl Earring (2003).
Cinematographer Javier Aguirresarobe is known for muted tones and mixing light and shadow. He's also created the looks for Fright Night, The Road, and Twilight: Eclipse and New Moon.
Casting Notes
Nicole Kidman was in 2 other movies in 2001: Birthday Girl and Moulin Rouge!.
Director Amenábar says he'd been a fan of hers since 1995's To Die For.
Fionnula Flanagan is probably best-known for playing Mrs. Mills in The Others. But the Irish actress may also be familiar as Eloise Hawking from the TV show "Lost" (where she played one of "The Others").
About 5,000 kids auditioned for the roles of Anne and Nicholas. James
Bentley was cast right away. But Alakina Mann (Anne) took longer. They
wanted someone who'd be strong opposite Kidman.
One of the guys in the group portrait is director Alejandro Amenábar.
Christopher Eccleston is in Elizabeth and 28 Days Later.
Michelle Fairley plays Catelyn Stark on "Game of Thrones."
Fashion Note
The costumes were designed by Sonia Grande of Spain, who often works with director Amenábar.
Finance Note
The Others earned over $200 million, making it one of the highest grossing horror movies of all time.
History Notes
Grace's husband may have been part of Operation Dragoon, an Allied plan to take back southern France in 1944.
In June 1940, families on the Channel Islands had to decide whether
to stay or evacuate. The Germans occupied the islands from 1940 – 1945.
The Channel Islands were the only part of the U.K. occupied by the Germans in World War II.
Based on the fashion, Grace appears to be thumbing through photos from the Edwardian Era (1910 – 1919).
Nearly 400,000 British soldiers died in WWII.
Grace's "goodies" are the Allied Forces, led by the U.K., the U.S.S.R., and the U.S.
The first prescription migraine medicine, Ergot, was introduced in the 1940s.
Modern seances and mediumship derive from the 19th century Spiritualism movement.
Location Notes
This manor and it's grounds were shot in the Cantabria region of Northern Spain.
The thick fog of the Channel Islands has caused boats to crash and planes to be grounded.
Music Note
Vals Opus 69 No.1 (Op. Posth.) by Frédéric Chopin, 1835. This song is
also called "The Farewell Waltz." Chopin wrote it for a woman he was
once engaged to.
Writer/director Alejandro Amenábar also composed the music for the
movie. Amenábar: "It's about feeling this whole atmosphere of tension
and suspense."
Quotation Notes
Director Alejandro Amenábar: "I wanted to make a film full of long,
dark corridors. A tribute to those beings, never unmasked, that stalked
the hallways of my boyhood nightmares."
Writer/director Amenábar's aim was to bring back "a kind of fear" not
in theaters anymore. "I wouldn't say this is a horror film, [but] it's a
scary film sometimes."
Director Amenábar: "I wanted to lock a bunch of characters in a house
and throw away the key, creating suspense with just a few elements, in
an almost minimalist style."
Director Alejandro Amenábar: "Much of the terror created in the film
takes place in Nicole's eyes. They are better than any special effects
money can buy."
Dir. Alejandro Amenábar: "Leaving something to the imagination is the
essence of real horror." "It's about the anxieties, the obsessions, the
paranoia that lie latent in our consciousness."
Kidman says Grace is "suffering from the loss of her husband, coping
with her children, and trying to keep it all together…. The film is
like a Greek tragedy."
Fionnula Flanagan (Mrs. Mills): "It's a mystery story… the mystery
of humanity…and the mystery of who we are and what we know and don't
know about ourselves.
Amenábar loved the kids' chemistry and said they had "a wild and unconventional magic to them."
Director Alejandro Amenábar: "[They] are neither heroes nor villains,
but ordinary human beings, trying to understand a situation that defies
everything in which they believe."
Director Amenábar says that in The Others, ghosts are "an
excuse to talk about other things…relationships, the dark side of
family, the way children are taught, whether it's correct or not."
Kidman says playing Grace really got to her and it helped the
performance. "I was having nightmares and it had really seeped into my
consciousness."
Kidman: "The challenge was making this woman fragile, not a monster…I wanted you to feel her love for her children."
Amenábar: "I wanted a second viewing… to reveal all the clues in a different way."
Random Note
Some people believe children are more tuned in to the supernatural due to their pure and open minds.
Script Note
Writer/director Amenábar based a lot of the script on his Catholic school education. He's now agnostic.
Set Notes
Amenábar wanted to play with shadows, and sometimes scenes were actually lit by candles.
Amenábar based the look of the movie on drawings from books of the '30s and '40s he read as a child.
To get the kids worked up, the director would play scary music when they weren't expecting it.
Kidman actually quit during rehearsals. Playing Grace gave her
nightmares. Kidman: "At one point I didn't want to make the film
because I couldn't even go there emotionally."
Amenábar told Elaine Cassidy (Lydia) that it's in her character to always be one step behind Mrs. Mills.
Source Note
This movie was inspired by Henry James' 1898 novella The Turn of the Screw. It was also the source for 1961's The Innocents and a 1954 Benjamin Britten opera.
Symbolism Notes
The house is as much a character as the people who move through it. It reflects Grace's mental state.
Instead of being afraid of the dark, like in most ghost stories, Grace seems afraid of the light.
By staying in the dark, Grace halts the progress of time.
Both of Grace's children have saints' names. Nicholas is the patron saint of children. Anne, of mothers.
The empty mirror reflects the current state of their marriage.
Ghosts or not, this family is haunted by guilt, abandonment, and pain.
In admitting the truth, Grace may gain the forgiveness she seeks.
Trivia Notes
The children may have Xeroderma Pigmentosum, a rare genetic disorder where DNA can't repair damage from exposure to UV rays.
They're reading about Justus and Pastor, two schoolboys who became
martyrs. They are the patron saints of Alcala and Madrid in Spain, where
the director grew up.
"Limbo" is from the Latin for "edge," meaning the "edge of Hell."
Most migraines are accompanied by acute sensitivity to sound and light.
Anne's reading from the Bible, Genesis 22:15. In this passage,
Abraham is blessed for nearly sacrificing his son to prove his faith.
Tuberculosis is a contagious disease that attacks the lungs.
About 1 in 3 people believes in ghosts.
Many soldiers return from war with Post Traumatic Stress Disorder.
Symptoms include emotional numbness, being easily startled, and bad
dreams.
Hallucinations and distorted thoughts are symptoms of schizophrenia.
"Selective mutism" is when people can only talk when they're socially comfortable.
Tuberculosis is also called "Consumption" because it "consumes" people from within.
Read More