Uncategorized
Story Notes for Road House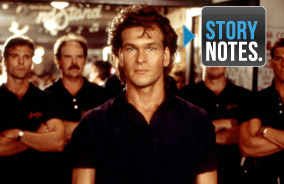 Monday through Thursday, at 8PM | 7C, AMC presents Story Notes — real-time on-air trivia about your favorite movies. Tonight's movie was Road House.
Automotive Notes
That's a Bigfoot 4×4 monster truck. Its tires alone are six feet tall. Monster trucks use methanol racing fuel instead of regular gasoline because it burns cooler.
Dalton really is ready to get out of town because he's driving his Mercedes, not the beater.
Biography Notes
Road House's knife-maker, Jack Crain, made blades for Die Hard, Predator, and Demolition Man. All four movies were produced by Joel Silver.
Kathleen Wilhoite began her performing career at an early age. She sang in a children's choir that backed up the music group Carpenters.
Patrick Swayze and Kelly Lynch are the same exact height, five foot ten.
Ben Gazzara played a similar smooth-talking bad guy in 1998's Big Lebowski.
Swayze used to practice his sex scenes from movies with his wife, dancer Lisa Niemi. They would figure out "what made them the hottest," Swayze once said.
Bloopers Notes
Watch Red grab an antenna for Dalton. Someone out of frame hands it to him.
Keep an eye on the stitches. They'll appear and disappear throughout the movie.
Casting Notes
Two years before Road House, Swayze had become a huge star in Dirty Dancing. Road House's original tagline: "The dancing's over. Now it gets dirty."
Kevin Tighe is a character actor known for his role in NBC's Emergency! in the seventies. More recently, he played John Locke's dad on Lost.
The derelict is played by Chino "Fats" Williams. He was also credited as "Derelict" in Rocky III.
Actress Julie Michaels became a stuntwoman in movies like Batman Forever and Titanic. She also did Pamela Anderson's stunts in Barb Wire.
Wilhoite is known for her television roles on ER and Gilmore Girls.
Blues musician Jeff Healey is in his first and only acting role. Healey was blind since he was 1. He picked up the guitar at 3.
A year after Road House Sunshine Parker played Edgar in Tremors.
Gazzara has had a distinguished career in film and television starting in the fifties. He says of all the movies he's ever made Road House is the one he sees most often on TV.
The bartender's played by John Doe, founder and bass player of the L.A. punk band X.
Red West was one of Elvis Presley's closest friends and even worked as his bodyguard.
Kelly Lynch won critical acclaim for her role in Drugstore Cowboy, also in 1989.
Sam Elliott spent a lot of the eighties playing cowboys like Dal Traven in The Shadow Riders.
After Road House, Swayze would go on to make Ghost in 1990 and Point Break in 1991.
Jimmy is played by Marshall R. Teague, known for roles in Walker, Texas Ranger and Babylon 5.
Jon Paul Jones appeared in another eighties cult classic, They Live.
Elliott landed his first film role in the opening credits of Butch Cassidy and the Sundance Kid. That movie also starred Elliott's future wife, Katharine Ross.
Finance Notes
Average monthly rent in Jasper, Missouri, today: $452.
The explosion cost about $25,000. It was so big neighbors thought MGM studios was burning down.
Despite its violence and macho themes, most of Road House's initial sales came from women. The movie, budgeted at $19 million, made around $30 million in the U.S.
How-to Note
Ice can help reduce swelling, but if left on too long it can actually slow the healing process.
Location Notes
The Double Deuce bar was built for the movie and dismantled once filming was completed.
The barn was built for the movie on King Ranch outside Fresno, California.
Music Notes
"On the Road Again," by Les Rockets, 1978.
"Confidence Man," by the Jeff Healey Band, 1988.
"Long Tall Sally," originally by Little Richard, 1956.
"Travelin' Band," originally by Creedence Clearwater Revival, 1970.
"Blue Monday," covered by Bob Seger, 1989.
"Sh-Boom," by the Crew-Cuts, 1954.
That's really Wilhoite singing "Knock on Wood." She's an accomplished vocalist and has even released two albums.
"Roadhouse Blues," originally by the Doors, 1970.
"These Arms of Mine," by Otis Redding, 1962. This song appeared in Swayze's Dirty Dancing too.
The song on the radio is actually Swayze singing his own song. "Cliff's Edge," by Swayze, 1989.
"All My Ex's Live in Texas," by George Strait, 1987. The director chose this song to give a sense of Wade's past.
"Hoochie Coochie Man," originally by Muddy Waters, 1954.
Pop-Culture Notes
The used-car salesman is watching The Patty Duke Show.
Gazzara's not a singer, but his name is the title of a song written by Elaine Stritch.
Press Note
Swayze was named People's Sexiest Man Alive in 1991.
Quotation Notes
This was director Rowdy Herrington's first studio movie. His goal was to put comedy in the fights. "It's sort of like a Keystone Cops melee."
Swayze said Road House "changed the concept of club security across the planet." Herrington says that's an appeal of the movie: "It goes into a world people hadn't seen."
Herrington calls Dalton a "Zen bouncer." Swayze said Dalton has a "quiet strength."
Herrington says he thought Swayze and Lynch's chemistry was "extraordinary."
Elliott says that Road House is what he's recognized the most for. Ironically, he almost turned it down because he thought it was too similar to his role in Mask.
Dalton has "really explored his dark side or he wouldn't understand human nature," said Swayze.
Herrington: "I have to say this was a lot of fun to make."
Herrington: "I wanted to make sure that everyone that was gonna fight could fight. All our villains were really good martial artists."
Herrington: "The explosions were always bigger than I thought they were gonna be."
Random Notes
Notice the photography as the camera circles around the table while following Dalton. That's the work of cinematographer Dean Cundey (Back to the Future, Jurassic Park).
Check out the new uniforms and customers with ties. The Double Deuce is cleaning itself up.
Script Notes
Herrington wanted to show that Dalton still had to do regular things like laundry.
This is another example of the classic Western structure in Road House: when the mentor, Wade, tells the hero, Dalton, to hit the road, it's called "attack by ally."
As in many Westerns, the posse comes in to back up their "sheriff." The business owners couldn't have banded together without Dalton's leadership.
Set Notes
Producer Joel Silver thought the set of the Double Deuce was too nice. He ordered the crew to really tear it up so it would look more like a dive.
The director says there were about 50 stuntmen in the movie, mostly for these bar brawls.
Swayze studied t'ai chi specifically.
Lynch spent a month in a real emergency room preparing for this role. She even learned how to sew a proper stitch for one scene, but it was changed to staples.
There are nine major fights in the movie. Herrington tried to make each one unique.
Herrington says they purposely incorporated red into Doc's wardrobe and surroundings. There were a lot of primary colors throughout the movie. "It was a bit of a cartoon in a sense."
It's a toss-up who used more hair spray in the movie: Swayze or Lynch. Swayze: "That hair turned into the bane of my existence."
Herrington says Gazzara probably ate around twelve eggs while filming one scene.
Herrington says he loves the ominous image of Wesley rocking into frame.
Swayze uses nine fighting styles in the movie, from basic street scuffling to kickboxing to hapkido.
Hijo is Spanish for "son." Calling Dalton that was Elliott's idea.
Swayze did almost all of his stunts, including the first half of this upcoming jump.
Swayze and Teague did one fight around 71 times. It took five days. Herrington says they were exhausted. It's harder to throw a fake punch than a real one.
Teague slams a log against Swayze. He thought it was a breakable prop log. It wasn't. By the end, Swayze was covered in bruises.
Source Note
Road House was inspired by a real story where a local bad guy was killed in plain view. Nobody saw anything then either.
Symbolism Notes
Notice Wesley has a swagger to his walk, just like a villain in an old Western. Even the names in Road House (Dalton, Wesley, Red) are classic Western names.
Notice the red. Even the jeep is cherry colored.
Technology Note
Tighe is actually standing in front of a movie screen, not a window.
Trivia Notes
Road House became a cult classic in the nineties when it started playing on cable TV. Superfans of the movie, called "Road heads," still gather to watch it in large groups.
Herrington says Road House has all the elements of a classic Western but set in the eighties.
As the cooler, Dalton is in charge of all of the bouncers. His job is to de-escalate a situation. He has to be calm and levelheaded. Most coolers are also trained in martial arts.
An old car is called a "beater." Appropriate name.
Dalton's practicing t'ai chi, a martial art that combines self-defense and meditation.
There's bowie knife. Kind of like the one Crocodile Dundee uses.
There's actually a word for throwing someone out a window. It's "defenestration."
The shirt Dalton is wearing could double for a karate gi, or karate training uniform.
The human body responds to the threat of a fight by flooding the bloodstream with adrenaline. An "adrenaline junkie" thrives on that sensation. Swayze often plays these types.
If Dalton were smart, he'd commit to a relationship with Doc.
"Break a leg" is a good-luck saying for actors. But in this movie, they literally break legs.
Swayze never dances in Road House, but his ballet training helped with the fight choreography.
"That dog won't hunt" means "That won't work."
Swayze had to have bodyguards during filming because female fans would mob him.
Swayze and Teague never really interacted before their big fight.
The studio wasn't too happy with one sequence because the car cost $70,000.
Dalton uses the martial art hapkido to disarm the bad guy.
The average height for a polar bear on its hind legs is eight to eleven feet. Average weight: 900 pounds.
The art of fighting with a spear is called sojutsu, common in thirteenth-century Japan.
More than twenty years after its release, Road House is considered an iconic eighties "guilty pleasure." Herrington: "It's just a kick-ass movie."
Read More