"Moneyball" Has the Winning Formula of Great Baseball Movies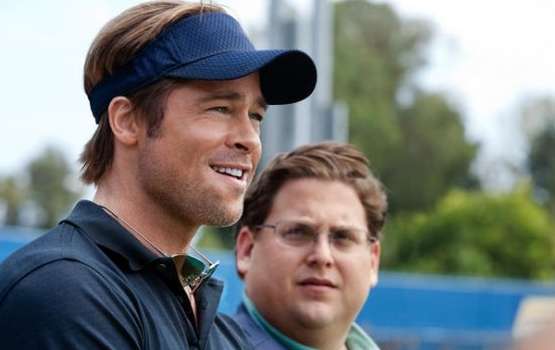 With the World Series upon us, it's only fitting that we consider the impact of Brad Pitt's gripping performance as Oakland Athletics' General Manager Billy Beane in Moneyball. When he says, "It's hard not to be romantic about baseball," we believe him.
Except, of course, that it's never just that simple.
Even though Moneyball is all about the glorification of statistics and numbers, breaking down the game into its most basic components, it's still romantic in its own way. It doesn't shamelessly tug at the heart strings like Field of Dreams; it's concerned with a deep, abiding love of the game, of its past and
its future, and that's something all sports fans can love.
How then do we find common ground between Moneyball's brilliant, nearly cold take on the game and the simple, comic, fist-pumping schmaltz of Major League? In other words, what makes a good baseball movie?
Begin With Flawed Teams
In Moneyball, the Oakland A's have no star players. Like, seriously none. They've watched their stars leave for bigger venues and better pay with little chance they'll ever have the cash to bring them back. Similarly, in Eight Men Out, the White Sox are supremely talented but underpaid, underapreciated.
They're a sullen bunch whose play can be compromised with promises of great financial reward. The A's use their position to try and not only win, but also change the game for good and forever. The Sox set themselves up to do the unthinkable — throw the 1919 World Series.
Cast a Tortured, Introspective Lead
Bull Durham revels
in the same traditions and levity Moneyball seems to hate, but there's a lot of Beane in Kevin Costner's Crash Davis. As with Beane, Davis is smart, well-versed, a man who knows more about what goes on in the game than the man who supposedly manages them. He's seen his life pass before him in ways he never imagined, wondering if any of it has been worth it, whether or not he should quit. Both, in their own way, see the inequities in the game and, try as they might, are powerless against its greater forces.
Never Win
At least not on the field. Walter Matthau couldn't will his Bad News Bears to victory, just as Beane's team fell shot in their own World Series pursuit. And the worst moment in The Natural is the very moment it deviated from Bernard Malamud's novel: We may have wanted Robert Redford's Roy Hobbs to hit the home run, to have the scoreboard explode, but that moment only holds true power in
real life, where it can live in our minds as a great, unscripted act. Hobbs needed to strike out. ?
Sports have given us some of the movies' best characters (the Hanson brothers in Slap Shot) and worst (Keanu Reeves as a picket-crossing quarterback in The Replacements).But wherever Billy Beane falls on that spectrum, baseball is
and will forever be a tortured man's game. There are no set plays, no
clock that dictates its end. For that reason, it's a wildly fantastic enterprise, one in which we sometimes remember the losers more than the winners. As Roger Kahn wrote in The Boys of Summer, you might find glory with a team's triumph, but you fall in love with them in defeat.
Moneyball is a winner, even though the team it depicts isn't.
Read More