Uncategorized
Story Notes for Billy Madison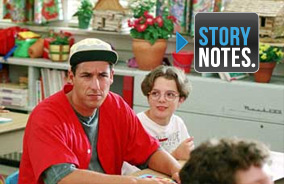 Monday through Thursday, at 8PM | 7C, AMC presents Story Notes — real-time on-air trivia about your favorite movies. Tonight's movie was Billy Madison.
Award Note
For this movie, Adam Sandler was nominated for a Best Comedic Performance MTV Movie Award. He's since been nominated for a total of sixteen MTV Movie Awards and has won six.
Biography Notes
Unlike Billy, Sandler went to college. At NYU, he studied method acting at the Strasberg Institute.
Sandler was famous for composing silly songs on Saturday Night Live. His hits include "Red Hooded Sweatshirt" and "The Chanukah Song."
In real life, Sandler's mom is a nursery-school teacher. Billy Madison is her favorite movie of his.
Sandler is famous for bathroom humor. There are over 25 farts in his sketch "The Hypnotist."
This was Norm MacDonald's first movie role.
Theresa Merritt was a backup singer for Harry Belafonte and Buddy Holly.
MacDonald dropped out of school at the age of 15.
One of Sandler's earliest comedy routines was making prank phone calls.
Mark Beltzman appears in another Sandler movie. He plays a guy obsessed with Flock of Seagulls in The Wedding Singer.
Bridgette Wilson can really sing. She's made two CDs, Gimme a Kiss and I Only Want to Be With You.
Bradley Whitford studied theater and English literature at Wesleyan University and earned a master's in theater at Juilliard.
Sandler's comfortable on the mike. He began doing stand-up at the age of 17. His brother dared him to do an open-mike night in Boston.
James Downey is known for deadpan humor, like MacDonald's "Weekend Update" at SNL.
Sandler's career took off from here. His production company has made over 30 films.
Casting Notes
Sandler has starred in over twenty movies. Billy Madison was his first. Sandler was already famous at the time from Saturday Night Live.
Juanita is played by Merritt, who was the Mama in 1974-1975's That's My Mama.
Whitford is best known for playing Josh Lyman on The West Wing.
Darren McGavin (Billy's dad) is best known as the father in A Christmas Story.
Wilson is the former Miss Teen USA and now the wife of tennis player Pete Sampras. She was also in I Know What You Did Last Summer and The Wedding Planner.
Principal Anderson is played by Josh Mostel from Sophie's Choice, The Money Pit, and City Slickers. Mostel later played an adoption agent in another Sandler movie, Big Daddy.
Chris Farley (the bus driver) was one of Sandler's best friends at Saturday Night Live.
The tour-guide lady also played a pot-smoking grandma in Half Baked.
Sandler and the director discovered the band Gino while eating out in Ontario.
Larry Hankin was up for the role of Kramer on Seinfeld. Later, he played the actor cast as Kramer in Seinfeld's show within a show.
The chemistry teacher is played by SNL writer Robert Smigel. He's best known for his "TV Funhouse" cartoons and voicing Triumph, the Insult Comic Dog.
Steve Buscemi (Boardwalk Empire) is one of Sandler's good friends. He's been in five other Sandler movies, including The Wedding Singer as a drunken best man.
Shane Farberman, a.k.a. Doo Doo the Clown, is from Winnipeg, Canada.
The principal is played by legendary SNL writer James Downey.
Sandler: "Downey taught us our taste. I think I'm doing stuff that Downey would like."
Fashion Note
Director Tamra Davis couldn't believe they persuaded an old man to appear in his underwear.
History Notes
Miles Davis had a 1957 jazz album called Birth of the Cool.
Authors influenced by the Industrial Revolution include Twain, Whitman, Melville, and Dickens.
The savings-and-loan crisis of the eighties and nineties resulted in the failure of about 750 banks.
Location Note
This was filmed in Ontario, Canada, at the famous Parkwood Estate. Parts of X-Men, Chicago, and Bulletproof Monk were filmed here.
Music Notes
"I'll Tumble 4 Ya," by Culture Club, 1982.
"I'm Not the One," by the Cars, 1981.
"ABC," by the Jackson 5, 1970.
Pop-Culture Notes
The puppy's name is Happy, like Sandler's name in his next movie, Happy Gilmore.
A Mortal Kombat movie actually came out the same year as this, co-starring Wilson.
A Tale of Two Cities is a Dickens novel greatly influenced by the Industrial Revolution. This information may be useful to Billy later.
One of Sandler's famous SNL sketches was called "The Denise Show." In it, he played a stalker obsessed with his ex-girlfriend Denise.
There is a reference to "Lunch Lady Land," a song-skit by Sandler and Farley at SNL.
A lot of Sandler's movies deal with bullying: The Waterboy, Big Daddy, and Little Nicky.
Dog House is a 1990 TV show.
There is a parody of The Godfather: Part II where Michael kisses his brother Fredo.
Sandler played an athlete in his next movie, Happy Gilmore. He combined the title of that movie with this one to name his production company, Happy Madison.
Date Movie pays tribute to the kissing montage.
Quotation Notes
Sandler has said, "Billy's the closest I've come to playing myself."
Sandler: "When we started, we just wanted to write something that would make us laugh."
Davis: "Adam had this thing about how hitting kids is funny."
Davis: "Adam was really great working with this boy here. He has such great chemistry working with kids."
Sandler on fellow SNL pal Farley and their friends: "We lived for comedy. The other people in our lives have to deal with the fact that we think of our comedy first."
Davis: "It's dangerous to Jet Ski in there. I don't know what we were thinking!"
Davis: "I like that we have a girl character that takes action to kick his butt."
Random Notes
Warning: kids, do not try this at home.
In Billy's world, the adults are often as weird as the kids.
Coincidentally, Whitford attended East High School in Madison, Wisconsin.
Billy's choice of car and clothes might have made him cool — in a different decade.
Set Notes
Though he wrote the script, Sandler also ad-libbed a lot of his performance. Davis: "It was important to let Adam be Adam."
If you look closely around the office, you'll see real photos of young Sandler.
These kids all volunteered to get hit by the dodgeball. Still, some of them cried.
The kids loved to play with Sandler, often jumping on him and tackling him.
Check out what's behind Eric: a statue of himself.
Symbolism Note
Eric is literally shining his own ass.
Trivia Notes
The director's assistant posed as one of the Drunk Chicks cover girls.
To hallucinate while drunk is called "seeing pink elephants." This term was first used by Jack London in his 1913 autobiographical novel.
The man-boy is a popular type of hero in American movies.
At 650 hotels, Mr. Madison owns more than Hilton, Marriott, or Radisson.
2.2 million adult Americans between the ages of 25 and 29 were enrolled in school when this movie came out.
This is Polly Fector Elementary School. A "polyfection" is a close group of friends.
Some glue is nontoxic, or safe to eat. Eating glue is not recommended though.
To date, more girls have won the National Spelling Bee than boys.
According to a recent study, the most misspelled word in the English language is "definitely."
About 5 percent of all children go through a stuttering phase. Over 68 million people stutter worldwide, which is about one percent of the population.
Cursive was invented to write letters quickly by hand. It's the basis for italics.
Phil Rizzuto was a Hall of Fame shortstop and the voice of the New York Yankees on radio and TV for 40 years. Born in Brooklyn, Sandler is a big Yankees fan.
Snack Pack was the first pudding to be sold in plastic cups, in 1984.
Chlorophyll can be used as a food additive. Some pastas are colored green with it.
Chlorophyll is the pigment that makes most plants green.
The real phrase "It takes two to tango" dates back to a 1952 Pearl Bailey song.
Marco Polo is a form of the game tag played in a pool. It's named after the thirteenth-century Venetian explorer.
Principal Anderson wears a mask, which means he probably wrestles in the lucha libre style.
The phrase is "mano a mano," and it means hand-to-hand combat.
There is a nod to the Chippendales dance that made Farley famous on SNL.
Banana peels become slippery as they rot. They really can cause accidents.
Billy Madison opened at No. 1 in February, 1995. When asked which of his movies he'd bring to a desert island, Sandler says, "Billy Madison."
Read More