Uncategorized
Is Knocked Up Really Funnier Than Idiocracy? A Look at Underrated Comedies From 2000 to 2009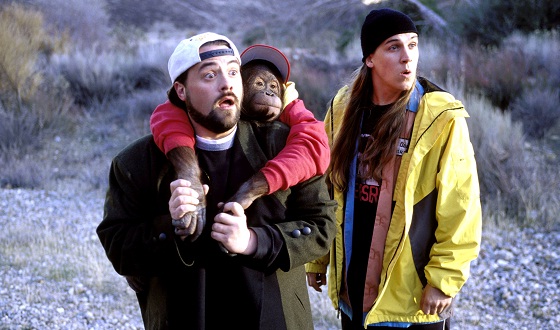 When thinking of the last decade's best comedies, big hits like Meet the Parents and Knocked Up surely come to mind. That said, plenty of other flicks — like Kevin Smith's Jay and Silent Bob Strike Back and Will Ferrell's Blades of Glory — also provided tons of laughs, even if they got less attention. Well, the time has come to set things right! Here are the top ten underrated comedies from 2000 to 2009. (Vote on which one you think is the best at the end.)
10. Walk Hard: The Dewey Cox Story
John C. Reilly in a musical-biopic parody by Judd Apatow would be a weird duck in any decade. Unfortunately, since fans didn't flock to this flick they missed one of the most hysterical first hours in movie history. Plus the songs are pretty good, too.
9. Not Another Teen Movie
This parody lives up to its name and skewers just about every teen flick from the last 30 years. Memorable moments from movies like The Karate Kid, The Breakfast Club, and Bring It On are reimagined and taken to deliriously absurd heights.
8. Road Trip
In this heartfelt comedy, a college kid drives cross-country to intercept a drunkenly mailed sex tape before his girlfriend receives it. Granted, these days he'd probably have e-mailed her a YouTube clip; the movie's ensuing predicaments prove timeless and priceless nevertheless.
7. Pootie Tang
Years before he finally found his niche on cable TV, Louis C. K. made this shockingly funny blaxploitation spoof — an expansion of his work on The Chris Rock Show. Sure, it's difficult to market a satire with an unintelligible lead, but those who leap laugh.
6. Blades of Glory
This Will Ferrell sport movie may have suffered from an onslaught of riches. (He'd just made Talladega Nights and Semi-Pro.) But this ice-skating comedy is the funniest of the bunch, boosted in part by Amy Poehler and Will Arnett as a creepy brother-sister duo.
5. Team America: World Police
South Park's Trey Parker and Matt Stone pay homage to TV's unlikely marionette hit of the sixties, Thunderbirds, with this "supercrappymation" flick. The puppet strings are all visible as Team America pushes the envelope via sex scenes and over-the-top musical numbers.
4. Jay and Silent Bob Strike Back
This semi-sequel to Clerks is possibly the funniest thing Kevin Smith has made since that micro-budget debut. Slacker heroes head to Hollywood to halt a big-screen adaptation of their lives and, on the way, meet more comic guest stars than in 30 Muppet movies.
3. Black Dynamite
This other fantastic blaxploitation parody is filled with so many riotous surprises it would be a shame to give any way. Suffice it to say that Black Dynamite is a must-see. The final fight can only be described as cathartic for anyone who lived through Watergate.
2. Wet Hot American Summer
A NASA Skylab is crashing into a summer camp, and only scientist David Hyde Pierce can stop it. Meanwhile, sex-crazed counselor Paul Rudd is on the prowl, and camp director Janeane Garofalo can't keep it together. The bevy of talent in this satire of eighties camp flicks makes it not just underrated but overawesome.
1. Idiocracy
Luke Wilson, frozen for hundreds of years, wakes up in a future where a pro wrestler is president, people's IQs are way below 100, and water is replaced by energy drinks. Although the studio unceremoniously dumped it into theaters, Idiocracy is social satire at its best.
Check out Jay and Silent Bob Strike Back on Wed., Sep. 28, at 4AM | 3C.
Read More