Uncategorized
Messiness, Murder, Mayhem! Got a Terrible Roommate? Here Are Tips on How to Cope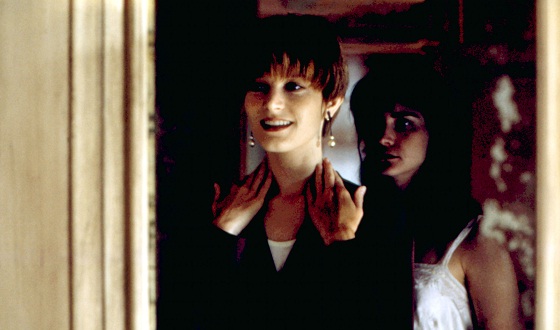 Whether you're in college and moving off campus or behind on rent and in need of cash, new roommates often present new challenges. Admittedly, most roommates are okay in the long run, but every once in a while you get a crazy — the roommate who makes coming home a living hell. How can you keep them from making you crazy, too? Here are five lessons learned from some of the movies' worst roommates.
1. Don't Bring Your Boyfriend Home – Ever
Bridget Fonda learns this lesson the hard way in Single White Female when her insane roommate (Jennifer Jason Leigh) tricks Fonda's beau into having sexual relations and then kills him. In The Rules of Attraction, at least Jessica Biel shows some moral fiber by simply sleeping with her roommate's boyfriend without resorting to murder too. Either way, the message is clear: if you want to keep your man faithful — or alive — sleep over at his place.
2. Don't Get Involved
Surprisingly, it's the title character who's the crazy one in Scott Pilgrim vs. the World — jumping out windows, lying, using his roommate's goodwill to not pay rent. So when Scott (Michael Cera) ends up dating a girl whose exes are trying to kill him, his roommate does the smartest thing possible: he doesn't get involved. At all. And in the end, he winds up with his own place and a cute boyfriend. Score!
3. Embrace Your Differences
Sure, you could get up in arms about a pile of pizza boxes, laundry all over the place, or a general lack of human decency. Or you could realize that what you consider to be your roommate's faults may be shedding light on your own. In Baby Mama, uptight Tina Fey is saddled with her hired surrogate, Amy Poehler, who is a total mess. But it's not until Fey learns to relax a little and let things go that she finds true love — and gets pregnant.
4. Keep Secrets to Yourself
You're up late, you have a few drinks, and suddenly you're spilling your guts to your roommate. Don't! There are dangerous cases, like in The Roommate, when Leighton Meester uses her knowledge of Minka Kelly to kill everyone she knows. But then there are the social misdemeanors too: in Notting Hill, Rhys Ifans accidentally tells reporters that his roommate, Hugh Grant, is sleeping with Julia Roberts — another relationship ruined.
5. When All Else Fails, Move
If nothing else is working, move out. In Knocked Up, Seth Rogen realizes he's stuck in a state of arrested development with his lazy roommates. After moving out, he gets a real job, he finds the love of a beautiful woman, and nothing bad ever happens to him again. Now, granted, in The Roommate Minka Kelly moves out and Leighton Meester keeps killing her friends. So you have a fifty-fifty chance of success with this one.
Don't miss Single White Female on Fri., Sep. 23, at 3:30PM | 2:30C.
Read More