Uncategorized
Ten More Reasons We Can't Get Enough Rocky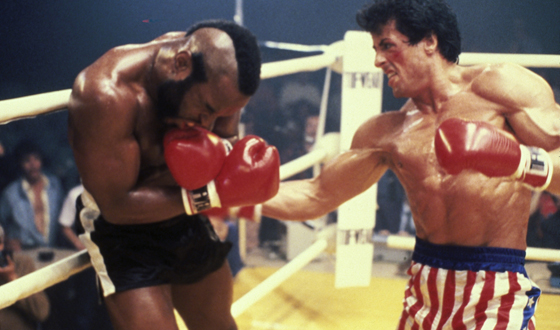 Is there anyone who doesn't love Rocky? If you fall into that category, you'd better keep your mouth shut, or the Italian Stallion's fans might give you a right hook. In fact, Rocky's so great that, even though AMC's already given ten reasons we can't get enough Rocky, here are ten more.
10. Ivan Drago's Individualism
"If he dies, he dies." From the moment Drago utters these words, you know you hate him. Plus he outmuscles Rocky, kills Apollo Creed, and trains with supercomputers. But what makes Drago worthy of our respect is that he's no Red stooge. "I fight for me," he says. Even Rocky respects that.
9. Four Decades of Nostalgia
Because at least one Rocky movie was released during the seventies, eighties, nineties, and aughts, watching the series is like reliving American history. The gritty urban realities of the seventies (Rocky, Rocky II), the silly fashions of the eighties (Rocky III, Rocky IV), the post-Cold War realities of the nineties (Rocky V), and basically yesterday (Rocky Balboa). Forget textbooks. Schools should teach contemporary history via the Rocky movies.
8. The Death of Apollo
While the Rocky flicks are generally feel-good movies, they pull no punches when killing off your favorite characters. In Rocky III, beloved trainer Mickey (Burgess Meredith) dies, but the demise of Apollo (Carl Weathers) — as Rocky looks on helplessly — is even more painful. On the bright side, this leads to Rocky's international mission of revenge.
7. Rocky's One-Liners
Rocky's funny! Not Will Ferrell funny, but he's pretty clever and makes a good joke on occasion. One of the best: when asked why he wants to fight, Rocky deadpans, "Because I can't sing or dance." Laugh track, please!
6. Paulie, the Reliable Sidekick
Aside from Rocky himself, Paulie (Burt Young) is the only character to appear in all six movies. And he's indispensable. Yes, he's drunk a lot. Yes, he's a bit of a dirty old man. Yes, he can be a drain on Balboa's resources. But he's also loyal and hilarious: that scene where he gets the robot is priceless, right?
5. Sly's Physique
In Rocky, Stallone is buff. But in a normal way. Slowly, over the course of the series, something happens, until suddenly, in Rocky IV, he's built like a superhero. Who cares how he did it? The guy looks good. Amazing but true: the retired Rocky is in significantly better shape than he was in his so-called prime.
4. Fantastic Training Montages
The training montage, an oft-mocked eighties action staple, is elevated to art throughout the Rocky franchise. Consider Rocky IV alone: Rocky trains in the Siberian winter with the crudest equipment (carrying a log, pushing a tractor, etc.); Drago gets pumped with high-tech gadgetry. Snicker at the concept — this execution will give you chills.
3. Apollo vs. Rocky
Sometimes a great movie leaves you wondering what happened. There's no better example of that than the end of Rocky III: Rocky and Apollo get ready to settle things in the ring in an empty gym. Apollo rings the bell. The two legends are about square off. We never see who wins this time, but it sure is fun to imagine.
2. Realistic Romance
There's no suave romantic-comedy banter or steamy sex scenes between Rocky and Adrian (Talia Shire). Yet their romance is strangely compelling. In fact, it's totally authentic. Rocky has to work up the nerve to talk with her; she ends up his biggest supporter, more concerned with his inner life than his championship belt. Now that's love!
1. "Going the Distance"
Is there a greater sport-movie speech than Rocky telling Adrian, "It really don't matter if I lose this fight. It really don't matter if this guy opens my head either. 'Cause all I wanna do is go the distance"? No, there isn't. Rocky's explanation for why he's fighting a losing battle encapsulates everything we love about this character. That's why you have tears in your eyes right now. That's the No. 1 reason the Rocky series is so damn great!
AMC's Can't Get Enough Rocky starts tonight, Mon., Sep. 12, with Rocky, at 8PM | 7C.
Read More