Uncategorized
Story Notes for The Peacemaker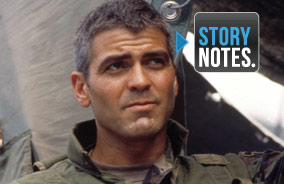 Monday through Thursday, at 8PM | 7C, AMC presents Story Notes — real-time on-air trivia about your favorite movies. Tonight's movie was The Peacemaker.
Award Note
George Clooney and Nicole Kidman are both Oscar winners: Clooney for Syriana and Kidman for The Hours.
Biographical Notes
This was the first movie directed by Mimi Leder. A respected TV director, she had already worked with George Clooney on ER.
Leder is one of a small handful of female directors in the action genre. Notably, there's also Kathryn Bigelow (The Hurt Locker) and Mary Harron (American Psycho).
Kidman has been a dramatic actress since she enrolled in acting school at 10 years old.
Clooney and Kidman were both raised Catholic. Clooney was an altar boy.
Leder's next movie was the 1998 blockbuster Deep Impact. It was the highest-grossing movie by a female director until Twilight took the title, in 2008.
Clooney's and Kidman's careers took off after this. She starred in Moulin Rouge! and The Others, and he starred in Ocean's Eleven, Up in the Air, and O Brother, Where Art Thou?
Casting Notes
General Kodoroff is played by Moscow native Aleksandr Baluev.
By 1997, Kidman was a big star from movies like Dead Calm, To Die For, and Batman Forever.
Actor Holt McCallany famously started the chant "His name is Robert Paulson" in Fight Club.
This movie was Clooney's first political thriller. He's made many since, including Three Kings, Syriana, and Michael Clayton.
In 1997, Clooney was making the transition from TV star (on ER) to movie star. This movie helped establish him as a leading man in Hollywood.
Armin Mueller-Stahl plays Colonel Devoe's Russian counterpart, Dimitri Vertikoff. The year before this, he was nominated for an Oscar for playing an abusive father in Shine.
Mueller-Stahl is a legendary European actor. In 1976, he protested denaturalization and was blacklisted by the East German government.
Dietrich is played by Alexander Strobele. His character is German, but he's actually Austrian.
You may recognize actor Michael Boatman from Spin City and Gossip Girl.
One of the soldiers at the roadblock also starred in ER, after Clooney left: Goran Visnjic.
Actor Gary Werntz is the husband of Leder.
Randall Batinkoff is familiar from movies like School Ties and Buffy the Vampire Slayer.
Gossip Note
While Clooney and Kidman never got romantically involved, they did go out dancing at 2 a.m.
History Notes
This movie takes place in the mid-nineties, after the fall of the Soviet Union.
When the Cold War ended, in 1989, the USSR collapsed, and Eastern Europe fell into disarray.
The strategic arms reduction talks (START) helped remove 80 percent of the world's nukes.
The worst train crash in history took place in France, in 1917. The train was carrying 1,000 soldiers.
Shamil Basayev was a real-life Chechen rebel leader who was killed in 2006.
Sarajevo hosted the winter Olympics in 1984.
IFOR was NATO's peacekeeping force in Bosnia and Herzegovina in the mid-nineties.
Sarajevo is the capital of Bosnia and Herzegovina.
The grenade launcher was first developed during World War I by the Russians.
IFOR was only active from 1995 to 1996. By the time this came out, it was absorbed by SFOR. SFOR, also created by NATO, stands for Stabilisation Force.
The Bosnian war of 1992 to 1995 followed the breakup of Yugoslavia.
This movie takes place before Hurricane Katrina and the notorious FEMA debacle.
Before 9/11, it was unusual to see so many heavily armed soldiers in Manhattan.
Since 9/11, at least 30 terrorist attacks have been foiled in the U.S.
How-to Note
To call or fax a U.S. number from outside the country, you must dial 001 first.
Location Notes
They filmed the train scene in Slovakia near the Polish border.
They scouted many churches in New York to film one scene. Most said no when they learned the movie had to do with terrorists.
Music Notes
Composer Hans Zimmer has scored over 100 movies, including Gladiator, Inception, and The Dark Knight. He also composed music for Broken Arrow, another movie about loose nuclear weapons.
Nocturne, Op. 55, No. 1, by Frédéric Chopin, 1844. Chopin dedicated this song to his pupil Jane Stirling. This pupil is Hannah Werntz, Leder's daughter.
Pop-Culture Note
"You've got mail" is a trademark AOL notification, as well as a Tom Hanks-Meg Ryan movie.
Quotation Notes
Jessica Stern of the NSC said in 1997 that The Peacemaker was "chillingly realistic. [It's a real] possibility that nuclear warheads could be stolen in transit."
Kidman says of Clooney, "We felt very relaxed together. He was a lot of fun."
Leder on her international cast and crew: "Film has only one language."
Clooney: "I'll tell you fantasy fulfillment: I got to go out with stunt drivers in $100,000 Mercedes and smash into seven different BMWs. That's a blast."
Leder: "I didn't approach this as an action movie but instead as a dramatic human story."
Leder: "I want people to come away from this film entertained but also jolted into the reality that it's a big world out there and it's vulnerable."
This movie's unique for its sympathetic enemy. The director says, "You can't hate him. Moral ambiguity is what attracted me to the script and to his character."
Random Notes
Werntz tells this joke: "A husband and wife lie in bed when there's a knock at the door. 'It's my husband!' she shouts, and he jumps out the window. As he falls, he thinks, 'Wait, who am I?'"
Script Note
This story was inspired by an article about nuclear-weapons smuggling in the former USSR. It was called "One Point Safe," after the feature that prevents nukes from being set off by accident.
Set Notes
Unlike their characters, Clooney and Kidman got along very well on and off the set. In fact, Clooney, a notorious prankster, never pulled a prank on Kidman, out of respect.
Clooney was used to doing long takes from his five seasons on ER.
Clooney was so starstruck by Mueller-Stahl that he kept offering to get him coffee on set.
Paddy Carson was the name of Leder's assistant on the movie.
Clooney learned stunt driving for this movie.
Clooney learned to rappel out of a helicopter for this part. He found it "fun and weird and scary."
Clooney did most of his own stunts. The director calls him "fearless."
Symbolism Note
Hear the TV? The Jeopardy! contestant just chose the category "Half-Brothers."
Technology Notes
Sound for this movie was done by Andy Nelson, who won an Oscar for Saving Private Ryan.
It's highly unlikely that satellites would happen to capture images of the train collision. They would have to be focused on that location at that exact moment.
The NMCC coordinates nuclear subs, recon aircraft, and launch-control centers worldwide.
The NMCC maintains the famous "red telephone" connecting the U.S. to Russia.
Satellites orbit the Earth, so they can't maintain a fixed view.
A radiation detector locates high-energy particles like those produced by nuclear decay.
The blast itself isn't the biggest threat. The radiation would be devastating.
The timer is set to detonate the explosive packaging around the plutonium core. It must all detonate simultaneously to trigger a nuclear reaction.
Detonating the panels unevenly will prevent the core from achieving critical mass.
Trivia Notes
The Peacemaker was the first movie ever released by movie studio DreamWorks SKG. SKG stands for company founders Steven Spielberg, Jeffrey Katzenberg, and David Geffen.
Kartaly is located 1,100 miles east of Moscow, near Russia's border with Kazakhstan.
In the nineties, Kartaly was home to 48 nuclear missiles. Now there are none.
Night-vision goggles are made by putting an image-intensifier tube in a hard casing.
Russian special forces are called Spetsnaz.
SS-18s are nicknamed "Satan" missiles by NATO for their deadly payload.
The Ural Mountains are a 1,300-mile range in the heart of Russia that separates Europe from Asia.
The Ural Mountains, in the heart of Russia, are rich in minerals and active with mining, metallurgy, and machine building.
The "yield" is the amount of energy discharged when a nuclear weapon is detonated.
Hazmat suits not only shield radiation but also prevent the inhalation of toxic gases.
Russian is the most widespread language in Eurasia.
"Fallout" is the radioactive result of a nuclear explosion.
The executive seal implies that this is Air Force One.
Lawrence Livermore National Laboratory is a federally funded research center in California.
The first CD ever released was Billy Joel's 52nd Street, in 1982.
LeRoy Neiman is an American artist famous for painting athletes and sporting events.
David Hasselhoff is very popular in Germany both as an actor and a pop singer.
Technically, no glass is completely bulletproof. It can only be bullet resistant.
Read More