Uncategorized
Story Notes for No Country for Old Men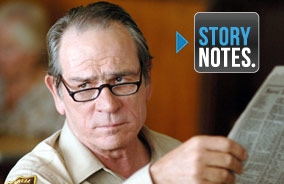 Monday through Thursday, at 8PM | 7C, AMC presents Story Notes — real-time on-air trivia about your favorite movies. Tonight's movie was No Country for Old Men.
Automobile Note
The villain drives a Dodge Ramcharger. Co-director Ethan Coen points out that the hood ornament even looks like the villain's haircut.
Award Notes
Tommy Lee Jones won a Best Supporting Actor Oscar in 1993 for playing another lawman, in The Fugitive.
The cast of No Country for Old Men won the Screen Actors Guild Award for Best Ensemble Cast. Beth Grant was in Little Miss Sunshine, which won the same award the year before.
Editor Roderick Jaynes was nominated for an Oscar for this movie, his twelfth with the Coens. Roderick Jaynes is the name the Coens go by when editing a movie.
Javier Bardem won the Best Supporting Actor Oscar for this role, in 2008. He was the first Spanish actor to win an Academy Award.
No Country for Old Men was nominated for eight Oscars in 2008 and won four. It was the twelfth movie for the Coen brothers and their first to win the Oscar for Best Picture.
Beauty Note
Bardem says his unusual haircut helped him develop his sociopathic character. It is based on a photo of a man sitting at a bar in a border-town brothel in 1979.
Biographical Notes
Josh Brolin grew up on a ranch in California and says he knew people like his character.
Jones is comfortable around horses. In real life, he raises them on a ranch in Texas.
Jones grew up in Texas. His mother was a police officer and a teacher.
Bardem is a sex symbol in Spain, thanks to his star-making turn in Jamon Jamon. He says he ate a lot of burgers to transform his body from sexy to scary.
Woody Harrelson's real-life father was a contract killer. He died in jail, serving a life sentence.
Garret Dillahunt played a police officer again, in 2010 Best Picture nominee Winter's Bone.
After he wowed the Coens in this movie, Brolin was cast again, in their remake of True Grit, in 2010.
Casting Notes
Before breaking into American movies, Bardem won four Goyas — Spain's Oscar.
Brolin was working on Grindhouse when he heard the Coen brothers were casting this movie. So Grindhouse directors Robert Rodriguez and Quentin Tarantino filmed his audition tape.
Kelly Macdonald made her big-screen debut in 1996's Trainspotting.
The Coens wanted the villain to be ominously ambiguous, like he was from nowhere in particular. So Spanish-born Bardem had to work hard to hide his accent.
Before this, Dillahunt was best known for playing two roles on Deadwood. He was also in 2009's Road, another adaptation of a Cormac McCarthy novel.
The Coen brothers thought casting the role of Llewelyn Moss was going to be easy because he's an Everyman. But it wasn't until right before filming, when they met Brolin, that they found their fit.
Harrelson was born in Midland, Texas, and has played his share of cowboys. He's been in The Cowboy Way, The Hi-Lo Country, and A Prairie Home Companion.
Stephen Root was in the Coen brothers' Ladykillers and O Brother, Where Art Thou? The Coens tend to cast actors they have used before. But on this movie, Root was the only one.
The Coen brothers used lots of local Texas actors, like Rodger Boyce. Jones also directed Boyce in 2005's Three Burials of Melquiades Estrada.
Barry Corbin is from WarGames and Northern Exposure.
History Notes
Drug trafficking caused violence to spike along the Texas-Mexico border in the eighties. Colombian drug dealers hired Mexicans to smuggle drugs into the U.S.
No Country for Old Men is set in the eighties. The Coens call it a period picture. They say it's hard to do a film set in the recent past because it's still fresh in the viewer's mind.
Location Notes
The story takes place in West Texas. Much of the movie was filmed in and around Marfa. Known as an artist colony, Marfa was also the setting for the 1956 James Dean classic, Giant.
One scene was filmed in Piedras Negras, Mexico. The town's nickname is Mexico's Door.
Music Note
The Coens decided to use almost no music at all to add suspense to the movie. When there is music, it's composed by Carter Burwell. He's scored every Coen-brothers movie.
Pop-Culture Notes
The Coens often start their movies with a narrator speaking over shots of landscape. It's how they began their first movie, 1984's Blood Simple.
This isn't the first Coen-brothers movie to have a relentless villain tracking down the hero. Blood Simple, Raising Arizona, and O Brother, Where Art Thou? share similar story lines.
TotalFilm.com ranked Bardem's character as the fourth-greatest villain of all time.
The Coens used similar shots in 1991's Barton Fink, which is primarily set in a hotel.
The Coen brothers often have a dumbfounded character repeat a phrase when someone is injured, most notably in the parking-lot fight in The Big Lebowski.
Mike Zoss (the name of the pharmacy) is the name of the Coen brothers' production company.
Brolin and Jones don't act together in any scene in this movie. But they shared the screen earlier, in 2007's In the Valley of Elah.
Chigurh isn't the only villain to flip a coin. Two-Face from The Dark Knight uses the same trick.
Prop Notes
A captive bolt pistol is usually used to stun cows before slaughter.
The Winchester Model 1897 was used by Americans in the trenches in World War I.
Quotation Notes
Roger Ebert: "No Country for Old Men is as good a film as the Coen brothers have ever made, and they made Fargo."
Ethan Coen: "The setting is actually part of the reason that we wanted to do this film." He says the story is about the "human confrontation with this harsh environment."
Macdonald: "[The characters are] quite dry-witted, and that's the thing that really stuck with me."
Ethan Coen says, "This is as close as we'll come to an action movie."
Joel Coen says, "[Sheriff] Bell is the soul of the movie."
Brolin: "It was a great challenge and a lot of fun to be able to explore that kind of quiet."
Joel Coen says, "The movie is, by far, the most violent movie we've ever made."
Brolin says the Coen brothers are fairly quiet directors while working on set. "There was an unnerving presence in the beginning."
Ethan Coen said he wanted No Country to be "really scary, like a horror movie. It had to create a real sense of dread."
Jones says, "I suppose I have played several Texas law-enforcement officers, but the attraction of working with Cormac McCarthy's material was overwhelming."
Brolin: "I love the trio of Moss, Chigurh, and Bell. It seemed like it was one person split three ways."
Brolin says that Moss's driving motivation throughout this whole movie is his love for his wife. "He wants to be able to create a better life for them and to make her happy."
Jones says Scottish actress Macdonald "got the West Texas accent perfectly."
Ethan Coen says Chigurh is a "personification of the world."
Jones says, "I don't think [the movie] is trying to say anything. It's trying to raise good questions."
Script Notes
The Coen brothers adapted No Country for Old Men from McCarthy's novel. They followed the book closely, only shortening the story for timing.
The Coen brothers say they were attracted to the humor in McCarthy's dark novel. The writing and directing team is known for their dark humor in movies like Blood Simple and Fargo.
Notice the main characters are never onscreen at the same time. It keeps you guessing how close they are to catching each other.
Author McCarthy named the villain Chigurh so people wouldn't know where he was from.
The Coen brothers say they didn't realize they were writing a similar movie to their 1996 classic, Fargo. But both movies are about small-town sheriffs dealing with frightening murders.
Set Notes
The Coens, famously, follow their scripts closely. They let Brolin improvise one line, that "Hmmm."
This wasn't easy to film for award-winning cinematographer Roger Deakins. To get the light, they could film only for an hour in the morning and an hour at night.
Brolin had a hard time swimming. He'd just broken his collarbone in a motorcycle accident.
Bardem said he tried to make his character scary and violent by minimizing his actions.
The Coens use the point-of-view frame many times throughout the movie to reintroduce the villain.
Brolin watched early Jones movies to get down his Texas accent and cadence.
The Coen brothers enhanced the natural sounds in the movie to boost the suspense.
The border crossing was re-created on a freeway overpass about 400 miles north of Mexico.
Brolin had to use an earpiece to hear Bardem's lines. As a prank, Bardem recorded a message to Brolin saying that he was vacationing on the beach.
Deakins said he loved the contrast of bright exteriors and dark interiors.
The production built the house in New Mexico and then moved it all the way to Marfa, Texas, to film.
Symbolism Note
The Coen brothers say this story focuses on tracking, predators, and their prey.
Technology Notes
The captive bolt pistol, the villain's weapon, shoots a prod out of the gun and then retracts it. This, of course, leaves no exit wound.
Even with a silencer, the gun still would have made a lot of noise.
Trivia Notes
Someone in bad health can die from dehydration after several hours if they don't drink liquids.
Odessa is about 160 miles north of Sanderson, Texas, where this story takes place.
"Riding bitch" means sitting in between two other people in a car.
Transponders were initially used in World War II to help aircraft identify allies or enemies.
Del Rio is 120 miles from Sanderson, Texas. It's home to Laughlin Air Force Base, a pilot-training base.
Many buildings don't have a thirteenth floor out of superstition.
Stress and anxiety are two of the leading causes of insomnia.
The $2.4 million Moss is carrying in the briefcase would weigh about 53 pounds.
Moss is wearing a Templeton Eagles jacket. That is Brolin's high school.
Famous residents of Odessa: George W. Bush, Larry King, Ty Murray, and Jim J. Bullock.
Read More