Uncategorized
Story Notes for Bulletproof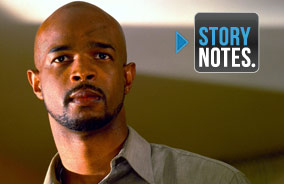 Monday through Thursday, at 8PM | 7C, AMC presents Story Notes — real-time on-air trivia about your favorite movies. Tonight's movie was Bulletproof.
Award Notes
Adam Sandler would get even more dramatic in 2003's Punch-Drunk Love, and he earned a Golden Globe nomination for his work.
Damon Wayans was nominated for two Emmys as a writer on In Living Color.
Biographical Notes
Both Wayans and Sandler became household names on sketch-comedy shows in the nineties: Sandler on Saturday Night Live and Wayans on his family's In Living Color.
Special-effects coordinator Thomas L. Bellissimo also worked on Saw, Carnivàle, and Mad Men.
Sandler sings. His next movie after this was 1998's Wedding Singer.
Sandler married actress Jackie Titone in 2003. She's appeared in a lot of his movies.
Mark Roberts started in stand-up, even competing on Star Search.
Bulletproof director Ernest R. Dickerson made his directing debut with the crime drama Juice.
The previous year, Kristen Wilson played Robin Givens in the TV movie Tyson.
Sandler is known for costumed SNL characters like Opera Man, Cajun Man, and Gap Girl.
Casting Notes
Bulletproof was released in 1996, the same year as Sandler's smash hit Happy Gilmore.
Wayans had two other movies out in 1996: Celtic Pride and The Great White Hype.
The waitress is actress and writer Charmaine Craig. She was the model for Disney's Pocahontas.
Actress Monica Potter (Parenthood, Along Came a Spider) appears in her first movie role.
Former NFL offensive lineman Conrad Goode has appeared in Con Air and Anger Management.
James Caan is the drug lord. Ironically, Caan did a commercial in real life — for a drug-treatment center.
James Farentino was a staple of eighties TV, appearing on Dynasty and Mary.
Mr. Bledsoe is pro wrestler and actor Jeep Swenson. He wrestled for the WCW as Jeep the Mercenary and played Bane in Batman & Robin.
David Labiosa was Antonio the busboy in "The Busboy" episode of Seinfeld, in 1991.
Traci was Wilson's first big film role. She later played the wife in the Dr. Dolittle movies.
Bill Nunn, like Dickerson, got his start on Spike Lee movies like Do the Right Thing.
Mark Roberts, when not acting, is busy producing hit TV shows like Two and a Half Men and Mike & Molly.
Xander Berkeley played CTU agent George Mason on 24.
Allen Covert, a college buddy of Sandler, has appeared in nearly all his movies.
Finance Note
Bulletproof opened on September 6, 1996. It was the No. 1 movie that weekend, earning $6,014,400.
Health Note
Only about 5 percent of people survive being shot in the brain like Keats.
History Notes
In the 1800s, Pehr Henrik Ling created modern physical therapy using gymnastics equipment.
Famous witnesses who turned State's evidence: Henry Hill, Sammy "The Bull" Gravano, "Easy" Eddie O'Hare.
"Just doing my job" is known as the "Nuremberg defense" or "superior orders."
Location Notes
This burrito joint is in the shadow of the Capitol Records Building, a famous Hollywood landmark.
Most of the desert scenes in Bulletproof were shot in Ridgecrest, California. It's also been a location for Star Trek V: The Final Frontier, Iron Man, and Jurassic Park.
Trona Airport was built by the U.S. Army Air Corps and was used for training before WWII.
The Malibu mansion was used also on Entourage.
Pop-Culture Notes
Bulletproof falls into the buddy-cop genre, like Beverly Hills Cop and Lethal Weapon. Keep an eye out for similarities.
Many critics compared this movie to another buddy movie, Midnight Run. In it, Robert De Niro is a bounty hunter transporting mob accountant Charles Grodin.
Two opposites who are chained together is a common theme in movies like this. They're inspired by 1958's Defiant Ones, starring Sidney Poitier and Tony Curtis.
Famous Bensons: a governor's butler, a detective on Law & Order: Special Victims Unit, a British fish.
Prop Notes
In this shoot-out, the SWAT team is using M16s, and the bad guys are using Uzi machine guns.
Keats is holding a Ruger pistol, but as LAPD his service weapon would be a Beretta.
Mr. Bledsoe is using an Armsel Striker twelve-gauge-cylinder shotgun.
One gun is a suppressed Beretta 92FS. "Suppressed" simply means it's got a silencer.
Quotation Notes
Caan: "Playing the heavy between these two clowns took a lot of serious concentration."
Wayans: "What I like really is the drama of it. We can do comedy in our sleep, but to be believable — that's hard for a comedian."
Producer Robert Simonds says he knew Wayans could be a leading man after seeing The Last Boy Scout. "That's what we needed, a leading man [who could] get the laughs when he had to."
Bellissimo says, "The bullet hits [here are] some of the most beautiful bullet hits that I've seen."
Caan: "What makes something funny is being real no matter how absurd the situation."
Wayans: "Where do you draw the line between friendship and doing your job? That's what interested me so much about the film."
Simonds says, "The laugh is secondary to the story and [their] relationship. It's actually kind of a romance between these guys."
Known for playing heavies, Caan says, "After The Godfather, if there weren't twenty people dead by page twelve they didn't give it to me."
Dickerson: "We were trying to do a 48 Hrs. for the nineties."
Wayans: "I think it just comes down to respect for what each one of us brings to the table and being enthusiastic about working with each other."
Dickerson says Bulletproof "was about the responsibilities of friendship."
Random Notes
In May 2011, a man was arrested in Australia for trying to import $1.3 million of heroin in Bibles.
There is a landing strip in Lesotho, Africa, that actually does end at the edge of a cliff.
Some say the term "honeymoon" comes from the Norse word for "in hiding," "hjunottsmanathr."
Wilson appeared in Girl 6, a movie about phone-sex operators, also in 1996.
Caan's childhood nickname was Killer Caan.
Set Notes
When Wayans hosted Saturday Night Live in 1994, cast member Sandler had an idea to do an action movie together. A year later, he sent Wayans the script for Bulletproof.
The hook-and-pulley block is made of wood and foam. You'll see why.
Look closely and soon you'll see a jackalope head on the wall near Wayans.
Symbolism Note
"Dos cabezas" means "two heads," a possible reference to our heroes.
Technology Note
There are stuntmen jumping from the real life-size airplane body, and there is a miniature crashing.
Trivia Notes
Wayans once faced the law for stealing credit cards from the mail room where he worked.
Bull terriers were first bred in England in the middle of the nineteenth century. In the eighties, Spuds MacKenzie, star of a series of beer commercials, popularized them even more.
Swensen once claimed to have the biggest biceps in the world.
In Mexico, bullfighters are called "toreros."
With his 1,000 hours of flight time, Moses could pilot a private prop plane, but to be hired for one of the major commercial airlines he needs to clock in about 3,000 hours.
The term "Mayday" comes from the French phrase "Venez m'aider," "Come help me."
In Greek mythology, Hermes is the god of flight. Nemesis is the god of disaster.
The jackalope is a mythical antlered rabbit said to live in the American West.
A gag is known as a "Jack Tripper." Tripper was a character on Three's Company, a TV show famous for its sexual innuendo.
Other Jack Carters: an American comedian, the son of president Jimmy Carter, a park in Texas.
There's a roller coaster in Blackpool, England, with a 235-foot drop called the Big One.
Sandler's mom, Judy, was a nursery-school teacher. She's been in some of his movies.
A metal plate can affect reception, but the one in Carter's head is too small to have any real effect.
Total body count for the movie: 26.
Top matadors can earn as much as $75,000 for each performance. But less-successful bullfighters might not even make enough to cover their costs.
Read More