Prepare to Be Seduced by the "Gainsbourg" Soundtrack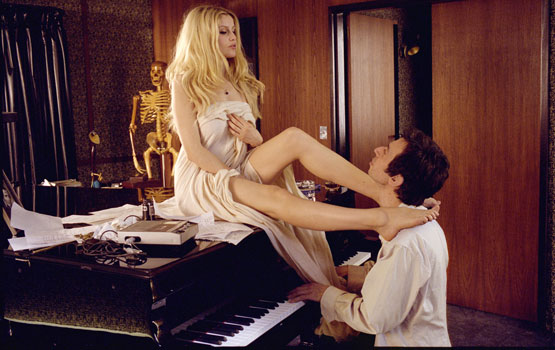 If you've never heard Serge Gainsbourg's music, you may still have heard of the man, whose oversize persona made him a polarizing pop figure. Gainsbourg was widely worshiped for his innovative, provocative songs but also reviled (and envied) for his antics and very public sex life.
But whatever else you can say of him, his music was a profoundly
influential product of its age — Paris in the '60s — that still somehow
sounds modern. He's one of those icons whom icons-in-the-making revere.
Gainsbourg's musicality and orchestration were lush, his lyrics complex.
He dipped in and out of many genres, mixing classical, jazz, and rock
with ease.
French comic book artist Joann Sfar's love letter Gainsbourg: A Heroic Life
features a soundtrack full of Gainsbourg's best compositions, including "Initials B.B.," "Harley Davidson," "Baby Pop," "Comic Strip," "Love on the
Beat," and "La Javanaise." Most of these are performed by the movie's
stars, who cleave close to the originals; the actors not only look the
part, they sound it. Eric Elmosnino captures the seductive quality to
Gainsbourg's voice, and Laetitia Casta's breathy Brigitte Bardot is full
on sex-kitten ("Bonnie and Clyde").
Only a few songs in the movie are Gainsbourg's original versions, notably "Je T'Aime Mois Non Plus" (recorded with his lover and musical collaborator Jane Birkin, and featuring her "aural orgasm" — if you're listening
to this at work, you may want to put on some headphones). A handful of
non-cast covers bring a fresh perspective to the songs and help
reinforce just how modern they are (French surreal-rock band Dionysos'
hard-driving "Nazi Rock"
is a standout). And it's fitting that some of his songs are only
alluded to with orchestral scoring, since he himself made copious
references to classical works, like Dvor?ák's "From the New World"
symphony in "Initials B.B."
Whether or not you love the man (or the movie), you'll fall for the music, which will ultimately outlast both.
Read More