Press
Mad Men and The Walking Dead Each Win a Creative Emmy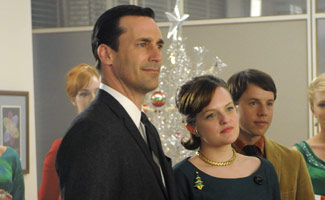 This weekend, the Academy of Television Arts & Sciences held the 2011 Creative Arts Emmys and Mad Men and The Walking Dead each went home with awards: one for Outstanding Hairstyling and the other for Outstanding Prosthetic Makeup.
The award for Outstanding Hairstyling for a Single-Camera Series went to Mad Men's Season 4 episode "Christmas Comes But Once A Year" and was presented to Department Head Hairstylist Sean Flanigan and his team — who together beat out hairstyling teams
from HBO's Boardwalk Empire and Game of Thrones, and Fox's Glee. (Mad Men has received this award twice previously, for Season 2's "The Gold Violin" and Season 3's Episode 8, "Souvenir.")
The honor of Outstanding Prosthetic Makeup for a Series, Miniseries, Movie or Special was the first Emmy for The Walking Dead and was
presented to Special FX Makeup Artist and Consulting Producer Greg
Nicotero and his team from KNB EFX — who together beat out makeup teams
from HBO's Game of Thrones, Fox's Glee, NBC's The Cape and ABC's Grey's Anatomy. (Click here to read an interview with Greg Nicotero for Season 2.)
Mad Men and The Killing are still up for seven Primetime Emmy Awards
across categories such as Best Drama, Best Actor and Best Actress,
which will be presented during a ceremony airing this Sun., Sep. 18 on
FOX.
Read More