Uncategorized
Flashback Five – Your Favorite John Wayne Movies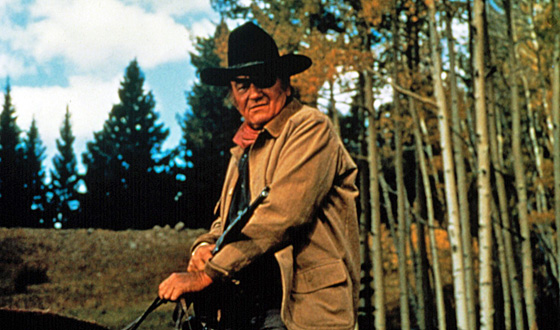 Whether battling the enemy on the front lines or verbally sparring with feisty women on the home front, John Wayne always fights the good fight. But what if his movies had to fight each other? Which movie would come out on top? This Sat., Sep. 9, AMC's Crazy About the Duke let's you see some of Wayne's top contenders (True Grit) and some of his not-to-be-underestimated underdogs (McLintock). Want to see how AMC fans have rated his movies so far? See the list below. Want to vote for your favorite John Wayne movie? Click here.
1. The Searchers (1956)
Director John Ford's dark Western isn't just revered by the critics. AMC viewers rank it just as highly. Currently holding the top spot, The Searchers features Wayne in the role he personally considered his best: that of ex-Confederate Ethan Edwards, an anti-hero tracking down the kidnapped daughter of his murdered brother. Brilliant!
2. Rio Bravo (1959)
If The Searchers showcases The Duke at his most serious, then Rio Bravo shows him having the most fun. Can you blame him? As a flinty sheriff, Wayne is teamed up with a gregarious bunch: Dean Martin (as a boozing deputy), Ricky Nelson (as a quick-draw heartthrob) and Ward Bond (as a geriatric explosives expert). Who's Ward Bond? Watch Rio Bravo and you'll never forget.
3. True Grit (1969)
The Duke earned a Best Actor Oscar for his portrayal of a cantankerous U.S. marshal. In fact, his performance was so well-received that he went on to reprise the role in Rooster Cogburn (1975), an also-memorable pic costarring Katharine Hepburn. (The latter movie airs tomorrow at 6:30AM | 5:30C). Want to see The Duke turn his macho image on its head? Then this one's for you.
4. The Quiet Man (1952)
This romance set on the Emerald Isle may lack spurs and six-shooters but it's got firepower aplenty thanks to the sparks between Wayne and Maureen O'Hara. With all due respect to love, the climactic fistfight — Wayne plays a boxer — matches any of his saloon brawls.
5. The Man Who Shot Liberty Valance (1962)
Wayne and Jimmy Stewart… What could be better? Only four of The Duke's flicks, according to AMC voters. Here Wayne plays rancher Tom Doniphon, a decent man with an important and unacknowledged role in the formation of the West.
Honorable Mentions
6. The Shootist (1976): Wayne's final film before he died of cancer casts Wayne as an old gunslinger making a last stand before riding into the sunset.
7. She Wore a Yellow Ribbon (1949): This second entry in John Ford's Cavalry trilogy finds the Duke as an aging commander hoping to avoid the same grisly fate as General Custer.
8. Red River (1948): Paving the way for The Seachers, Wayne plays a psychologically complex character helming a cattle drive where everything goes wrong.
9. Stagecoach (1939): Wayne's first collaboration with John Ford made the actor a star. Even today, this stagecoach tale remain a rousing good ride.
10. Sands of Iwo Jima (1949): The Duke made many war movies but. AMC fans rate this as his best. His tough-love sarge sets the standard for a long line of combat-flick commanders.

Read More