Games, Polls & Quizzes
Consider This Talia Shire Catfight – Adrian Balboa Takes on Connie Corleone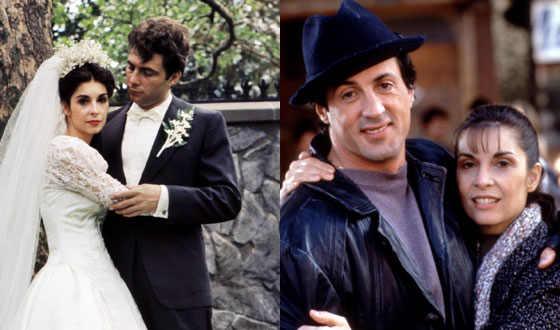 It's debatable whether even Meryl Streep has created two characters as iconic as Talia Shire has. You need look no further for proof than Connie Corleone of the Godfather trilogy and Adrian Balboa of the Rocky franchise. But instead of comparing Shire to Streep (who Oscar clearly favors), why not compare Shire to herself. Or at least, pit her two famous characters against each other. What would happen if Connie and Adrian went head to head for five rounds (to use a little Rocky imagery). Who would emerge the victor?
Round 1: Style
Connie's got glitz and glam and plenty of Corleone cash to fund her shopping habit. Adrian works with what she's got. Even as a poor, timid pet-shop worker, she's savvy enough to accessorize. That red beret. Those nerdy glasses. These days, every hipster worth her weight in PBR is sporting a pair. Adrian the trendsetter? Surprisingly, yes. The same can't be said for the lady mobster.
Winner: Adrian
Round 2: Devotion
They say love is blind. In Connie's case, that's a real sad truth. Her husband cheats, beats her, and plots to take her family down. Many women would leave a bum like that. But not Connie. Adrian, on the other hand, has issues with Rocky, and despite his adoration of her, doubts him time and time again. "You can't win!" No one needs that.
Winner: Connie
Round 3: Bloodlines
Neither Connie nor Adrian lucks out in the sibling department. Their brothers run the gamut from maniacs to morons. Adrian's brother, Paulie (Burt Young), loses Rocky's fortune and ruins Thanksgiving. But Connie's got a literal murderers' row of bad brothers: one fixes her up with her abusive husband, one kills the abusive jerk, and the third plots to kill the brother who killed the abusive jerk.
Winner: Tie
Round 4: Sex Appeal
If you're the kind of guy who goes for crazy, then Connie's your girl. She's passionate and has more experience than Adrian. Those who go for the quiet types (and you know what they say about the quiet ones) should turn to Adrian. Hey, there's something to be said for a woman who marries the Italian Stallion.
Winner: Adrian
Round 5: Adaptability
Imagine a Freaky Friday-like schism occurs and Connie finds herself on ice skates and Adrian is left wielding a butcher's knife at her betrothed. How would each fare? Connie might fall on her rear but she's not a woman who stays down long. Adrian, however, is no fighter. She may have survived a coma but she'd never survive as Corleone.
Winner: Connie
So far they're still both standing. Who do you think would win?
Don't miss Shire as Adrian in Rocky IV tonight, Wed., Sep. 14, at 8PM | 7C, followed by Rocky V, at 10PM | 9C, both part of AMC's Can't Get Enough Rocky.
Read More