Why You've Heard of "Cowboys & Aliens" and Not "Attack the Block"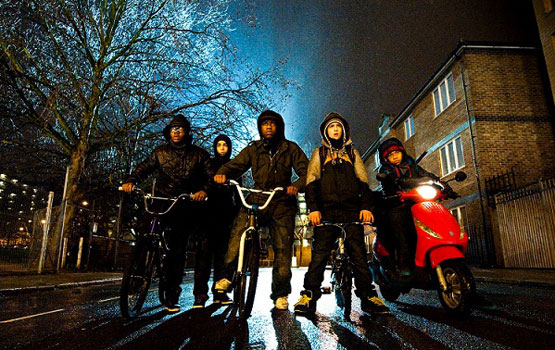 I get irate letters, but fortunately, they're not usually irate at me, just about something Hollywood has done. For example, this week's letter:
You're the expert: Explain to me why we live in a universe where crap like Cowboys & Aliens gets all sorts of attention while a terrific science fiction movie like Attack the Block practically has to beg for viewers.
So that everyone knows the players here: Cowboys & Aliens, of course, is the big science fiction action film starring Daniel Craig and Harrison Ford, directed by Iron Man's Jon
Favreau, which finished at number one at last weekend's box office with
$36.4 million — although just barely, squeaking past The Smurfs
with less than a million dollars to spare. Attack the Block is a tiny
science fiction action film whose biggest star is Nick Frost (Shawn of the Dead, Paul), from first-time director Joe Cornish. Both are alien invasion films: Cowboys takes place in the mythical American Old West, while Attack takes place in a London council block (that's government housing). Cowboys opened in 3,750 theaters last weekend; Attack opened in eight. Cowboys made roughly 265 times what Attack made in the same time frame.
Leaving aside the value judgment about Cowboys (which
I thought was entertaining, personally), here's why in our universe one
of these films got all sorts of financial love and the other one, not
so much:
First, life's not fair. I thought I'd just get that one out of the way.
Second,
despite the fact that these two films have roughly the same subject
matter — an alien invasion — on the practical side of things they are as different as two films could be. Cowboys & Aliens
was first optioned by Universal and Dreamworks nearly a dozen years ago
and was ultimately positioned as a possible "tentpole" for the studios,
which meant a lot of money (production budget: $163 million) and
topline talent (Craig, Ford, Favreau, writers Alex Kurtzman, Robert Orci
and Damon Lindelof) were thrown at the project. This was never not going to be a major film, even before the final version of it fell together — it was possible it would never get made, but if it was going to get made, it was going to get made big.
Now, contrast this with Attack the Block. Attack
was not made by two major Hollywood studios; it was made in Britain by a
production company (Big Talk Productions) that specializes in
modestly budgeted genre comedies (Shawn of the Dead, Hot Fuzz)
and was funded by a consortium of European film companies (Film 4,
Studio Canal) who also focus primarily on modestly priced film projects.
So, not surprisingly, the film didn't cost much — $16 million dollars
or so — and featured a cast of young unknowns playing the gang of hoods
fighting the alien invasion of their apartment block.
Only
after the film was completed and shown at U.S. film festivals was it
picked up for distribution in the U.S., by Sony Pictures, who assigned the
film to its Screen Gems unit, which focuses on — can you guess? —
relatively modestly budgeted genre films: Recent Screen Gems science
fiction/fantasy films include Priest, Resident Evil, and Legion. Attack the Block
was never going to have a big release in the U.S., and particularly not
last weekend, when Sony was focusing on its other release for the week: The Smurfs, which had a $110 million budget and for which a sequel is almost certainly already being planned. Stop your screaming.
All that said, here's the third thing: It would have been kinda nuts for Sony to try a big-time launch of Attack the Block.
To recap, it's a modestly budgeted British film featuring no one anyone
knows playing inner-city hoods fighting aliens. Sony could spend
millions trying to promote it like a summer blockbuster — and then
likely lose those millions when everyone opts for James Bond in a cowboy
hat or annoying blue gnomes — or they could try a limited release
strategy and let word-of-mouth do their advertising for them. If it
works, then they can expand in theaters; if it doesn't, then it's off to
home video at relatively little risk, where it becomes a cult hit.
Dispassionately speaking, one of these strategies makes more sense than
the other.
Could it work? Well, consider this: Cowboys and Smurfs made
millions last weekend, but they were also in thousands of theaters. In
each theater they were in, the films made just slightly on opposite
sides of $10,000. Attack the Block made $17,000 for each theater
it was in, and the reviews from both critics and filmgoers have been
very positive. We'll see next weekend if word-of-mouth kicks in.
It seems unlikely that Attack the Block will ever become a blockbuster, the way Universal and Dreamworks hope (and pray) Cowboys & Aliens will be. But it's entirely possible that Attack can become a mini-hit on its own terms. Which is what passes for fair in this universe.
Read More