Who's That Guy?: Stephen Lang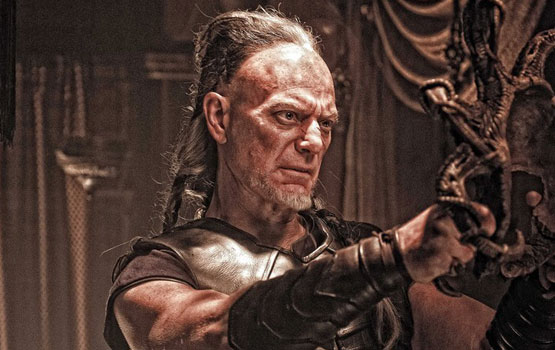 There are those movie stars whose names evoke any number of signature roles. And then there are those whose faces you recognize, but you're not sure where from. They may not be household names, but they give the kind of performances that stay with you.
Stephen Lang is one of those guys. His performance as fearsome warlord Khalar Zym in the Jason Momoa retelling of Conan the Barbarian is one of the highlights of the movie. And Conan isn't the first time he's played a scene-stealing villain. Here are the vital details about one of the best actors whose name you probably don't recognize–yet.
Where You've Seen Him: Though he's never actually served in the
military, he does give off that air: In 2009, Lang played the scarred,
gung-ho Colonel Miles Quaritch in James Cameron's Avatar and the
paranormally inclined Brigadier General Dean Hopgood alongside George
Clooney in The Men Who Stare at Goats. He also took on real-life figures
General Stonewall Jackson in Gods and Generals (2003) and FBI Agent
Charles Winstead in Public Enemies (2009). In 1993, he played Major
General George E. Pickett in Gettysburg. One of his first roles was as Happy Loman opposite Dustin Hoffman in the
1985 adaptation of Death of a Salesman, followed soon after by a
memorable turn in the dark gem Last Exit to Brooklyn (1989).

What You Need to Know: The 59-year-old Lang is a theater vet; he was
co-artistic director of the Actors Studio for a stretch and has spent
much of his career performing onstage. His work includes originating the
Colonel Jessep role in A Few Good Men (played by "you can't handle the
truth" Jack Nicholson in the movie); a Tony-nominated performance as a
homeless man in The Speed of Darkness; and his self-penned
military-themed one-man show Beyond Glory.
Lang is the son of renowned philanthropist Eugene Lang (for whom a
college is named at the New School University in Manhattan). A graduate
of Swarthmore College, where he majored in English Literature, Lang had
been married for more than 30 years (to the same woman) and has four
kids.
What's Next: Lang stars in the highly anticipated new fall scifi TV series Terra Nova, followed by a number of upcoming films.
Read More