Uncategorized
Warning – Signature Songs From Top Gun, Rocky and Beyond Will Stick in Your Head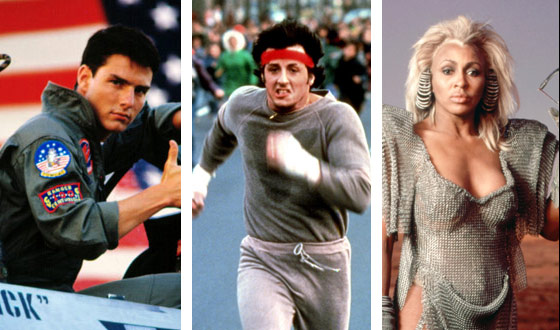 You know those songs you can't get out of your head? Chances are you have one just like that — an ear worm — stuck in your brain right now. Some of the most stubborn ear worms come from movies. Often these songs and movies are so closely linked that it's hard to see an image from the movie without immediately thinking of the song — or vice versa. You love them, but you kind of hate them. For better or worse, here are the ten most stubborn ear-worm songs from the movies.
10. "We Don't Need Another Hero (Thunderdome)" (Tina Turner), Mad Max Beyond Thunderdome
Turner not only plays the villain; she also sings the rousing anthem for Mel Gibson's third Mad Max movie. The dystopian movie's central theme of rescuing and being rescued by a band of kids is echoed in the repeatable ethereal chorus: "All the children say…" Sing along now.
9. "Mrs. Robinson" (Simon & Garfunkel), The Graduate
The kick-ass soundtrack to the alienated-youth classic has remained a perennial favorite of folk-rock fans, and this song is its highlight. If the descending scale of "dee"s in the beginning don't hook you, the "woo"s will, every time.
8. "I Don't Want to Miss a Thing" (Aerosmith), Armageddon
Lead singer Steven Tyler's distinctive howl is on full display in this slow jam that played on the radio roughly 35,000 times a day the summer that Armageddon was blowing up theaters. Oh, yeah — the movie featuring this sappy, addictive ballad happened to star Tyler's daughter Liv.
7. "Jai Ho" (A. R. Rahman), Slumdog Millionaire
A slightly lower ranking than you might think because, if you don't speak Hindi, it's a little hard to sing along with (or understand) the lyrics. (Jai ho means "May there be victory.") But its jubilant spirit epitomizes the amazing story of how this pic became a hit. And just try not belting out the "Jai ho" part. You can't.
6. "Singin' in the Rain" (Gene Kelly, Donald O'Connor, and Debbie Reynolds), Singin' in the Rain
In one of the greatest musicals of all time, the title track is so iconic, so ingrained in our cultural
consciousness that after watching it you'll want to break into song and dance in the middle of a rainstorm. Or at least whistle the opening bars again and again.
5. "9 to 5" (Dolly Parton), Nine to Five
Parton wrote this ode to the workaday woman for a movie in which she co-starred with Jane Fonda and Lily Tomlin. They're long-suffering gals getting back at their smarmy boss. The song has the same kind of populist appeal as the movie, and it became one of Parton's signature hits.
4. "Danger Zone" (Kenny Loggins), Top Gun
Another song from Top Gun, Berlin's "Take My Breath Away," won the Academy Award for Best Original Song, but Loggins's "Danger Zone" remains a hard-driving cultural touchstone, having appeared in everything from car commercials to an episode of The Simpsons to your recurring dreams. Sing it now: "Hiiighway to the…"
3. "It's Hard Out Here for a Pimp" (Three 6 Mafia), Hustle & Flow
You may not think that a rap song could rank this high as an ear worm, but the soulful chorus has a way of staying with you. No one was more surprised — or
delighted — when it won the Academy Award for Best Original Song than presenter Queen Latifah, whose giddy disbelief was nearly as infectious as the song itself.
2. "Gonna Fly Now" (Bill Conti), Rocky
What's that — you've never heard of it? How about if we called it the theme from Rocky, instead? Still scratching your head? Okay then: it's the song that plays when Rocky runs up the steps of the Philadelphia Museum of Art. Ah, now you know it. And it's stuck in your head, right? You're welcome.
1. "I Will Always Love You" (Whitney Houston), The Bodyguard
For her film debut, Houston remade a beloved country ballad into a treacly power-pop standard. Try as you might, you'll never ever forget it once you've heard Houston belt, "And III-eee-III will always
love youuu."
Don't miss a chance to get "Danger Zone" stuck in your head during AMC Celebrates: Top Gun, on Fri., Aug. 12, at 8PM | 7C.
Read More