Uncategorized
Flashback Five – Your Favorite Mob Movies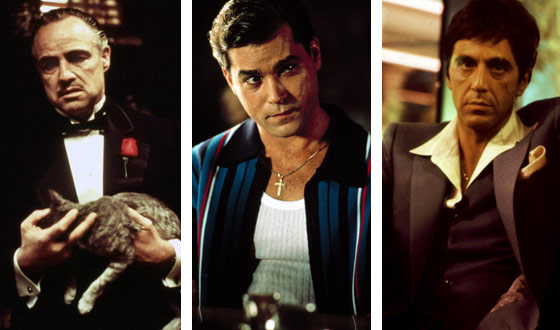 Americans are fascinated with the mob, so it should come as no surprise that a number of the greatest movies of all time are mob flicks. But which movie is the best of the genre? Here at AMCtv.com, fans have been hard at work ranking the twenty greatest mob movies of all time, including GoodFellas, which airs on Sat., Aug. 6, at 8PM | 7C and 11:15PM | 10:15C, as part of AMC Mob Week. So where does GoodFellas rank relative to movies like The Godfather and Scarface? As of Fri., Aug. 5, here's how it stands.
1. The Godfather (1972)
Francis Ford Coppola's epic sits at the head of the table with AMC voters. This is hardly shocking, considering The Godfather is often ranked as the greatest movie ever, and helped crystallize the national obsession with the mob. Purely as a cinematic experience, The Godfather is as near to perfection as it gets. Be honest. Is there anything you'd change?
2. The Godfather: Part II (1974)
There's some debate as to whether The Godfather Part II is better than the original or simply a close runner-up. Regardless, this is no mere follow-up but stand as a classic in its own right with Robert De Niro delivering a breathtaking performance as the young Vito Corleone and Al Pacino making just as strong an impression as his Michael Corleone transforms from civilian to pure evil.
3. Goodfellas (1990)
Told at a breathless pace, Martin Scorsese's masterpiece blends documentary-style voice-overs and a pop soundtrack that doubles as a Greek chorus, earning the bronze. Goodfellas is the ultimate fan movie: endlessly quotable and compulsively watchable, it takes you through the the whole gamut of emotions in the form of the journey of Henry Hill (Ray Liotta) from an up-and-coming wiseguy to the witness-protection program.
4. Scarface (1983)
Of course Brian De Palma's cult classic is in the top five. A garish, glam take on the 1932 original, Scarface is full of cocaine, Miami sunshine, heavily artillery, bad perms, and chain saws. The movie's a hypnotic, repellent, and alluring portrait of soulless ambition — anchored by Pacino's rabid performance as coke lord Tony Montana. Scarface is truly deserving of the cult that follows it.
5. Casino (1995)
Scorsese struck gold with this flick about the mob's version of a gold rush: legalized gambling in Vegas. And with De Niro and Joe Pesci onboard, that's hard to argue. But despite the Goodfellas vets, this show is stolen by Sharon Stone, as De Niro's drug-addled, hysterical ex-showgirl wife, who adds a heartbreaking element to the flick and makes a gangster like De Niro's Ace seem downright moral by comparison.
Honorable Mentions
6. The Untouchables (1987): This time, De Palma sides with the cops and the teetotalers — but still proves himself a dizzying storyteller. And, for all the espousing of law and order, he couldn't resist a scene with De Niro at bat with a dude's head.
7. The Departed (2006): Double crosses, triple crosses, and big Boston accents prove that Scorsese's lost none of his touch in later years. In fact, the director finally won a Best Director Oscar, and, based on its No.7 ranking, you think highly of the movie as well.
8. Donnie Brasco (1997): Voters put a fourth Pacino flick in the top ten. Here Pacino has mellowed (slightly) with age, taking in a nice up-and-comer played by Johnny Depp, but the actor is as good as ever.
9. Pulp Fiction (1994): You love Quentin Tarantino's breakout hit, ranking it No. 9. This clever, bloody gem not only won Tarantino legions of fans, revitalized John Travolta's career, won an Oscar for Best Screenplay and was nominated for six others. Not too shabby.
10. A Bronx Tale (1993): Not to be outdone, this is the fifth De Niro movie you ranked in the top ten, a coming-of-age story focused on a gangster a few dozen rungs down from Vito Corleone. But what A Bronx Tale lacks in lavish violence it makes up for in emotional intensity.

Read More