Uncategorized
Flashback Five – Tom Cruise's Best Movies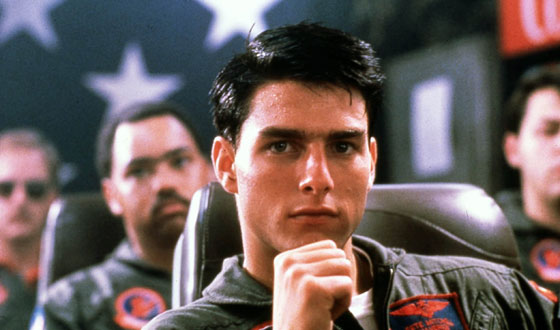 For decades, Tom Cruise has been automatic gold at the box office. He melts hearts with his smile and melts on-screen enemies with that intense stare. Cruise is a movie star, plain and simple, and he's made more good movies than just about any working actor. Check out one of the greatest of those flicks with AMC Celebrates: Top Gun, which airs the blockbuster Fri., Aug. 12 at 8/7c. Now, find out which movies are his absolute best.
1. Top Gun (1986)
The quintessential '80s action movie about a maverick who defies the odds to kill the bad guys, overcome his doubts, and get the girl. Cruise is at his absolute hotshot best, and this classic is essential viewing for fans of exploding jets, sunglasses, pop tunes, smarmy Val Kilmer, and action as it's supposed to be — fun!
2. Rain Man (1988)
Cruise is once again a hotshot (though of the car-salesman and not the fighter-pilot variety) but now has to deal with an autistic brother (Dustin Hoffman) who's sitting on millions of his late father's inheritance. The result of this improbable setup is an odd-couple road movie that is at once touching and hilarious. Rain Man won four Oscars, including Best Picture and Actor (Hoffman). Did the movie deserve the awards? Definitely, definitely.
3. A Few Good Men (1992)
Cruise's full range of talents are on display in this courtroom drama. His performance as a brash Navy attorney, defending marines charged with killing one of their fellow soldiers, is what makes the movie work. (Remember that Jack Nicholson is barely ever onscreen.) And that legendary showdown between Nicholson and Cruise? Well, that just puts A Few Good Men over the top.
4. Jerry Maguire (1996)
Cruise is at his comic best as an overly driven sport agent whose moral awakening gets him fired. The performance earned Cruise a Best Actor Oscar nomination — and no wonder: in the midst of his character's nervous breakdown, he's both hilarious and touching. And he helped coin the nineties catchphrases "Show me the money!" and "You complete me." Jerry Maguire certainly did the first, raking in over $250 million at the box office.
5. Born on the Fourth of July (1989)
This is the movie that cemented Cruise's reputation as a serious actor, as he transforms himself into a paralyzed Vietnam vet sliding downhill on regret, self-pity, and booze. But before that he's equally believable as a gung ho fresh-face patriot serving his country. The transition from unthinking patriot to antiwar activist is a remarkable journey. Just don't let the seventies mustache and hippie hair distract you from his performance.
Honorable Mentions
1. Mission: Impossible (1996): Watch out, James Bond. In one of the great action movies of all time, Cruise proves he's more than up to the task of playing the superspy. Mission: Impossible is thrilling and features twists and turns most action pics can't match.
2. Magnolia (1999): This may be an ensemble piece, but Cruise steals the show as a narcissistic seduction guru. Certainly, the star's risky performance mesmerized critics, who called it his best work in years.
3. Cocktail (1988): Cruise's bottle-flipping machinations gave rise to a generation of mixologists in this story about a man living out the American Dream, albeit in the Caribbean, making a fortune pouring fancy drinks and unwinding with some sex on the beach.
4. The Color of Money (1986): Casting Cruise — an actor known for his good looks and magnetic screen presence — as a young Paul Newman was a no-brainer, and Cruise gave himself new credibility by working opposite Newman in this quasi sequel to The Hustler.
5. Risky Business (1983): Cruise underwear danced his way to fame in this comedy. Risky Business also created the template for Cruise's overachieving characters: some kids throw parties while their parents are away. Cruise's teen starts a brothel.

Read More