The Movie Odds for This Year's Hugo Class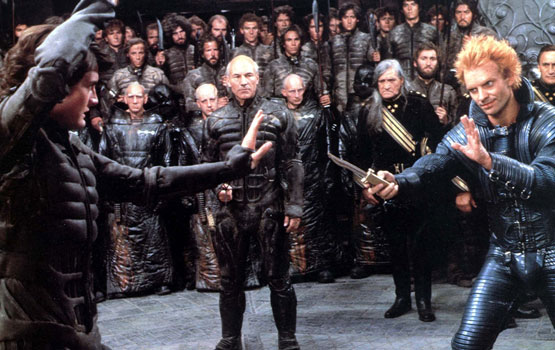 By the time you read this, I will be in Reno, Nevada — not to shoot a man just to watch him die, but to take part in this year's Worldcon, the annual gathering of science fiction and fantasy fans. There, the prestigious Hugo Awards are given out for the best in the genre, including the best novel of the year. Several Hugo-winning novels have been turned into films, Starship Troopers, Dune and Harry Potter and the Goblet of Fire among them, so each year I like to take a look at the current slate of nominees and guess their chances of making it to the silver screen. Here are the odds on this year's class.
Blackout/All Clear, by Connie Willis
What's it about? A group of time-travelers from a future Oxford find themselves trapped when they go back to World War II times and worry their presence has changed history to the point where Germany may now win the war.
Why it would make a great movie: The potential for a great ensemble cast, a good helping of action (focused on the London Blitz) and of course World War II is a reliable source of interest for filmgoers — see: Captain America.
Caveats: The novel is set across two largish books, which is a lot of story to condense; the film Timeline, which is superficially similar, did not do very well when it came out in 2003.
Chances for a movie version: You never know, but it might do better as a limited series either on premium cable or BBC.
Cryoburn, by Lois McMaster Bujold
What's it about? An
imperial diplomat is sent to investigate a possibly corrupt corporation
and discovers that the situation is even more fraught with danger than
he could have imagined.
Why it would make a great movie: Lots of
action and adventure and a main character — Miles Vorkosigan — who
could in his way rival some of the great science fiction film characters
in history.
Caveats: The book is one of a series of books
featuring Vorkosigan, so some of those might need to be filmed first;
Vorkosigan is short of stature (under five feet tall), which presents a
set of cinematic challenges.
Chances for a movie version: Hey, Peter Dinklage is hot hot hot since Game of Thrones. Get him for Miles Vorkosigan and a series of films based on the character could happen.
The Dervish House, by Ian McDonald
What's it about? In
a near-future Turkey, a bomb goes off, setting in motion three
seemingly unconnected stories that wind together over the course of a week.
Why it would make a great movie: An
exotic locale, a compressed time schedule of events to keep things
ticking along, and a thriller-like format that spirals in on itself —
plus it takes place only 15 years in the future, giving it a vital tinge
of realism.
Caveats: The setting is exotic, but will people
in the U.S. really be interested in a film that takes place in a country
they know little about, especially with no major American characters?
Chances for a movie version:
Probably better if it's made by a non-American studio that sees the
global market, not the North American market, as its primary financial
target.
Feed, by Mira Grant
What's it about? In
a future where a virus makes zombies a reality, we follow a
presidential campaign through the eyes of brother and sister bloggers
whose lives are in danger when they investigate a series of undead
attacks.
Why it would make a great movie: Zombies! Politics! Bloggers! Guns! Viruses! Death!
Caveats: It's possible one day people will get tired of zombies.
Chances for a movie version: Honestly, I'd be surprised if someone in L.A. hasn't tried to option this one already.
The Hundred Thousand Kingdoms, by N.K. Jemisin
What's it about? A
young woman is named heir to a fantastic, god-filled empire, setting
off a power struggle with two cousins who have also been named heirs.
Why it would make a great movie:
Lots of intrigue (including a murder mystery), an epic scope and all
sorts of set pieces that would let visual designers go completely nuts.
Caveats: I suspect there would be an attempt to dumb down the intrigues in the book.
Chances for a movie version: Small, but the payoff could be great.
We'll find out on Sunday which book will take the Hugo. Movie greatness from there? We'll just have to see.
Read More