Photos
Ten Reasons You Secretly Love Tom Cruise – and Why Resistance Is Futile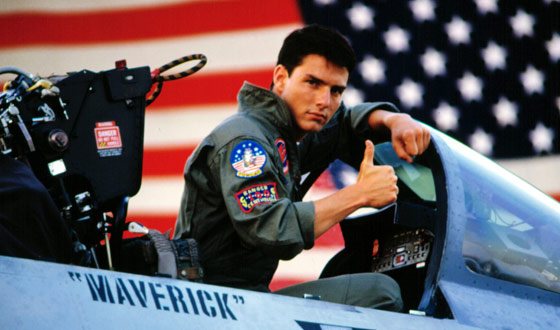 If you're like the rest of the world, you've probably cracked a joke or two about Tom Cruise. You say you hate the guy, right? Truth is, you don't. You love him. Face it, Cruise is everything you've ever wanted in a movie star. He's Tom Cruise, and here are the ten reasons you love him but are afraid to admit it.
10. He's Man Pretty
Time and again, Cruise has tried to drive you away by mussing up his good looks: an eye patch in Valkyrie, a beard in Born on the Fourth of July, even a fat suit in Tropic Thunder. But at the end of the day, his strong chin, flashy smile, and coiffed hair always shine through. You know you're jealous.
9. He's Not Afraid to Make Fun of Himself
You like a guy who can laugh at himself, right? Well, Cruise does that repeatedly via goofy cameos as a sleazy agent in Tropic Thunder, Hollywood's version of Mike Myers in Austin Powers in Goldmember, and an over-the-top motivational speaker in Magnolia.
8. Mission: Impossible
Cruise is the driving force behind one of the biggest action-movie series of all time. Each entry is helmed by a big-time director — Brian De Palma, John Woo, and J. J. Abrams — who probably came onboard just to work with Cruise.
7. He Knows How to Pick a Woman
Rumors that Cruise is gay are nothing but jealousy toward a guy who's paired off with a trio of beautiful women: the stunning Nicole Kidman, the equally stunning Penélope Cruz, and the much younger but no less stunning Katie Holmes. Admit it, guys: you wish you were so lucky.
6. His Accents Are So Bad That They're Good
Cruise may be terrible at accents, but that's part of what makes him great. His lilt in Interview With the Vampire and his Irish accent for Far and Away may be mangled, but they're also terribly memorable.
5. At Five Seven, He's a Real Action Star
He may have to stand on an apple box to punch his opponents, but once he's on that box watch out. He's anchored some of the biggest action movies ever — Mission: Impossible, Minority Report, War of the Worlds — and he does it all without projecting a short-man complex.
4. He's the Cocky Bad Boy You Want (to Be)
Every woman wants him; every man wants to be him. From a self-involved sports agent (Jerry Maguire) to a self-absorbed pilot (Top Gun), Cruise's characters warm up thanks to the love of a woman. That said, being a jerk is what makes him so cool in the first place.
3. He Does His Own Stunts
How is Cruise able to sell an action scene so spectacularly? Easy: he does his own stunts. And when it comes to hanging off buildings, like in Mission: Impossible III, having the actual star of the movie putting his life at risk sells danger (and tickets) in a way a double can't.
2. The Guy Can Act
Being a movie star would be enough, but what really makes you love Cruise is that he's also a legitimate actor. He's been nominated for innumerable awards, and roles in Born on the Fourth of July, Jerry Maguire, and Magnolia earned him Oscar nominations. Action stars like Schwarzenegger can't say they've had that sort of acting career, can they?
1. He's Entertaining
When it comes right down to it, the biggest reason you love Cruise is that he's entertaining. He's magnetic onscreen, he turns public appearances into events, and he's always one step away from doing something crazy. Cruise has been keeping our eyes glued to the screen for 30-plus years. And for that, he deserves our respect (and our adoration).
Don't miss Cruise at his coolest during AMC Celebrates: Top Gun, this Friday, Aug. 12, at 8PM | 7C.
Read More