Uncategorized
Story Notes for The Italian Job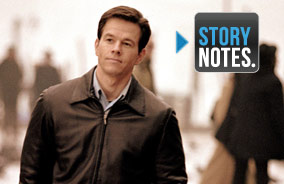 Monday through Thursday, at 8PM | 7C, AMC presents Story Notes — real-time on-air trivia about your favorite movies. Tonight's movie was The Italian Job.
Automotive Notes
Handsome Rob is driving a 1970 Chevrolet Nova in the car chase.
The newly redesigned Mini Cooper hit the streets in the U.S. in 2002. It measures five feet and six inches wide, making it a tight squeeze for the caper but doable.
Steve drives a 2002 Aston Martin Vanquish, which cost $231,260 in 2003. It's the car Handsome Rob said he was going to buy.
The 2001 BMW R1150RT has a top speed of 130 miles per hour.
The top speed of a Mini Cooper S is 141 miles per hour.
Steve is driving a 1995 Ford Bronco.
Biography Notes
Composer John Powell has scored over 50 films, including the Bourne movies and Mr. & Mrs. Smith.
Donald Sutherland's worked in Venice, Italy, before, on 1973's Don't Look Now.
Jason Statham played another wheelman in 2002's Transporter. He had little experience with boats and only a one-day crash course before filming the chase.
Changing names is something Mark Wahlberg knows about. In 1990, he changed his name to Marky Mark and became a famous rapper and underwear model.
Entourage is loosely based on Wahlberg's life in Hollywood. He also executive-produces the show. Seth Green has made several cameos as himself on Entourage.
Edward Norton earned an Oscar nod for Best Supporting Actor playing a villain in Primal Fear.
Wahlberg was nominated for a Golden Globe for playing boxer Micky Ward in The Fighter.
Both Mos Def and Wahlberg were nominated for the Grammy for Best Rap Solo Performance.
In the play Topdog/Underdog, Mos Def played a character obsessed with a type of shell game.
Casting Notes
In 2003, Charlize Theron also starred in Monster and won that year's Oscar for Best Actress.
Some critics started calling Wahlberg the King of the Remake after he did three in three years. He starred in the 2001 remake of Planet of the Apes, the 2002 adaptation of Charade, and this one.
Mos Def reads up on da Vinci. Though best known as a rapper, he started acting as a teen.
Green made a name for himself in the Austin Powers movies playing Dr. Evil's son.
Norton was known to audiences in 2003 for movies like Fight Club and The People vs. Larry Flynt.
The real Shawn Fanning, inventor and co-founder of Napster, plays himself.
The famous improviser Scott Adsit plays Pete on TV's 30 Rock.
Wahlberg says he was originally attracted to the role of Steve, the bad guy. But director F. Gary Gray thought he was perfect for Charlie.
Wahlberg and Theron had worked together before on 1999's Yards.
The security guard is Oscar Nuñez. He also plays Oscar on The Office.
Franky G worked as a bouncer in New York before acting. This was his first big studio movie.
Skinny Pete is played by rapper Gawtti, a member of the hip-hop group Boo-Yaa T.R.I.B.E.
Olek Krupa has also been in Burn After Reading and X-Men: First Class.
Gossip Notes
Statham did mix business with pleasure. Kelly Brook, his girlfriend at the time, was also in the movie.
Theron was actually dating her longtime boyfriend, actor Stuart Townsend, at the time.
Norton was dating actress Salma Hayek while making this movie.
History Notes
The Italian Job joins a long list of heist movies that dates back 100 years. The very first narrative movie ever made was 1903's Great Train Robbery.
The city of Venice is built on a cluster of over 124 islands in a lagoon with 183 canals.
This traffic-control center was created to help direct traffic during the 1984 summer Olympics.
Christopher Columbus found only a small amount of gold on his voyages.
The biggest armored-car robbery is also the largest cash robbery in U.S. history. An armored-car driver stole $22 million in 1997.
In 2006, two men hacked into L.A.'s traffic-control center and turned off lights at intersections.
Location Notes
The final image in Venice is of the city's main waterway, the world-famous Grand Canal.
Scenes are outside the village of Canazei, in the Dolomites, part of the Italian Alps. The original Italian Job also had scenes filmed in these mountains.
Union Station in Los Angeles has also appeared in Speed and Blade Runner.
Plot Notes
"Lugging a bunch of rocks" could be Stella's clever way of saying "Moving gold bricks."
Remember that, when asked what he'd do with the money, Steve said, "I'll take one of each of yours."
Stella's father once told Charlie to "Find somebody you want to spend the rest of your life with and hold onto her forever."
All the training in the world couldn't prepare Stella to step into her father's shoes.
Pop-Culture Notes
The Italian Job is a loose remake of a 1969 heist classic starring a young Michael Caine. The movie was actually released twice in 2003, becoming a big hit the second time around.
Gray got his start directing music videos like TLC's "Waterfalls." The quick cutting and fast pacing are signs of his music-video background.
Charlie Croker is also the name of Caine's character in the original Italian Job.
The Italian Job came out two years after Ocean's Eleven, another heist remake with an ensemble cast.
Quotation Notes
Wahlberg says, "Donald Sutherland is one of my favorite actors of all time. He's fantastic and one of the most generous actors I've ever worked with."
Sutherland praised Wahlberg's acting: "There's no vanity; he's just there doing his work."
Wahlberg recommended Theron for this role. He says, "I just thought she was perfect for it."
Theron says that she and Statham "definitely had this competitive thing going on."
Gray says, "you can't make The Italian Job without including the Mini's."
Gray says Theron "was invented for this role."
Wahlberg says that driving a Mini Cooper is "like driving a really high-powered go-kart."
Script Note
The screenwriters actually have a friend nicknamed Handsome Rob.
Set Notes
Originally, the heist was supposed to happen at sea, on a boat. The filmmakers moved it to Venice to put more Italy into The Italian Job.
The speed limit in the Venice canals ranges from five to twenty kilometers per hour. The filmmakers got special permission to break these limits.
Theron worked with a safecracker to prepare for this role. She says, "It's a little frightening. It's so simple."
The filmmakers used the classic Mini Cooper as a tribute to the cars in the original movie. It had to be customized because Theron was so tall.
Gray says he cried from laughing so hard at Green's improvisations. Green voices many of the characters on his animated comedy show, Robot Chicken.
Norton chose his wardrobe to make his character a little quirky.
The director wanted the cast to do as many of their own stunts as possible, so they all went to driving school.
Skinny Pete is also the name of a character on AMC's Emmy Award-winning Breaking Bad.
Theron says she bragged about Sutherland playing her father. However, Theron and Sutherland never filmed scenes together.
The subway tunnel is one of the few sets built for this movie.
The actors did most of their stunts, even driving down the stairs to the metro.
The production was not allowed to use cars with gas-powered engines in the metro tunnel. So the crew had to create the first electric Mini's.
Scenes were filmed in a hangar in Downey, California, where the first space shuttle was built.
There may only ever be 3 Mini's onscreen at once, but the company gave them 32 cars to use.
Using the emergency brake to slide out was one of the tricks the actors learned at driving school.
There were no visual effects used for the scene with the helicopter.
This is one scene Wahlberg sat out. He was happy to have a stuntman deal with the helicopter.
Sport Note
Wahlberg is an avid basketball fan and has a full-size court with a Celtics logo at his house.
Technology Notes
Some of the cars are real and some are computer generated.
For the explosion, the crew used 60 mortars with charcoal in them to get the look.
Trivia Notes
Explosive paint really exists. Some artists use it to create textured paintings.
Combination locks are the number-one way a safe door is secured.
The wake of boats adds to the deterioration of the buildings in Venice.
A Nad T770 digital decoder is a top-of-the-line stereo receiver, but it won't blow a woman's clothes off.
Water will slow the speed of a bullet. But you would have to be at least eight feet deep for the bullet not to kill you.
All safes have a built-in way for locksmiths to access them in case they malfunction. This is why safes are vulnerable to cracking.
People in L.A. spend more time sitting in traffic than drivers in any other city in the nation.
Chemical grenades are usually designed to burn rather than explode like smoke grenades.
In 2003, the price of gold ranged from $320 to $420 an ounce. A gold brick usually weighs 400 ounces, so this one could be worth up to $168,000.
A federal judge shut down Napster in July 2001 for wholesale infringement of music copyrights.
Key-impression tools use modeling clay to copy a key.
The first button spy cameras were used by government agencies in the fifties.
Both Norton and Theron are method actors. Actors use this technique to get to their character's core, using incidents from their own lives.
Pawnshops can be traced back 3,000 years to China and are the world's oldest financial institutions.
Scrap-metal recycling keeps 90 million tons of metal out of landfills each year.
Ukrainian gangsters often speak a form of Russian slang.
Historically, banks are much more likely to be robbed than armored cars.
The Hollywood sign was erected as an advertisement for a housing development in 1923.
The world's most traded gold bar is the kilobar, which weighs exactly one kilogram.
Read More