Uncategorized
Story Notes for Mad Max Beyond Thunderdome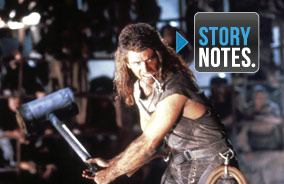 Monday through Thursday, at 8PM | 7C, AMC presents Story Notes — real-time on-air trivia about your favorite movies. Tonight's movie was Mad Max Beyond Thunderdome.
Automotive Notes
Max's vehicle is a modified Ford F-series truck, and in Mad Max, he drives a Ford Falcon.
The vehicles from the movie went on tour in 1985, appearing in car shows around Australia.
Award Notes
Director George Miller received Oscar nominations for writing Lorenzo's Oil and Babe.
Beauty Notes
Tina Turner had to shave her head for her wig to fit properly. She had no problem with that.
Bio Notes
Mel Gibson has worked an odd job or two. During high school, he did time in a juice bottling factory.
Gibson's used to being surrounded by kids — he grew up with 10 brothers and sisters.
Tom Jennings (Slake) went on to host the Aussie version of the game show Double Dare.
Co-director George Ogilvie also directed Gibson in Death of a Salesman on stage.
Angelo Rossitto (Master) is used to uncomfortable situations. He was in the movies Freaks and Something Wicked This Way Comes.
Adam Cockburn (Jedediah Jr.) is now a techno DJ in Australia.
Director George Miller studied medicine at University and returned to medicine while raising money for the first Mad Max (his first feature).
Casting Notes
In 1979, Mel Gibson got his first lead role in Mad Max while still a drama student. He was paid $10,000. When this came out in 1985, he was on the verge of superstardom, earning over $1 million a movie.
Andrew Oh has worked with Sammy Davis, Jr., Cher, and Russell Crowe.
This is Tina Turner's first major role. She had a small part in The Who's Tommy in 1975.
Angry Anderson is lead singer for Australian hard rock band Rose Tattoo.
Frank Thring (The Collector) knows fights to the death. He was in Ben-Hur and The Vikings.
Robert Grubb (Pig Killer) was also in Gibson's breakout movie, Gallipoli.
This was Helen Buday's first movie.
The casting director scoured Australian schools for this tribe of 60 kids, from 20 months to 16 years old.
Bruce Spence played the Gyro Captain in The Road Warrior.
Fashion Notes
Entity's dress weighed 70 lbs and was made up of dog muzzles, coat hangers, and chicken wire.
History Notes
The Gulag was the government agency that ran the Soviet forced labor camps. The system was in place from 1917 to 1988.
The phonograph was invented in 1877 by Thomas Edison. Emile Berliner created the first record disc ten years later.
Location Notes
The Australian wasteland is almost a character in the Mad Max movies.
Bartertown was built in a working brick quarry called Homebush State Brickworks. It's now a frog preserve.
Underworld was created in an unused bull sale ring in Glebe, a suburb of Sydney.
This "oasis" was shot at Mermaid Cave in the Blue Mountains of New South Wales.
Music Notes
The score was composed by Maurice Jarre, who also scored Lawrence of Arabia. It features a full orchestra, chorus, didgeridoo, Ondes Martenot, and rock musicians.
Pop-culture Notes
Since this movie, the term "Pig Killer" has come to mean "an outcast living on the edge of society."
The Mad Max trilogy is one of the most influential movie series of the 1980s. Its post-apocalyptic look is still being copied and referenced by other movies 25 years later.
Fans and Mad Max re-enactors hold the annual Wasteland Weekend in Southern California. The vendor area is fittingly called Bartertown.
Entertainment Weekly ranked Max number 11 on its list of all-time coolest heroes in pop-culture outranking Jack Bauer and James T. Kirk.
Thunderdome has been paid tribute in countless formats, including Futurama, the World of Warcraft role playing game, and a music video for rapper Tupac Shakur.
In the Dollars trilogy, Clint Eastwood's character is also known as "The Man with No Name." The same is true for Toshiro Mifune in Akira Kurosawa's samurai films.
In 1985, Mel Gibson was People magazine's first ever "Sexiest Man Alive."
Prop Notes
Fans may recognize one of Max's many guns as Bubba Zanetti's Luger from the first movie.
Quote Notes
Roger Ebert called Thunderdome "not only the best of the three Mad Max movies….but one of the best films of 1985."
Director Miller: "Everything is based in reality, except it's set in some future which allows me to play around with it."
Writer Hayes: In the end, "It's something new that will be born out of the ashes of the old. Those kids inherited whatever there is, they're very different from us. They're better suited, probably, to the future than anybody in Bartertown."
Director Miller: "Because they're children, they represent nothing but hope, which gives the film great optimism. Children have this belief that things can be better. So while we see a destroyed world [at the end of the film], they see something quite magical, quite divine. A story like this allows you to try to understand this fairly complex world, and to make a simple little parable."
Screenwriter Terry Hayes: "Bartertown…is a heightened version of our world [today]."
Director Miller says Entity's "Vitality and intelligence [makes] her control over Bartertown credible…a positive character rather than a conventional bad guy."
Roger Ebert wrote, "Thunderdome is the first really original movie idea about how to stage a fight since the first karate movies."
When asked if he'd ever direct, Gibson said, "I don't know whether I would be any damned good at it." Ten years later, in 1995, he won an Oscar for directing Braveheart.
Random Notes
Every year, fans create a Thunderdome at the Burning Man Festival in the Nevada desert. While they don't fight to the death, they do battle it out inside the Dome.
Passing information through generations without writing or recording is called "Oral tradition."
Script Notes
The filmmakers were inspired by Lord of the Flies and Peter Pan's "Lost Boys."
Ironically, the only safe place for the kids is their home, which they call "Crack in the Earth."
Writer Terry Hayes has said that they considered killing Max off.
This movie takes place 15 years after The Road Warrior, aka Mad Max II.
After The Road Warrior, Miller and co-writer Terry Hayes said there would be no sequel. But during a dinner in 1983, they started talking about Max, and Thunderdome was born.
Set Notes
Mel is listed as a stuntman in the end credits.
The kids spent 2 months in workshops, learning to hunt, climb, and use primitive weapons.
There were 600 pigs in Underworld. Buying that many could have hurt the pork market. so they rented them from a pig farmer.
Tina Turner couldn't drive a manual transition, so they converted her car to an automatic.
Symbolism Notes
In mythology, the hero must journey to the Underworld to bring someone or something back.
In passing Master to Savannah, Max transfers the "power" to a future generation.
Max has often been compared to a cowboy or a samurai, the solitary hero.
Dr. Dealgood, the master of ceremonies, wears a medallion with a square and compasses. It's a symbol of the Freemasons. Some say it represents virtue and wisdom of conduct.
Tech Notes
They used compressed air cylinders to shoot the actors up and around the dome quickly. The special effects coordinator got the idea for the compressed air from Mary Poppins.
Trivia Notes
Bungee jumping comes from the ancient ritual of "Gkol" on the island of Vanuata. The first commercial bungee jump took place in 1988, three years after Thunderdome.
Each year for "Earth Hour," the world goes dark to raise awareness for climate change. It began in Sydney, Australia, in 2007.
The working title of the movie, to keep it secret, was Desert World.
The wind in a sandstorm is so strong it can move a sand dune and cover a man in minutes.
The View-Master was originally created for adults to look at 3-D pictures of tourist attractions. It was introduced at the 1939 New York World's Fair.
A running pig can reach speeds up to 11 mph, fast enough to outrun a man.
The world's shortest runway is reportedly on the island of Saba in the Caribbean, at 1300 feet long.
The story is not over. George Miller worked on a fourth movie idea for years. Mad Max: Fury Road, finally comes out in 2012, with Tom Hardy as Max.
Camels were imported to Australia in the 1800s as work animals who could handle the desert heat.
George Miller and pigs are a good combination. He also directed the Oscar-winning Babe in 1995.
Read More