Uncategorized
Story Notes for GoodFellas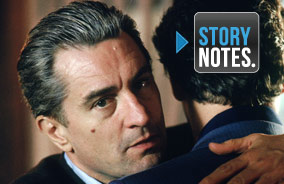 Weeknights during prime time on AMC, you can catch Story Notes — real time trivia and facts about your favorite movies! Below is the online version of the Story Notes for GoodFellas.
Awards Notes
Thelma Schoonmaker earned an Oscar nomination for best film editing.
Goodfellas was nominated for 5 Golden Globes and 6 Oscars including Best Picture. It won only one Oscar for Joe Pesci's classic portrayal of Tommy.
Bio Notes
Ray Liotta and Robert De Niro worked together again in 1997's Cop Land.
This was Debi Mazar's first real part in a movie. Now, she's best known for her role on Entourage.
Joe D'Onofrio (Young Tommy) was in Robert De Niro's directorial debut, A Bronx Tale (1993).
The real Henry Hill was first arrested when he was 16.
Suzanne Shepherd (Karen's mom) and Bracco worked together again on The Sopranos. Shepherd played the mother of the main female character, Carmela Soprano.
Actor Frank Vincent and Joe Pesci have been friends for years. They got their start together as a comedy duo.
This wasn't the first — or last time this crew worked together. De Niro, Pesci, and Vincent were all in Scorsese's Raging Bull (1980) and in Casino (1995).
The real Henry Hill says he'd never been more afraid than when his wife had a gun in his face.
The real-life Henry Hill became a chef. He says he learned a lot from the guys he was locked up with.
Hill, who has struggled with substance abuse, says he started using drugs in jail.

Casting Notes
De Niro suggested Ray Liotta for the part of Henry after seeing him in 1986's Something Wild.
Actor Mike Starr played "Frenchy" McMahon a second time in The 10 Million Dollar Getaway.
Lorraine Bracco auditioned for Martin Scorsese for a part in 1985's After Hours. She didn't get the part, but he told her he knew they'd work together some day.
Chuck Low (Morrie) was once Robert De Niro's real estate agent in real life.
This was Illeana Douglas' third Scorsese film in a row. She later co-starred in Cape Fear.
Lorraine Bracco had been a model in France in the 1970s. The studio originally wanted Madonna to play Karen.
Director Martin Scorsese's mother, Catherine, had small roles in a number of his movies.
Before casting Liotta as Henry, the studio talked about getting a big star like Tom Cruise. Cruise had recently starred in Scorsese's The Color of Money.
Martin Scorsese's father, Charles, along with his wife, was on set all the time.
Scorsese used lots of "guys from the neighborhood" to make big scenes look authentic.
In 1990, Samuel L. Jackson was in 7 movies including this one and Mo' Better Blues.
Scorsese used Kevin Corrigan (Michael) again in 2006's The Departed.
Paul Herman played Beansie on The Sopranos.
Former FBI Agent Edward McDonald played himself.
Frank DiLeo (Tuddy) was Michael Jackson's manager when Scorsese directed the music video for "Bad."
Paul Sorvino, who calls himself a "softie," didn't think he could play a vicious gangster. He almost backed out. But then he frightened himself in the mirror and said, "There's Paulie."
Goodfellas is Robert De Niro's sixth movie with Martin Scorsese. They hadn't worked together in eight years, since 1982's The King of Comedy.
Fashion Notes
As a rule, Robert De Niro purchases any wardrobe that he wears in his films.
All the suits were custom-made by an Italian tailor who had outfitted real mob men for years.
Finance Notes
Goodfellas made $46.8 million at the box office, which was a lot for a Scorsese movie at the time.
Gossip Notes
Illeana Douglas (Tommy's girlfriend) was dating Scorsese while Goodfellas was being shot.
History Notes
The Lufthansa heist was the biggest robbery in America — $5 million and $875,000 in jewels.
Henry Hill says Marty Krugman, the basis for Morrie, was the smartest guy he knew. He just couldn't keep his mouth shut.
How the real Tommy DeSimone died is still in question. His body was never found.
The FBI was able to catch Henry Hill because he started getting messy and talking on the phone.
The only drugs the police found on Henry Hill when they arrested him was one Quaalude. The police found the cocaine on Hill's girlfriend's mixing bowls because she hated to do dishes.
When this movie was released in 1990, the real Henry Hill didn't attend the premiere. He was in the witness protection program.
The FBI told Hill he'd never have to appear in court. But he ended up testifying in 10 cases.
Henry Hill says the owner of the rival cabstand was really stubborn. It wasn't until they torched all his cars that he got the point and shut down.
"Apalachin" was a landmark 1957 gathering of a 100 mafia bosses in upstate New York.
Henry Hill says they wouldn't steal a truck unless they knew the load was worth at least a million.
Pop-culture Notes
Premiere magazine ranked Pesci's "Tommy" the 96th greatest movie character of all time.
Alec Baldwin quoted De Niro's "little bit" line while doing an impression of him on "SNL."
Quote Notes
Michael Imperioli (Spider) says Goodfellas launched his career.
Ray Liotta has said De Niro and Pesci "were the glitter and I was the glue."
Henry Hill says, "I would wake every morning wondering if it was going to be my last day."
Ray Liotta says, "There's not a day that goes by that I don't hear somebody mention Goodfellas…unless I stay home."
Henry Hill says, "Jimmy could look at you and smile…Meanwhile he's got your grave dug."
For years Henry Hill would call cooperating with the Feds "Going bad."
Henry Hill says "Martin Scorsese captures everything — good and bad – with almost total accuracy." Mobsters say "it's like a home movie."
Scorsese says he wanted to show "A lifestyle and use Henry Hill as a guide through it."
Scorsese says the idea of organized crime "Is not to go around killing people. It's to make a lot of money for the least amount of effort."
Henry Hill says Idlewild Airport, now JFK, was easy to rob because it didn't have any fences. "It was like driving into a shopping mall. We used to go shopping every day over there."
Pesci says he plays Tommy "As if I were this killer — this crazy, funny, wisecracking person." Henry Hill says the only difference is the real Tommy "Two-Gun" DeSimone was 6'2″.
Scorsese says, "I wanted Goodfellas to move as fast as a trailer… and to go like that for two hours."
Bracco went on to play Dr. Jennifer Melfi on The Sopranos. She says, "I feel like I'm the only woman involved in these mob movies."
Scorsese says the life cycle for most of these guys is 7 or 8 years before they wind up in jail or dead.
Bracco says that Scorsese told her to think of Karen as the "movie star" of the group.
Dir. Martin Scorsese says Vincent and Pesci were "Better than Abbott and Costello."
Script Notes
De Niro's character Jimmy is based on Jimmy Burke, who Henry Hill says was ruthless.
Goodfellas is based on Nicholas Pileggi's book Wiseguy, which told the true-life story of Henry Hill. Pileggi interviewed Hill while he was in the witness protection program.
Nicholas Pileggi says that he talked to Henry Hill constantly while writing the script with Scorsese. He says the voiceovers are the key to the movie and that they are almost exact quotes from Hill.
Paul Cicero is based on Paul Vario, who was caporegime in the Lucchese crime family. In the mafia, a caporegime or capo is a captain of a crew.
Set Notes
Production designer Kristi Zea also worked on Married to the Mob (1988), so this décor comes easy to her.
De Niro pored over Nicholas Pileggi's unused research to prepare for his role.
De Niro used real money for his scenes because he didn't like the way fake money felt in his hands.
Filmmakers often shoot a character from below to make him look powerful.
Henry Hill says Robert De Niro called him to ask how Jimmy Burke held his cigarette.
Martin Scorsese doesn't allow any outsiders on the set when he's directing Robert De Niro.
Ray Liotta is the only person Martin Scorsese let smoke real cigarettes on set.
Paul Sorvino (Paulie) says he would've played a waiter in a Scorsese movie if he'd asked.
Scorsese was obsessed with every detail on the movie. He even tied Liotta's tie everyday.
Director Martin Scorsese is a big fan of the Copacabana. He went there on his prom night.
Nicholas Pileggi says Scorsese knew exactly how he wanted the movie to look from the beginning. They wrote scenes with certain shots and camera angles in mind.
Liotta says that he was intimidated by Robert De Niro. He really wanted De Niro to like him. De Niro put Liotta at ease, saying, "Don't worry about it. This is all going to work out."
Tech Notes
Scorsese uses freeze frames. It's a technique he learned from François Truffaut's The 400 Blows.
Trivia Notes
Being made is a ceremony that involves drawing blood and being pinned. Once you take your oath and become a full member of the Mafia, the only way to leave is death.
Goodfellas (1990) is ranked by the American Film Institute as the second greatest mob movie of all time. It's also on their list of the top 100 American films.
It is tradition to give money at an Italian wedding. Usually the bride puts the money in a satin bag.
Gangsters and inmates refer to prison guards as "hacks."
Read More