Uncategorized
Story Notes for Donnie Brasco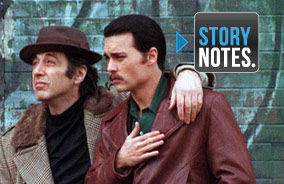 Monday through Thursday, at 8PM | 7C, AMC presents Story Notes — real-time on-air trivia about your favorite movies. Tonight's movie was Donnie Brasco.
Award Notes
Screenwriter Paul Attanasio was nominated for an Oscar for Donnie Brasco but lost to L.A. Confidential.
Anne Heche (Maggie) started in soaps, winning a Daytime Emmy for her work on Another World.
Bio Notes
Mike Newell was hired to direct Brasco because of his previous hit, Four Weddings And A Funeral.
Terry Serpico (the strip club owner) works as both an actor and a stuntman.
Carmine Galante — boss of the Bonanno family — was nicknamed "Lilo," Italian slang for cigar.
Rocco Sisto played "young" Junior Soprano on The Sopranos.
Santo Trafficante participated in the Bay of Pigs invasion of Cuba for the CIA and a plot to kill Castro.
Robert Miano (Sonny Red) started his career as a singer on a street corner in the Bronx.
Casting Notes
Movie critics say Donnie Brasco was Johnny Depp's first fully "lived in" adult role. Before this, he was mostly known for quirky movies like Edward Scissorhands and Ed Wood.
Al Pacino (Lefty) had played many iconic gangsters by this point in his career in movies like The Godfather I, II, and III, Scarface, Carlito's Way and Dick Tracy.
The director calls Michael Madsen "A force of nature."
One of the reasons Johnny Depp was cast as Brasco was because he looked Italian. In reality, he says he's "One part Cherokee and the rest mutt."
Actress Anne Heche's breakthrough role in The Juror was only a year before Brasco.
Brasco's handler is played by Tony-winner Zeljko Ivanek. He's also been in Heroes.
Writer Paul Attanasio says Depp's 1994 arrest for destroying a hotel room helped him get cast. People thought he was "dark and dangerous."
Bruno Kirby (Nicky) was often compared to Joe Pesci and even landed two possible Pesci roles: This one and Young Clemenza in The Godfather Part II.
Zack Grenier (the doctor) may be familiar from the movies Fight Club and Rescue Dawn.
Pacino was originally going to play Brasco. When he switched to Lefty, he recommended Depp. Other stars considered for Brasco: Tom Cruise, Alec Baldwin, John Cusack, and Nicolas Cage.
Fashion Notes
The director says Lefty's leisure suit always got a big laugh from audiences. Pacino's clothes show that he's a little "no account guy that thinks he's a big deal."
Pacino picked his sunglasses out himself. Director Newell says he has a great eye for costume.
History Notes
The actual murder photo of Carmine Galante was used. He was shot while eating at a Brooklyn pizzeria in '79.
The real Lefty actually had a lion in his basement in Brooklyn. He would feed him 20-30 steaks a day.
The FBI called Brasco and Richie's joint operation "Sun-Apple." Sun for Florida. Apple for New York.
Florida's been a destination for mobsters since Al Capone bought a Miami mansion in 1928.
Florida represented a big opportunity for Sonny Black's crew. NYC had gone bankrupt in the late '70s and times were lean.
When the FBI set up the real King's Court, they loaded the walls with wires and video cameras.
Three FBI agents were arrested when the police raided King's Court in 1981.
The real Pistone (Depp) did bribe the cops in Florida, but they raided anyway.
When Pistone began his undercover work, there weren't even FBI guidelines for him or his bosses.
The real Brasco was even Lefty's best man at his wedding.
Brasco didn't want to be pulled out. His goal was to be the first agent to become a "made man."
The FBI did visit Black's crew, but they were careful not to reveal Brasco's real name.
Whenever an undercover agent makes up a backstory for his character, it's called his "legend." As "Don the Jeweler," Pistone had to take classes in safecracking and precious gems.
Location Notes
The producers found the location for King's Court at an abandoned steakhouse in Florida.
The King's Court building is now a church in Florida.
Plot Notes
When a boss gets killed, everybody moves up.
Pop-culture Notes
Director Mike Newell used Death Of A Salesman as inspiration throughout production.
Quote Notes
Director Newell says that pretty much every mob movie has a "cooking scene."
Newell says Joe is fine being a gangster. But it's hell being a husband and a gangster.
Pistone: "If you ever get a chance to have Johnny Depp play you in a movie, go for it. Especially if you have daughters; they'll love it."
Director Mike Newell loved all the '70s music in the movie. He says "it's got a real swagger."
Newell says there's a big difference between Sonny Black's blue collar crew and Sonny Red's crew. Manhattan is where the money is. "Our boys come from depressed Brooklyn."
Director Newell says that the real Pistone hated the bureaucrats.
Director Mike Newell says it was difficult to find "Old Florida," but they finally did in Ft. Lauderdale.
Pistone: "If I had one thing to say, there should have been more Anne Heche in the actual script."
Screenwriter Paul Attanasio says that "Lefty is the Willie Loman of the Mafia." He's always left out.
Pistone: "Most undercover agents end up divorced because they're never home…you're living two lives and not fully involved in either. The FBI [didn't care] about my family life."
Depp on Pacino: "He's a master of subtlety, which is what I respond to."
Pistone: "When you met Sonny you knew you had to respect him. If you didn't, he'd whack you."
Director Mike Newell says that the point of the violence is to show that it's "A terrible mess."
"With wiseguys, you don't know a guy by his name, only by his nickname," says Pistone. "You never asked a guy for his last name."
Pistone: "Lefty was a 24-hour Mafia guy. He lived and breathed the Mafia."
Director Mike Newell says Anne Heche "won't back down for anybody" as an actress.
Pistone never wanted the mobsters to get killed, but he did think they should be put away in jail. Pistone: "I maintained an unwavering belief in my original mission. I never experienced any doubt."
Pistone: "In my situation, my life was on the line every day."
Newell: "If I didn't yell cut, Al would walk on as Lefty until he fell off the edge of the world."
Pistone says the movie is 85% accurate. "It portrayed the mob the way it is."
Random Notes
"Fuhgeddaboudit" is such a part of NYC culture, it's even on road signs as people leave Brooklyn.
Set Notes

The family scenes were shot last. Director Mike Newell: "It was like making a different movie."
Johnny Depp spent months with the real Joe Pistone before shooting. Most of the time they lifted weights together.
Pacino doesn't smoke, so he smoked herbal cigarettes. The director said they smelled awful.
Tech Notes
The cinematographer created separate color palettes for shooting in Manhattan and Brooklyn. Bright reds and blues for the city. Dull browns for Brooklyn.
Trivia Notes
Pistone says he and the gangsters would hang out at the Motion Lounge for hours and hours every day. "It was repetitive and mind numbing."
Suspicion alone that someone is a rat is enough evidence to whack a made guy.
In the Mafia, it was usually a member's best friend that would kill him at a moments notice.
One of the requirements to become a "made man" in the Mafia is to successfully carry out a hit.
Al Pacino loved being able to use all of the rich Mafia slang throughout the film. Writer Paul Attanasio captured mob dialect so accurately because he had Pistone's wire taps.
The real Sonny Black got his name from the jet-black hair dye he used.
Just like in a corporation, the quickest way to climb the ladder is to eliminate someone else.
Hijacking loads was a huge way the mob made money. Sometimes the driver was even in on it.
Read More