Uncategorized
Story Notes for Conan the Destroyer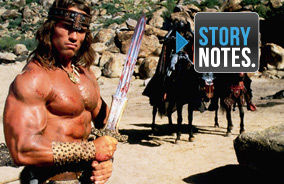 Monday through Thursday, at 8PM | 7C, AMC presents Story Notes — real-time on-air trivia about your favorite movies. Tonight's movie was Conan the Destroyer.
Biographical Notes
Arnold Schwarzenegger started his career in competitive bodybuilding, at the age of 17. He retired in 1980, to devote his full attention to acting in movies.
This wasn't Sarah Douglas's first magical role. As a kid, her school put on A Midsummer Night's Dream. She was originally cast as Oberon but was demoted to a fairy for bad behavior.
Mako is Japanese, but on M*A*S*H he played a Chinese doctor and both North and South Korean soldiers.
Sven-Ole Thorsen was also in Gladiator, where he played a returning champion who faces Russell Crowe.
Production designer Pier Luigi Basile later worked on Kull the Conqueror, a Conan spin-off.
After this movie, Grace Jones played the vicious Bond girl May Day in A View to a Kill.
Mako went on to make Memoirs of a Geisha, Pearl Harbor, and Seven Years in Tibet.
A few months after this, The Terminator came out, and Arnold became a worldwide phenomenon.
Casting Notes
Tracey Walter plays Conan's sidekick. He also plays Joker's sidekick in Batman.
Wilt "The Stilt" Chamberlain was an all-star NBA basketball player. This is his only movie role, unless you count his cameo as himself in Any Given Sunday.
Queen Taramis is played by Douglas, who was Ursa in Superman and Superman II.
Jeff Corey was also in Butch Cassidy and the Sundance Kid and True Grit.
Douglas also played the wicked Pamela Lynch on the eighties nighttime soap Falcon Crest.
Actress Olivia d'Abo was just 13 years old when they began filming. This was her first movie.
Akiro is played by Mako, the Oscar-nominated actor from The Sand Pebbles.
Director Richard Fleischer's son stars in his only acting role. He's a lawyer now.
This is singer and model Jones's first major movie role.
Pat Roach, who plays Toth-Amon, was also in the original three Indiana Jones movies. He really scared the 13-year-old d'Abo.
Roach plays both Toth-Amon and Man Ape. They didn't need a stuntman because Roach was a wrestler.
The captain of the elite guard is played by Thorsen. He's a bodybuilder friend of Schwarzenegger and played Thorgrim in Conan the Barbarian.
German actor Ferdy Mayne was in over 250 movies in his lifetime.
Fashion Note
Costume designer John Bloomfield has worked on many other fantasy movies, like Labyrinth.
Gossip Note
Chamberlain and Jones didn't get along on set. Chamberlain had to keep asking Jones to turn down her boom box.
History Note
The earliest-known warrior-women burial mounds date back to the fifth century B.C.
Location Notes
The first Conan movie was filmed in Spain, but this one was made in Mexico. They chose Mexico because the crew was already there working on another movie, 1984's Dune.
It was made in the rocky ruins of a centuries-old Indian settlement in Mexico.
Music Note
Basil Poledouris also scored the first Conan movie. Its soundtrack is considered a cult classic.
Plot Notes
Valeria, Conan's lover, dies in the first movie. She's played by Sandahl Bergman, who later played Queen Gedren in Red Sonja.
Valeria was a thief and warrior. She died helping Conan in his quest.
Although she doesn't have magical powers like Akiro, Princess Jehnna can sense the Horn of Dagoth.
Pop-Culture Notes
Robert E. Howard wrote the first Conan stories in the thirties.
In his song "Patiently Waiting," 50 Cent raps, "50 fear no man, warrior. / Swing swords like Conan!"
The screenwriters stayed faithful to Howard's Conan stories, which had lots of magic.
Chamberlain isn't the first NBA center turned action star. In The Game of Death, Kareem Abdul-Jabbar fights Bruce Lee.
Prop Notes
They made a few swords for Conan. They cost $10,000 each.
Bombaata's weapon is a spiked mace.
Quotation Notes
Just like his character, Wilt was very protective of the young d'Abo on set. He told her if anyone gave her a hard time, "Wilt will take care of it."
Schwarzenegger on Jones: "[It's] not acting at all. That's really her. She's wild and crazy."
D'Abo: "This was an incredible set. We had all these gallons and gallons of mist."
Schwarzenegger said at the time, "I see Conan as a step closer to getting me where I want to go: the top, the same category as Clint Eastwood, Charles Bronson, Dustin Hoffman."
Schwarzenegger on violence in movies: "As far as I'm concerned, it doesn't influence people. I watched violent movies all my life, and it had no influence on me."
Chamberlain: "If I'm going to be a baddie, I better have something serious to back me up."
D'Abo: "I knew I was going to be scantily clad — but not this scantily clad!"
Howard: "My characters are rough and rude. They hate, and they lust."
Walter: "If anyone looks at this and thinks 'He looks like he's having a good time,' you'd be absolutely correct."
Random Notes
D'Abo says she learned to scream better thanks to this movie.
Jones threw a party to commemorate doing this role and served steak tartare. She says, "Zula was purely primal in Conan. So I felt we should all eat raw meat."
Walter says his most quoted line is "It's bad luck to kill a wizard."
At the time, d'Abo didn't realize there was someone inside the monster costume.
Script Notes
Fleischer wanted this movie to have more humor than the first.
In the original Howard books, Toth-Amon is Conan's greatest nemesis.
Roy Thomas and Gerry Conway wrote the first few versions of this script. They eventually published their original version as a comic book called "The Horn of Azoth."
Set Notes
The palace set was built entirely from scratch at Churubusco Studios, in Mexico City.
The director's one complaint about the first movie was that Schwarzenegger's body was too clothed. For the sequel, he says, "I made sure that Arnold was undressed 99 percent of the time."
Even after two weeks of training, Jones found the stick heavy and hard to control. She whacked one stuntman in the eye and another in the groin.
They had a hard time finding a horse for Chamberlain to ride. He was so tall that his feet touched the ground. They ultimately found one in Spain that was big enough and imported it to Mexico.
Chamberlain and Jones did 90 percent of their own stunts.
To create the illusion of cold breath, the actors put dry ice in their mouths. Because dry ice is dangerous to touch, they made little mesh cages to hold it safely.
Sword master Kiyoshi Yamasaki trained the cast on how to use their weapons. He says, "Grace Jones, who's never done anything like this before, was a natural."
Offscreen, Schwarzenegger taught d'Abo how to defend herself.
Walter was late to production because he was a last-minute replacement for another actor.
Technology Notes
To create the hilltop city of Shadizar, they built a tiny model and placed it in front of the camera. The model is known as a foreground miniature.
Six people controlled the Dagoth monster, working its arms, mouth, eyes, and body.
Trivia Notes
Akiro the Wizard is Conan's only returning ally from the first movie. In it, he's simply known as the Wizard.
In Zoroastrianism, Ahriman is the spirit of destruction.
The booby-trapped treasure or tomb is a staple of Howard's Conan stories.
In the Conan books, Zula is a Darfarian warrior — and a man.
Malak was almost played by Danny DeVito, who, coincidentally, directed Walter in three movies.
Rumor has it that Chamberlain and Schwarzenegger could both bench-press about 450 pounds.
Crom is the god of Conan's people.
The Conan saga was meant to be a trilogy, but the third installment was never made. But Conan lives on. Jason Momoa took over the role for a 2011 remake of Conan the Barbarian.
Read More