Uncategorized
Story Notes for Blazing Saddles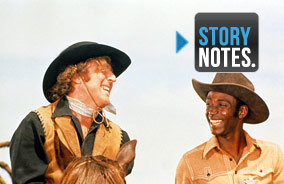 Monday through Thursday, at 8PM | 7C, AMC presents Story Notes — real-time on-air trivia about your favorite movies. Tonight's movie was Blazing Saddles.
Award Notes
Blazing Saddles got three Oscar nods: Best Supporting Actress, Song, and Film Editing.
The movie's team of screenwriters received a Writers Guild Award for Best Comedy.
Biographical Notes
Actor Slim Pickens spent twenty years as a rodeo performer before becoming an actor. His movie career took off after he famously rode an atomic bomb in 1964's Dr. Strangelove.
Gene Wilder and Mel Brooks had worked together on The Producers, in 1968.
Five years later, Gene Wilder would play another Kid — the title role in The Frisco Kid.
Actress Jessamine Milner grew up in the true Old West. Born in Cheyenne, Wyoming, in 1894, she started acting when she was in her seventies.
Cleavon Little isn't the only talented Little. His sister, Deetta, sang the theme to Rocky, "Gonna Fly Now."
Dom DeLuise (the director) was in many Brooks movies, including History of the World: Part I. A true Renaissance man, DeLuise was also an author, director, producer, and chef.
A true outdoorsman, Pickens would camp out with his dog during the location filming.
Casting Notes
Little was new to movies but had already won a 1970 Tony for the musical Purlie. He really sings Cole Porter's "I Get a Kick Out of You."
Actor Burton Gilliam was still a firefighter in Dallas when he made Blazing Saddles.
Harvey Korman won four Emmys for his work on The Carol Burnett Show.
You may recognize actor David Huddleston as the Big Lebowski from The Big Lebowski. Still acting at 80, Huddleston was in a 2009 episode of It's Always Sunny in Philadelphia.
Actor John Hillerman is best known for his role as Higgins on Magnum, P.I.
Actress Carol Arthur has bit roles in many Mel Brooks movies, including Robin Hood: Men in Tights.
Wilder says Brooks had him in mind for the part of Hedley, Korman's character. But when the actor originally cast in his role fell ill, Wilder stepped in at the last minute.
Ex-football player Alex Karras is Mongo. Karras would later star as the father in the eighties sitcom Webster.
George Furth, a writer as well as an actor, wrote Company with Stephen Sondheim.
Actress Madeline Kahn was nominated for an Oscar for her role as Lili Von Shtupp. Though her audition was perfect, Brooks insisted Kahn prove she had the legs for the part.
Charles McGregor is famous for his roles in blaxploitation films like 1972's Super Fly. An ex-con, McGregor toured high schools warning kids about the dangers of drugs and crime.
Kahn began work on Saddles the day after she was fired from Lucille Ball's Mame. Some say Kahn tried to get fired by acting poorly so she could work with Brooks.
The gum chewer is John Alderson. He served in the British Army during World War II.
Finance Note
Made for only $2.6 million, Blazing Saddles went on to make nearly $120 million worldwide. At the time, it was the fourteenth-highest-grossing movie ever and is still Brooks's most successful.
History Notes
The movie takes place just after the Civil War, during the expansion of the American Old West. The First Transcontinental Railroad was completed in 1869 and added to over the next decades.
The use of quicksand was a common device in Hollywood B-movies like Tarzan, the Ape Man and The Beastmaster.
In the Old Testament, killing the firstborn son was God's final plague on the Egyptians.
There were actually many African-Americans among the first settlers of the Old West. Many found more acceptance out West, where multiethnic communities were more common.
The Waco Kid is quick, but historians say John Wesley Hardin was the fastest gun in the West.
The Old West did have its share of dregs — criminals and misfits who'd fled from society.
"Camptown Races" was written in mock Negro dialect by a white man for minstrel shows.
How-to Note
Because the human body is less dense than quicksand, you will only sink if you struggle. If you find yourself stuck in quicksand, just relax and move slowly to escape.
Location Note
Scenes were shot north of L.A., in Vasquez Rocks, known for angled rock formations. They can be seen in many movies and TV shows, most famously in an episode of Star Trek.
Music Notes
The title song, sung by Frankie Laine, was nominated for an Oscar. Laine, famous for singing theme songs for Westerns, didn't realize the song was a spoof.
"Camptown Ladies," or "Camptown Races," was written by Stephen Foster, in 1850. A "camptown" is a worker's living quarters or tent city often seen along the expanding railroad.
Mel Brooks wrote both lyrics and music for most of the songs in Blazing Saddles. He's written songs for many of his movies and for their Broadway adaptations.
Plot Notes
Early titles for the movie were Tex X, Black Bart, and The Purple Sage. CBS made a pilot called Black Bart, in 1975, starring Louis Gossett Jr.
The movie wouldn't be a proper Western if the heroes didn't ride off into the sunset in a courtesy car.
Pop-Culture Notes
Blazing Saddles is Brooks's parody of Western movies and a satire of racism in America. He spoofed other genres in Young Frankenstein, Spaceballs, and Robin Hood: Men in Tights.
In 2006, Blazing Saddles was selected for preservation by the Library of Congress. It joins an elite list of "culturally, historically, or aesthetically significant" movies.
"A laurel and hearty handshake" is a reference to comedy team Laurel and Hardy.
Director Cecil B. DeMille was known for not caring about the personal safety of his actors. He supposedly once said rather than paying extras in a battle scene "we'll use real bullets."
The Waco Kid is a spoof of drunken gunmen in famous Westerns like Rio Bravo and Cat Ballou.
Brooks's Native American chief is speaking Yiddish. He calls out "Lozem geyn," which means "Let them go."
"Mongo! Santamaría!" is a reference to Mongo Santamaría, a world-famous bongo player.
Lili and her song are send-ups of Marlene Dietrich's Frenchy in 1939's Destry Rides Again.
According to Brooks, Mongo is a spoof of gentle-giant characters like Hoss in Bonanza.
DeLuise's Buddy Bizarre is a spoof of famed choreographer Busby Berkeley. Berkeley was known for his elaborate dance numbers in movies like Dames and 42nd Street.
Bart's speech is a parody of Henry Fonda's "I'll be there" speech in The Grapes of Wrath.
Quotation Notes
Brooks says there were a lot more scenes with the governor, but he cut them for time. Brooks: "My whole performance was on the cutting-room floor!"
Brooks wrote the movie out of anger at "white corruption, racism, and Bible-thumping bigotry."
Brooks on his star: "I was very lucky to find Cleavon Little. [He was] so perfectly talented."
Brooks explained that in Westerns "all they do is eat beans and drink black coffee. It was part of our discovering the true West."
Brooks: "I loved working with this cast. I loved directing that movie. It was such a crazy movie; I could do whatever I wanted."
Co-screenwriter Andrew Bergman says, "You couldn't make this movie today. You can't say the N-word in a movie today, not even in a comic way."
Brooks: "Harvey Korman is undeniably one of the great comic geniuses of all time."
Wilder: "Madeline Kahn was the most talented actress I've ever worked with."
Brooks said "I'm Tired" was the "dirtiest song I ever wrote in my life."
Brooks on Lili Von Shtupp: "That's where the movie leaves being a normal comedy and becomes something otherworldly. It reaches a whole other level of comedy."
Brooks has said he thinks people laugh more at physical comedy than at dialogue.
Wilder on Saddles: "They've smashed racism in the face, but they're doing it while you laugh."
Roger Ebert called the film a "crazed grab bag of a movie that does everything to keep us laughing except hit us over the head with a rubber chicken. Mostly, it succeeds."
Though many were shocked at the use of the N-word in the movie, Mel felt it was important.
Random Note
Believe it or not, this movie was once going to be directed by Alan Arkin and star James Earl Jones.
Script Notes
Blazing Saddles was based on a script by Bergman called Tex X, a reference to Malcolm X. To rewrite it, Brooks brought in a team to create a "writers' room" atmosphere from his old TV days.
Mongo's lines were mostly written by comedian Richard Pryor, one of five writers on the movie.
Set Notes
In addition to the governor, Brooks plays several other roles in Blazing Saddles.
That's famous jazz pianist Count Basie playing "April in Paris" as foreground music.
When Blazing Saddles was first screened for studio execs, it was met with silence, so Brooks screened it for regular people. They laughed so hard, the execs were swayed.
Wilder and Little quickly became friends on set. Since Little was a Broadway actor, Wilder would give him pointers for acting in front of the cameras.
The choreographer is named Alan Johnson. He fits right in — all the townspeople are named Johnson!
Studio execs gave Brooks numerous notes on what objectionable scenes he needed to cut. Brooks said they didn't realize his contract said he had final say. He didn't cut any of it.
The Rock Ridge set was a hand-me-down from the 1973 sci-fi Western movie Westworld.
Trivia Notes
There are real cases called United States v. Haley, but none is about land snatching.
Robert Ridgely's medieval hangman returned twenty years later, in Brooks's Robin Hood: Men in Tights.
Addressing the audience is called "breaking the fourth wall." It's a Brooks trademark.
Actor-director Jack Starrett does a dead-on impression of Gabby Hayes. Hayes played the toothless sidekick in dozens of Western movies in the thirties, forties, and fifties.
Governor Lepetomane's name is a reference to the famous French professional farter Le Pétomane. Le Pétomane could fart at will and performed at the Moulin Rouge in Paris.
Actress Hedy Lamarr actually did sue because of the use of her name in the movie. According to Brooks, they settled out of court for a few thousand dollars and an apology.
The credit for inventing the Candygram goes to Western Union.
"Bitte" is German for "please."
Premiere magazine put Kahn's Lili on its list of the 100 greatest performances of all time. After this, she continued working with Brooks, earning more raves for Young Frankenstein.
AFI named Blazing Saddles No. 6 on its list of the funniest movies in American cinema.
Brooks once ran into John Wayne at the studio commissary and offered him the Waco Kid role. Wayne said it was too dirty for him to be in it but he'd be "first in line to see it."
While editing this movie, Wilder and Brooks began writing their next hit — Young Frankenstein.
Furth wore red socks during filming, claiming he heard Van Johnson always wore red socks.
Read More